Tue Dec 29, 2020, 12:48 PM
Judi Lynn (148,615 posts)
A 4G network on the moon is bad news for radio astronomy
By Emma Alexander 2 days ago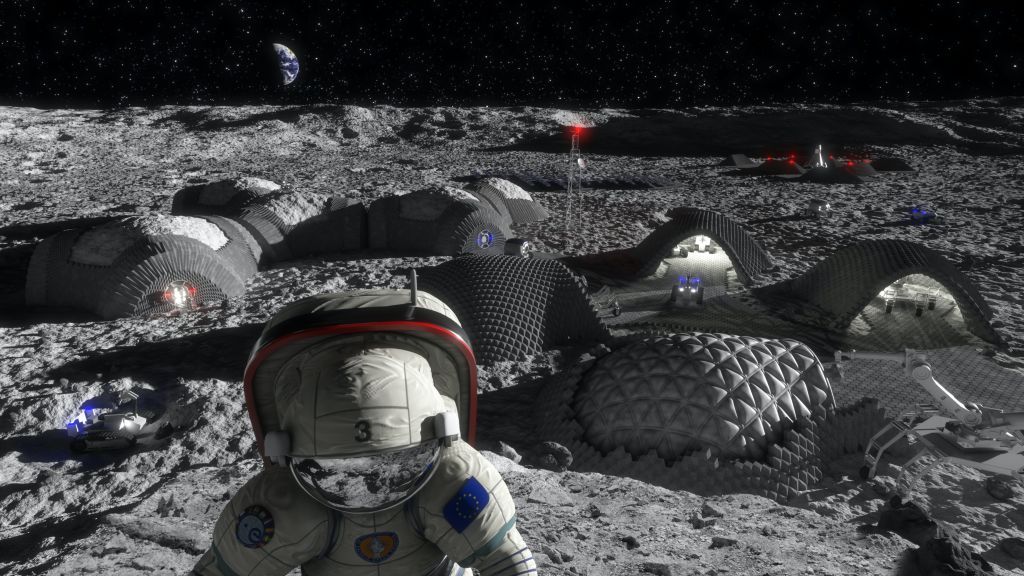 Nokia has been tapped by NASA to research technology for a 4G network on the moon.
(Image: © ESA; RegoLight, visualisation: Liquifer Systems Group, 2018, CC BY-SA)
As you drive down the road leading to Jodrell Bank Observatory, a sign asks visitors to turn off their mobile phones, stating that the Lovell telescope is so powerful it could detect a phone signal on Mars.
Radio telescopes are designed to be incredibly sensitive. To quote the legendary astronomer Carl Sagan, "The total amount of energy from outside the solar system ever received by all the radio telescopes on the planet Earth is less than the energy of a single snowflake striking the ground."
The total energy now is probably a few snowflakes' worth, but nevertheless it is still true that astronomical radio signals are typically magnitudes smaller than artificial ones. If Jodrell Bank could pick up interference from a phone signal on Mars, how would it fare with an entire 4G network on the Moon?
That is the issue that is worrying astronomers like me, now that Nokia of America has been awarded US$14.1m (£10.8m) for the development of the first ever cellular network on the Moon. The LTE/4G network will aim to facilitate long term lunar habitability, providing communications for key aspects such as lunar rovers and navigation.
More:
https://www.space.com/nokia-4g-moon-network-bad-for-radio-astronomy
5 replies, 812 views
Replies to this discussion thread
| | | | |
| --- | --- | --- | --- |
| 5 replies | Author | Time | Post |
| A 4G network on the moon is bad news for radio astronomy (Original post) | Judi Lynn | Dec 2020 | OP |
| | Harker | Dec 2020 | #1 |
| | soothsayer | Dec 2020 | #2 |
| | Lulu KC | Dec 2020 | #3 |
| | Staph | Dec 2020 | #4 |
| | nam78_two | Dec 2020 | #5 |
---
Response to Judi Lynn (Original post)
Tue Dec 29, 2020, 12:51 PM
Harker (8,092 posts)
1. There goes the neighborhood. n/t
---
Response to Judi Lynn (Original post)
Tue Dec 29, 2020, 01:43 PM
soothsayer (38,601 posts)
2. Always takes me here: Whitey on the Moon
---
Response to Judi Lynn (Original post)
Tue Dec 29, 2020, 03:57 PM
Lulu KC (2,060 posts)
3. UGHHHHHHHHH
---
Response to Judi Lynn (Original post)
Tue Dec 29, 2020, 07:03 PM
Staph (5,662 posts)
4. At what was the National Radio Astronomy Observatory at Green Bank, WV,
there is a National Radio Quiet Zone of about 13,000 square miles, with strict limitations on all sorts of broadcast transmissions. As they say in Wikipedia:
The most severe restrictions imposed on the general public are only in place within the 20-mile (32 km) radius of the Green Bank Observatory. The Observatory actively polices the area for devices emitting noticeably high amounts of electromagnetic radiation such as microwave ovens, Wi-Fi routers and faulty electrical equipment and request citizens discontinue their usage. They possess no legal powers of enforcement (although the FCC can still impose a fine of $50 on violators), but will work with residents to find solutions.
If you go to visit the Observatory, you can't drive your gasoline-powered vehicle past the parking lot at the front gate -- too much interference from the spark plugs.
We already know about this stuff! Why wouldn't NASA think about it for the moon? Oh. Duh. Trump appointed the current head of NASA.
---
Response to Judi Lynn (Original post)
Thu Dec 31, 2020, 12:19 PM
nam78_two (13,100 posts)
5. Bookmarked.nt