Thu Nov 12, 2020, 06:57 PM
Judi Lynn (148,615 posts)
Birth of magnetar seen for the first time
By Rafi Letzter - Staff Writer 4 hours ago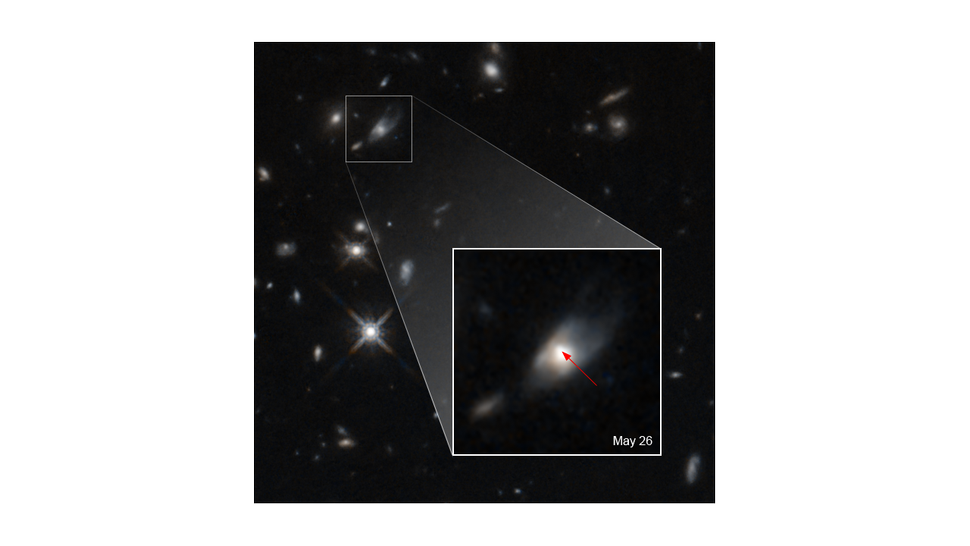 A Hubble Space Telescope image shows the part of the sky where the unusual light pattern came from, indicating the birth of a magnetar.
(Image: © Hubble Space Telescope/NASA)
Two neutron stars slammed together far away from Earth. The energy of their collision lit up their corner of the sky with a brief flash of gamma radiation, followed by a softer, longer-lasting glow across the electromagnetic spectrum. Peering into that fading light, researchers spotted an unusual infrared signal — the first-ever recorded signature, they believe, of a newborn cosmic behemoth, a magnetar.
A magnetar is a neutron star with an unusually strong magnetic field. Astronomers have spotted magnetars elsewhere in the universe, but they've never before seen one being born. This time, researchers suspected they'd spotted a newborn magnetar because of an unusual pattern of flashing light. First, there was a short, ultrabright burst of gamma radiation (GRB). Then there was a longer-lasting, glowing "kilonova," a telltale sign of neutron stars colliding. And that glow was much brighter than usual, suggesting a phenomenon astronomers had never seen before.
To detect neutron star collisions, scientists look for both short GRBs and longer-lasting light sources from the collision.
Under normal circumstances, said Wen-fai Fong, a Northwestern University astrophysicist who led the research, the glow left over from a neutron star collision has two parts: There's short-lived "afterglow," which last for a couple days and results from material speeding away from the collision and slamming at high velocity into the dust and gas between stars. And then there's the "kilonova" glow of stirred-up particles swirling around the collision site.
More:
https://www.livescience.com/neutron-stars-birth-magnetar.html
5 replies, 885 views
Replies to this discussion thread
| | | | |
| --- | --- | --- | --- |
| 5 replies | Author | Time | Post |
| Birth of magnetar seen for the first time (Original post) | Judi Lynn | Nov 2020 | OP |
| | PJMcK | Nov 2020 | #1 |
| | soothsayer | Nov 2020 | #2 |
| | VWolf | Nov 2020 | #4 |
| | soothsayer | Nov 2020 | #5 |
| | CornbreadJohnson | Nov 2020 | #3 |
---
Response to Judi Lynn (Original post)
Thu Nov 12, 2020, 07:01 PM
PJMcK (15,937 posts)
1. Wow!
The Universe is endlessly fascinating.
---
Response to Judi Lynn (Original post)
Thu Nov 12, 2020, 07:17 PM
soothsayer (38,601 posts)
2. There's an afterglow...and then they have a smoke?
---
Response to soothsayer (Reply #2)
Thu Nov 12, 2020, 08:51 PM
VWolf (3,739 posts)
4. Yes, after the hot and energetic merger :)
---
Response to VWolf (Reply #4)
Thu Nov 12, 2020, 08:52 PM
soothsayer (38,601 posts)
5. Oh my
---
Response to Judi Lynn (Original post)
Thu Nov 12, 2020, 07:22 PM
CornbreadJohnson (16 posts)
3. How strange and fantastic the universe is. Nt