Wed Jul 8, 2020, 06:03 PM
muriel_volestrangler (98,795 posts)
Native South Americans were early inhabitants of Polynesia
DNA analysis of Polynesians and Native South Americans has revealed an ancient genetic signature that resolves a long-running debate over Polynesian origins and early contacts between the two populations.
...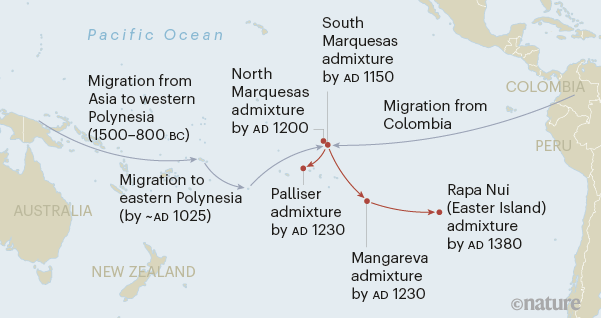 Figure 1 | Genetic clues reveal early migration from South America to Polynesia. Ioannidis et al.1 report a DNA analysis of Polynesians and Native American people from South America, focused mainly on modern populations. The authors shed light on the early peopling of Polynesia by uncovering signs of ancient encounters between Polynesians and South Americans (probably those from Colombia), which resulted in a genetic signature called an admixture indicating that children had parents from both populations. The earliest signs of such admixture in Polynesia were estimated to have occurred on the Southern Marquesas islands in AD 1150. Previous studies3,5 indicate that populations moving eastwards from Asia had populated this area by around that time. The authors find evidence for the same type of population admixture being present between AD 1150 and AD 1230 in nearby islands, and then in Rapa Nui (also known as Easter Island) by AD 1380. Some Polynesian islands, including Rapa Nui, have characteristics in common with those of ancient South America, such as elaborate stonework and the sweet-potato plant. But an early role for South Americans in the peopling of the Polynesian islands had not previously been widely accepted.
...
The authors propose that the Native South American genetic signatures they found were probably the result of a single ancient contact. Their model suggests that the mixed population then spread from central eastern Polynesia around AD 1200 to other Polynesian islands during an early eastern Polynesian expansion, and finally reached Rapa Nui. These spectacular results have major implications for future discussions concerning early migrations and interactions in Polynesia. Rapa Nui itself is not suggested to be the initial point of contact between Polynesians and South Americans, but the admixture identified there is thought to have arisen elsewhere in Polynesia in a population that eventually reached Rapa Nui (Fig. 1).
The authors also raise other possible contact scenarios: for example, that Polynesian populations made voyages to South America and then returned to Polynesia along with South American people, or that people returned to Polynesia who carried Native South American genetic heritage. Ioannidis et al. suggest that further genetic studies will be needed to address such alternative hypotheses.
https://www.nature.com/articles/d41586-020-01983-5
6 replies, 836 views
Replies to this discussion thread
| | | | |
| --- | --- | --- | --- |
| 6 replies | Author | Time | Post |
| Native South Americans were early inhabitants of Polynesia (Original post) | muriel_volestrangler | Jul 2020 | OP |
| | Wounded Bear | Jul 2020 | #1 |
| | Judi Lynn | Jul 2020 | #2 |
| | Judi Lynn | Jul 2020 | #3 |
| | SCantiGOP | Jul 2020 | #4 |
| | niyad | Jul 2020 | #5 |
| | hunter | Jul 2020 | #6 |
---
Response to muriel_volestrangler (Original post)
Wed Jul 8, 2020, 06:12 PM
Wounded Bear (54,117 posts)
1. Kon Tiki...
perhaps it actually happened like Thor Heyerdahl demonstrated.
---
Response to muriel_volestrangler (Original post)
Wed Jul 8, 2020, 06:51 PM
Judi Lynn (154,459 posts)
2. Exciting, wonderful article. Have wondered about Asia and South Americans a long time.
It's so good to hear there are people hard at work on this currently. So much ahead to discover, all of it fascinating.

Thank you. Can't wait until the next information on this subject appears. It's far beyond interesting.
---
Response to muriel_volestrangler (Original post)
Wed Jul 8, 2020, 11:22 PM
Judi Lynn (154,459 posts)
3. Indigenous Americans had contact with Polynesians 800 years ago, DNA reveals
Study shows groups crossed vast ocean in about the year 1200
Proof of encounter found in DNA of present-day populations
Agence France-Presse
Wed 8 Jul 2020 17.42 EDT
Indigenous Americans and Polynesians bridged vast expanses of open ocean around the year 1200 and mingled, leaving incontrovertible proof of their encounter in the DNA of present-day populations, new studies have revealed.
Whether peoples from what is today Colombia or Ecuador drifted thousands of kilometres to tiny islands in the middle of the Pacific, or whether seafaring Polynesians sailed upwind to South America and then back again, is still unknown.
But what is certain, according to a study in Nature, is that it took place hundreds of years before Europeans set foot in either region, and left individuals scattered across what became French Polynesia with signature traces of the New World in their DNA.
"These findings change our understanding of one of the most unknown chapters in the history of our species' great continental expansions," the senior author Andreas Moreno-Estrada, principal investigator at Mexico's National Laboratory of Genomics for biodiversity, told AFP.
More:
https://www.theguardian.com/world/2020/jul/08/indigenous-americans-polynesians-dna-800-years-ago
---
Response to muriel_volestrangler (Original post)
Wed Jul 8, 2020, 11:31 PM
SCantiGOP (12,941 posts)
4. Sailing beyond sight of land
Took some guys back then.
---
Response to muriel_volestrangler (Original post)
Thu Jul 9, 2020, 07:51 AM
niyad (94,162 posts)
5. KNR for visibility.
---
Response to muriel_volestrangler (Original post)
Thu Jul 9, 2020, 12:22 PM
hunter (36,194 posts)
6. Humans walk and sail. It's what we do.
We've been walking and sailing for a very long time. That's how we ended up pretty much everywhere on earth, even in places we cannot survive without sophisticated technology -- things like kayaks, string, fermented foods, numerous ways of cooking, etc..

This is why the Columbus "discovery" story many of us learned in school is so vile. Columbus represented a culture exceptional mostly for its cruelty and bloody mindedness.

I grew up in a California community that was 99% white. The history I learned before college was a whitewash. I never really wondered how it came to be that 99% of my classmates were white until I walked away. There is no way in hell I'd ever go back.