Sat Jun 27, 2020, 06:54 PM
Judi Lynn (141,586 posts)
Alaskan volcano sealed the fate of the Roman Republic, led to rise of the Empire
By Mindy Weisberger - Senior Writer a day ago
The climate impact of Alaska's Okmok eruption millennia ago was far-reaching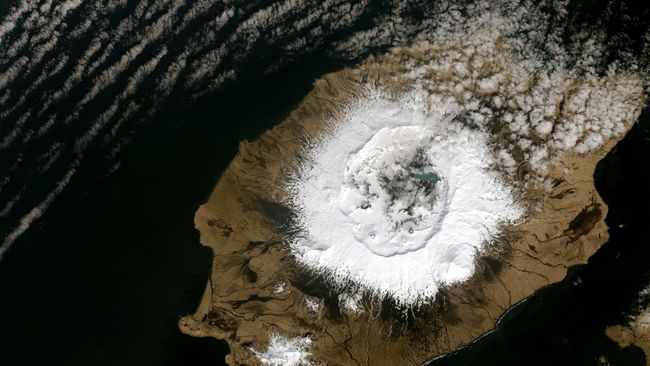 Alaska's Umnak Island in the Aleutians on May 3, 2014, showing the 6-mile (10-kilometer) wide
caldera largely created by the Okmok II eruption in 43 B.C.
(Image: © U.S. Geological Survey)
A volcanic eruption in Alaska triggered climate change that may have hastened the end of the Roman Republic, leading to the rise of the Roman Empire, a new study finds.
During 43 B.C. and 42 B.C., Europe and North Africa were unusually cold and rainy; temperatures were colder than they'd been in more than 2,500 years. As crops failed and famine and disease took hold, social unrest and political upheaval surged. (It didn't help that Roman dictator Julius Caesar was assassinated in 44 B.C., the year before the cold spell.)
Scientists have long suspected that a massive volcanic eruption caused the two-year-long cold snap. And now, researchers have identified the volcano responsible: Mount Okmok on Alaska's Umnak Island. They used geochemical analysis to confirm that in 43 B.C., one of Okmok's two calderas, Okmok II, produced a massive eruption that would have been powerful enough to change the climate thousands of miles away, according to the study.
Climate models and climate proxies — imprints of past climate events preserved in plants, rocks, shells and fossils — revealed that during this period the Mediterranean experienced a significant two-year cooling event, with average temperatures dipping by as much as 13 degrees Fahrenheit (7 degrees Celsius), scientists reported in the study. Arctic ice cores held evidence of substantial volcanic fallout (concentrations of sulfur and sulfuric acid) that collected during the first century B.C., suggesting that a volcano was responsible for the cooling.
More:
https://www.livescience.com/okmok-volcano-roman-republic-collapse.html
2 replies, 482 views
Replies to this discussion thread
| | | | |
| --- | --- | --- | --- |
| 2 replies | Author | Time | Post |
| Alaskan volcano sealed the fate of the Roman Republic, led to rise of the Empire (Original post) | Judi Lynn | Jun 27 | OP |
| | bobbieinok | Jun 27 | #1 |
| | qazplm135 | Jun 27 | #2 |
---
Response to Judi Lynn (Original post)
Sat Jun 27, 2020, 07:00 PM
bobbieinok (12,783 posts)
1. Really amazing!
---
Response to Judi Lynn (Original post)
Sat Jun 27, 2020, 07:11 PM
qazplm135 (4,182 posts)
2. Really?
And all this time I thought it was Darth Sidious who destroyed the republic and led to the founding of the empire?

I should probably stop learning my history through Star Wars.