Thu Jun 25, 2020, 10:08 PM
Judi Lynn (141,690 posts)
Why is the far side of the moon so weird? Scientists may have solved a lunar mystery
By Chelsea Gohd 14 hours ago
New study aims to understand the moon's asymmetry.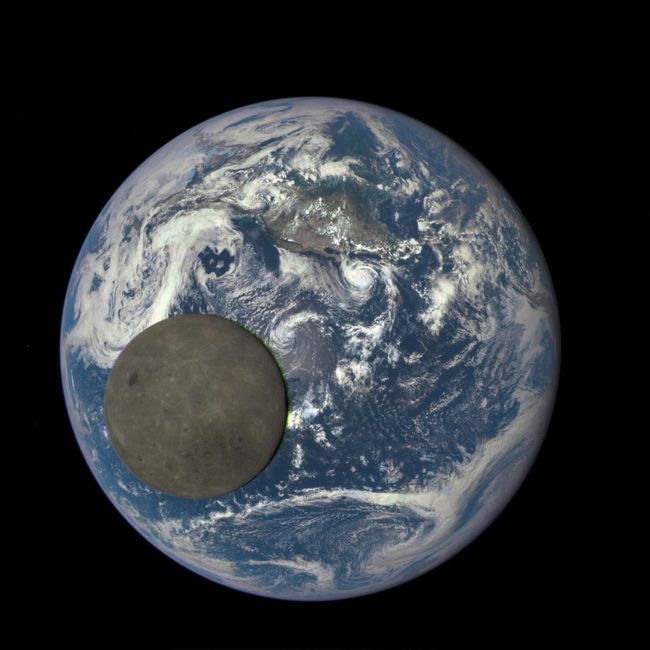 n a new study, scientists explore a new theory that aims to explain why the moon's near and far sides are so different.
(Image: © NASA/NOAA)
The moon's mysterious far side is so much different than its near side, which we see in the night sky, and now scientists think they know why.
The moons near side and far side were once thought to be relatively similar. But, with missions by robotic observers and Apollo astronauts in over the last six decades, scientists have found that they have significantly different features, many related to the moon's geologic activity. In fact, observations have shown that only about 1% of the moon's far side is covered with maria, or craters caused by volcanic activity on the moon. This sharply contrasts the object's near side, 31% of which is covered with maria.
According to the giant-impact hypothesis, about 4.5 billion years ago the Earth and the moon formed when a Mars-sized object smashed into the proto-Earth. Earlier theories suggested that the moon, because it was a smaller object, cooled down faster than the Earth after this impact and geologically "froze." But the idea that the moon "froze" after this event is an idea that has been challenged as studies have shown evidence of relatively recent geologic activity on the moon, with evidence of volcanic and magnetic activity on the moon occurring as recently as 1 billion years ago.
In the new study, researchers from the Earth‐Life Science Institute at Tokyo Institute of Technology, the University of Florida, the Carnegie Institution for Science, Towson University, NASA Johnson Space Center and the University of New Mexico investigated the moon's geologic history and found a new explanation for the asymmetry between its far and near sides.
More:
https://www.space.com/moon-far-side-mystery-may-be-solved.html?utm_source=notification
2 replies, 817 views
Replies to this discussion thread
| | | | |
| --- | --- | --- | --- |
| 2 replies | Author | Time | Post |
| Why is the far side of the moon so weird? Scientists may have solved a lunar mystery (Original post) | Judi Lynn | Jun 25 | OP |
| | elleng | Jun 25 | #1 |
| | keithbvadu2 | Jun 25 | #2 |
---
Response to Judi Lynn (Original post)
Thu Jun 25, 2020, 10:11 PM
elleng (99,051 posts)
1. THANKS!
---
Response to Judi Lynn (Original post)
Thu Jun 25, 2020, 10:41 PM
keithbvadu2 (15,988 posts)
2. as recently as 1 billion years ago