Mon Jun 22, 2020, 08:55 PM
Judi Lynn (141,586 posts)
Massive underwater rivers were discovered off the coast of Australia
By Yasemin Saplakoglu - Staff Writer 5 days ago
These rivers could be critical for moving material from the coasts to the ocean.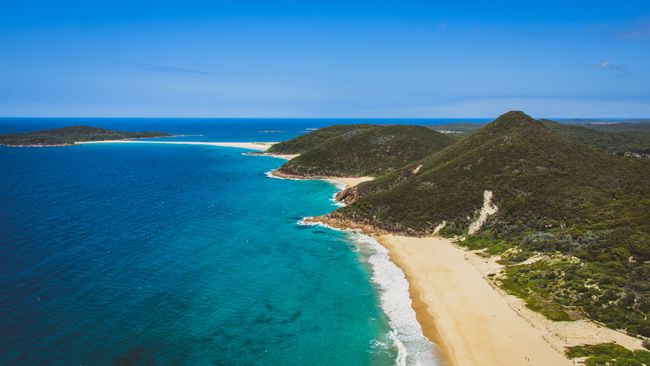 Port Stephens in Australia was one of the places where the robotic gliders found an underwater
river. (Image: © Shutterstock)
Massive, underwater rivers have been discovered hidden off Australia's coasts by robotic ocean gliders. These rivers could be critical for moving material from the coasts to the deep ocean, the researchers said.
Called "dense shelf water cascades," the hidden rivers form when shallow water on the coasts loses heat during the colder months. This water is already highly salty due to evaporation during the summer months. This cold, salty stream of water in the inner portion of the continental shelf — the edge of the continent that's typically submerged in shallow water — is denser than deeper water.
Driven by the difference in density, this river of water flows offshore along the ocean floor, according to a statement from The University of Western Australia. Previous studies have documented this phenomenon, but those were limited in their scope and didn't look at how these rivers are affected by seasons, according to the study.
Now, a group of researchers at The University of Western Australia analyzed data collected between 2008 and 2019 with ocean gliders from eight locations on Australia's coastline. The data "is the equivalent to spending more than 2,500 days at sea," lead author Tanziha Mahjabin, who completed the project as part of her Ph.D. thesis, said in the statement.
More:
https://www.livescience.com/underwater-rivers-discovered-australia.html
4 replies, 539 views
Replies to this discussion thread
| | | | |
| --- | --- | --- | --- |
| 4 replies | Author | Time | Post |
| Massive underwater rivers were discovered off the coast of Australia (Original post) | Judi Lynn | Jun 22 | OP |
| | eppur_se_muova | Jun 26 | #1 |
| | Judi Lynn | Jun 27 | #2 |
| | Judi Lynn | Jun 27 | #3 |
| | Judi Lynn | Jun 27 | #4 |
---
Response to Judi Lynn (Original post)
Fri Jun 26, 2020, 09:56 AM
eppur_se_muova (31,533 posts)
1. Hmmm ... didn't we used to call these "currents" ?
I know a seemingly self-contradictory idea like "underwater rivers" grabs eyeballs, but let's respect established usage.
---
Response to Judi Lynn (Original post)
Sat Jun 27, 2020, 02:39 AM
Judi Lynn (141,586 posts)
2. Unknown currents in Southern Ocean have been observed with help of seals
JUNE 26, 2020
by University of Gothenburg
A Weddell seal collects data in the ocean while swimming. This information doesn't only help marine sciences researchers, but also biologist, to understand the seals' habitat better. Credit: Dan Costa
Using state-of-the-art ocean robots and scientific sensors attached to seals, researchers in Marine Sciences at the University of Gothenburg have for the first time observed small and energetic ocean currents in the Southern Ocean. The currents are critical at controlling the amount of heat and carbon moving between the ocean and the atmosphere—information vital for understanding our global climate and how it may change in the future.
Two new studies, one led by Associate Professor Sebastiaan Swart and the other led by Dr. Louise Biddle, both working at the University of Gothenburg, use highly novel techniques to collect rare data in the ocean both under and near the sea ice surrounding Antarctica (www.roammiz.com).
Ocean currents have significant effect
These papers present for the first time upper ocean currents of approximately 0.1-10 km in size. These currents, which are invisible to satellite and ship-based data, are seen to interact with strong Southern Ocean storms and with physical processes occurring under sea ice.
"Using the data collected by the seals, we're able to look at the impact these upper ocean currents have underneath the sea ice for the first time. It's a really valuable insight into what was previously completely unknown in the Southern Ocean," says Dr. Louise Biddle, Department of Marine Sciences, University of Gothenburg.
More:
https://phys.org/news/2020-06-unknown-currents-southern-ocean.html
---
Response to Judi Lynn (Original post)
Sat Jun 27, 2020, 06:22 PM
Judi Lynn (141,586 posts)
3. Scientists Have Found a Lake Under The Sea - Those Who Swim There Won't Come Back Alive
(Just remembered reading about this a couple of years ago)
JOHN STANLEY HUNTER & MARION LENKE, BUSINESS INSIDER
9 FEBRUARY 2018
Scientists have discovered a 'lake' in the Gulf of Mexico. Everyone, who enters this pool at the bottom of the sea will suffer horribly.
Erik Cordes, associate professor of biology at Temple University, has researched the pool and described his findings in the journal Oceanography.
"It was one of the most amazing things in the deep sea. You go down into the bottom of the ocean and you are looking at a lake or a river flowing. It feels like you are not on this world", Cordes told Seeker.
The water in the 'lake within the sea' is about five times as salty as the water surrounding it. It also contains highly toxic concentrations of methane and hydrogen sulphide and can thus not mix with the surrounding sea.
For animals (and people) who swim into it, these toxic concentrations can be deadly. Only bacterial life, tube worms, and shrimp can survive those circumstances.
For scientists, this lake is like a playground for their research. They can explore how certain organisms can survive in extreme habitats.
More:
https://www.sciencealert.com/deadly-lake-under-the-sea-kills-everything-gulf-of-mexico
---
Response to Judi Lynn (Original post)
Sat Jun 27, 2020, 06:41 PM
Judi Lynn (141,586 posts)
4. More recently: A Massive Freshwater Sea Is Buried Beneath the Atlantic Ocean
By Laura Geggel June 24, 2019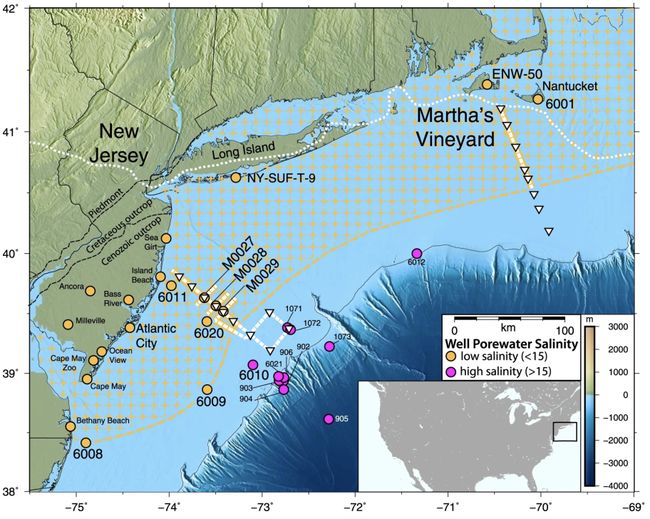 Freshwater aquifer
The yellow hatched area shows where the giant aquifer is hiding under the Atlantic Ocean.
(Image: © Gustafson et al., 2019; CC BY 4.0)
A gigantic freshwater aquifer is hiding under the salty Atlantic Ocean, just off the northeastern coast of the United States, a new study finds.
While the aquifer's exact size is still a mystery, it may be the largest of its kind, taking up a region stretching from at least Massachusetts to southern New Jersey, or nearly 220 miles (350 kilometers). The area includes the coastlines of New York, Connecticut and Rhode Island. This aquifer may contain about 670 cubic miles (2,800 cubic kilometers) of slightly salty water (we'll explain its slight saltiness later).
This water isn't young, either. The researchers said they suspect that much of it is from the last ice age. [Photos: Artistic Views of Earth from Above]
Scientists got the first hints that an aquifer was hanging out under the ocean in the 1970s, when companies drilling off the coast for oil sometimes hit freshwater instead. But it wasn't clear whether these freshwater water deposits were isolated pockets or whether they covered a larger expanse.
More:
https://www.livescience.com/65779-giant-freshwater-aquifer-east-coast.html