Mon Jun 22, 2020, 09:44 AM
Judi Lynn (148,552 posts)
Why some physicists really think there's a 'mirror universe' hiding in space-time
By Rafi Letzter - Staff Writer 2 hours ago
What happens if you turn space-time upside-down?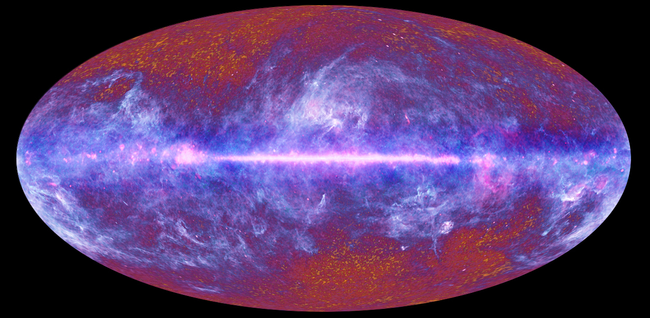 The Cosmic Microwave Background, pictured here, is the most ancient thing we can see in space. But what's hiding behind it?
(Image: © ESA and the Planck Collaboration)
A series of viral articles claimed that NASA had discovered particles from another parallel universe in which time runs backward. These claims were incorrect. The true story is far more exciting and strange, involving a journey into the Big Bang and out the other side.
The sensational headlines had muddled the findings of an obscure 2018 paper, never published in a peer-reviewed journal, which argued that our universe might have a mirror reflection across time, a partner universe that stretches beyond the Big Bang. If that's the case, and a series of other extremely unlikely and outlandish hypotheses turn out to be true, the paper argued, then that in turn could explain a mysterious signal hinting that a completely new particle is flying out of the ice in Antarctica.
The claim that NASA discovered a parallel universe seemed to have been first dreamed up by British tabloid The Daily Star, and the story was then picked up by British and American outlets, including The New York Post.
Our universe's "mirror"
In order to understand how The Daily Star arrived at its bizarre, viral claim, it's necessary to understand the claims of two separate papers from 2018.
The first paper, by Latham Boyle, a physicist at The Perimeter Institute in Alberta, Canada, and his colleagues, proposed a mirror universe — a reflection of our universe across time. It was published December 2018 in the journal Physical Review Letters (after an appearance on the arXiv server in March that year).
More:
https://www.livescience.com/truth-behind-nasa-mirror-parallel-universe.html?utm_source=notification
6 replies, 952 views
Replies to this discussion thread
| | | | |
| --- | --- | --- | --- |
| 6 replies | Author | Time | Post |
| Why some physicists really think there's a 'mirror universe' hiding in space-time (Original post) | Judi Lynn | Jun 2020 | OP |
| | bobbieinok | Jun 2020 | #1 |
| | I_UndergroundPanther | Jun 2020 | #2 |
| | Amy-Strange | Jun 2020 | #3 |
| | whopis01 | Jun 2020 | #4 |
| | Sentath | Jun 2020 | #5 |
| | qazplm135 | Jun 2020 | #6 |
---
Response to Judi Lynn (Original post)
Mon Jun 22, 2020, 10:04 AM
bobbieinok (12,858 posts)
1. Thanks. Sharing with friends
---
Response to Judi Lynn (Original post)
Mon Jun 22, 2020, 10:25 AM
I_UndergroundPanther (6,695 posts)
2. Wonder if that universe
Could be made into a liberal world without republicans or magats?
---
Response to Judi Lynn (Original post)
Mon Jun 22, 2020, 11:30 AM
Amy-Strange (854 posts)
3. This actually started back in 2010...
-
Scientists find first evidence that many universes exist
by Lisa Zyga , Phys.org
DECEMBER 17, 2010
(PhysOrg.com) -- By looking far out into space and observing what's going on there, scientists have been led to theorize that it all started with a Big Bang, immediately followed by a brief period of super-accelerated expansion called inflation. Perhaps this was the beginning of everything, but lately a few scientists have been wondering if something could have come before that, setting up the initial conditions for the birth of our universe.
In the most recent study on pre-Big Bang science posted at arXiv.org, a team of researchers from the UK, Canada, and the US, Stephen M. Feeney, et al, have revealed that they have discovered four statistically unlikely circular patterns in the cosmic microwave background (CMB). The researchers think that these marks could be "bruises" that our universe has incurred from being bumped four times by other universes. If they turn out to be correct, it would be the first evidence that universes other than ours do exist.
The idea that there are many other universes out there is not new, as scientists have previously suggested that we live in a "multiverse" consisting of an infinite number of universes. The multiverse concept stems from the idea of eternal inflation, in which the inflationary period that our universe went through right after the Big Bang was just one of many inflationary periods that different parts of space were and are still undergoing. When one part of space undergoes one of these dramatic growth spurts, it balloons into its own universe with its own physical properties. As its name suggests, eternal inflation occurs an infinite number of times, creating an infinite number of universes, resulting in the multiverse.
These infinite universes are sometimes called bubble universes even though they are irregular-shaped, not round. The bubble universes can move around and occasionally collide with other bubble universes. As Feeney, et al., explain in their paper, these collisions produce inhomogeneities in the inner-bubble cosmology, which could appear in the CMB. The scientists developed an algorithm to search for bubble collisions in the CMB with specific properties, which led them to find the four circular patterns.
https://phys.org/news/2010-12-scientists-evidence-universes.html
-
-
RELATED ARTICLES
:
First Observational Tests of Eternal Inflation
https://arxiv.org/abs/1012.1995
-
-
First observational tests of eternal inflation: Analysis methods and WMAP 7-year results
https://arxiv.org/abs/1012.3667
=============
---
Response to Judi Lynn (Original post)
Mon Jun 22, 2020, 11:40 AM
whopis01 (3,012 posts)
4. Fascinating
---
Response to whopis01 (Reply #4)
Mon Jun 22, 2020, 12:41 PM
Sentath (2,213 posts)
5. Ha!
---
Response to Judi Lynn (Original post)
Mon Jun 22, 2020, 04:19 PM
qazplm135 (5,883 posts)
6. don't know about mirror universe
but the idea that the universe just came from nothing, then will die out, and that's it? I don't know.

I think some sort of cyclical model (Brane theory, or the idea that because another Big Bang is statistically possible even in a long dead empty universe means that it is at some point inevitable, or something else) is probably the right answer.

A series of cyclical universes, one building on the blocks of the prior, a lot like generations of more and more complicated/metal rich stars building from the remnants of the prior star.