Mon Nov 11, 2019, 01:03 AM
Judi Lynn (136,785 posts)
Solving The Mystery Of Songbird Diversity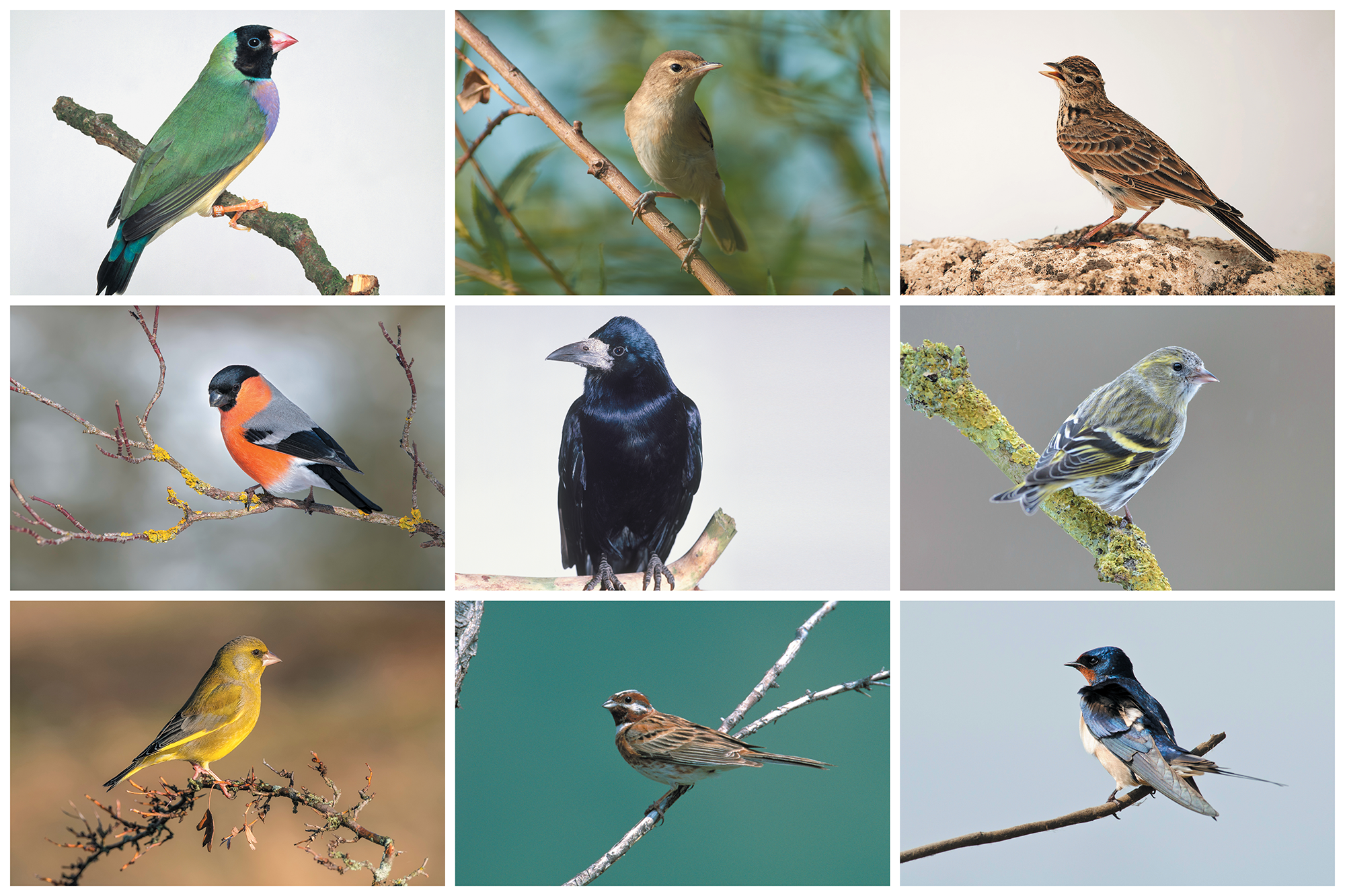 Songbird species found to have the extra chromosome include the Gouldian finch (first row, left), Blyth's reed warbler (first row, middle), Eurasian skylark (first row, right), Eurasian bullfinch (second row, left), rook (second row, middle), European siskin (second row, right), common canary (third row, left), pine bunting (third row, middle) and barn swallow (third row, right). Credit: Cyril Laubscher Getty Images (first row, left); Oleg Minitskiy Getty Images (first row, middle​​​​​​​
; Les Stocker Getty Images (first row, right​​​​​​​
; Reinhard Holzl Getty Images (second row, left); Kim Taylor Getty Images (second row, middle​​​​​​​
; Alamy (second row, right); Fernando Sanchez de Castro Getty Images (third row, left​​​​​​​
; Hanne and Jens Eriksen Nature Picture Library (third row, middle); DP Wildlife Vertebrates Alamy (third row, right)
A strange chromosome may have provided fodder for the evolution of new traits
AUTHOR
Kate Wong Kate Wong is a senior editor for evolution and ecology at Scientific American.
Credit: Nick Higgins
When a 10-kilometer-wide hunk of burning space rock slammed into what is now the Gulf of Mexico 66 million years ago, it touched off widespread destruction, wiping out more than 75 percent of life on Earth. The Chicxulub asteroid, as it is called, is best known as the dinosaur killer. But although it doomed Tyrannosaurus rex and Triceratops, the sauropods and the hadrosaurs, the asteroid actually set one lineage of dinosaurs on a path to glory: that of modern birds.
Birds got their start more than 150 million years ago, evolving from meat-eating dinosaurs called theropods, and they attained an impressive degree of diversity in the first 85 million years or so of their existence. But the ancestors of today's birds—members of the neornithine lineage—were mere bit players compared with archaic birds such as the enantiornithines, which ruled the roost. When the asteroid struck, however, neornithine fortunes shifted. The impact extinguished all of the nonbird dinosaurs and most birds. Only the neornithines made it through that apocalyptic event. This clutch of survivors would give rise to one of the greatest evolutionary radiations of all time.
Today there are more than 10,000 bird species, making them the second most speciose class of vertebrate creatures alive, outnumbered only by the bony fish. They come in every shape and size—the land-bound ostrich tips the scales at more than 136 kilograms; the ever whirring bee hummingbird, less than two grams. They have colonized virtually every major body of land and water on the planet, from the sweltering tropics to the frozen poles. And they have diversified to fill a vast array of dietary niches, evolving adaptations to eating everything from microscopic algae to large mammals.
Incredibly, roughly half of these species are songbirds, which are characterized by a special voice box. The group includes the warblers, canaries, larks and other mellifluous singers but also the strident (to human ears, anyway) crows and their kin. To put that number in perspective, there are approximately as many living species of songbirds as there are of mammals.
More:
https://www.scientificamerican.com/article/solving-the-mystery-of-songbird-diversity/
2 replies, 1269 views
Replies to this discussion thread
| | | | |
| --- | --- | --- | --- |
| 2 replies | Author | Time | Post |
| Solving The Mystery Of Songbird Diversity (Original post) | Judi Lynn | Nov 11 | OP |
| | eppur_se_muova | Nov 12 | #1 |
| | lillypaddle | Nov 12 | #2 |
---
Response to Judi Lynn (Original post)
Tue Nov 12, 2019, 11:02 AM
eppur_se_muova (30,664 posts)
1. Learned a wonderful new word -- speciose. nt
---
Response to Judi Lynn (Original post)
Tue Nov 12, 2019, 05:44 PM
lillypaddle (7,219 posts)
2. Does anyone remember encyclopedias?
I used to love to thumb through them when I was a kid, often settling on the "Birds" category. There was always a shiny, colorful page or two of various birds.

Lovely.