Mon Nov 11, 2019, 12:38 AM
Judi Lynn (136,773 posts)
Is the Universe a Giant Loop?
A new study suggests the cosmos may be curved in upon itself like a ball—but many experts remain unconvinced
By Rafi Letzter, LiveScience on November 5, 2019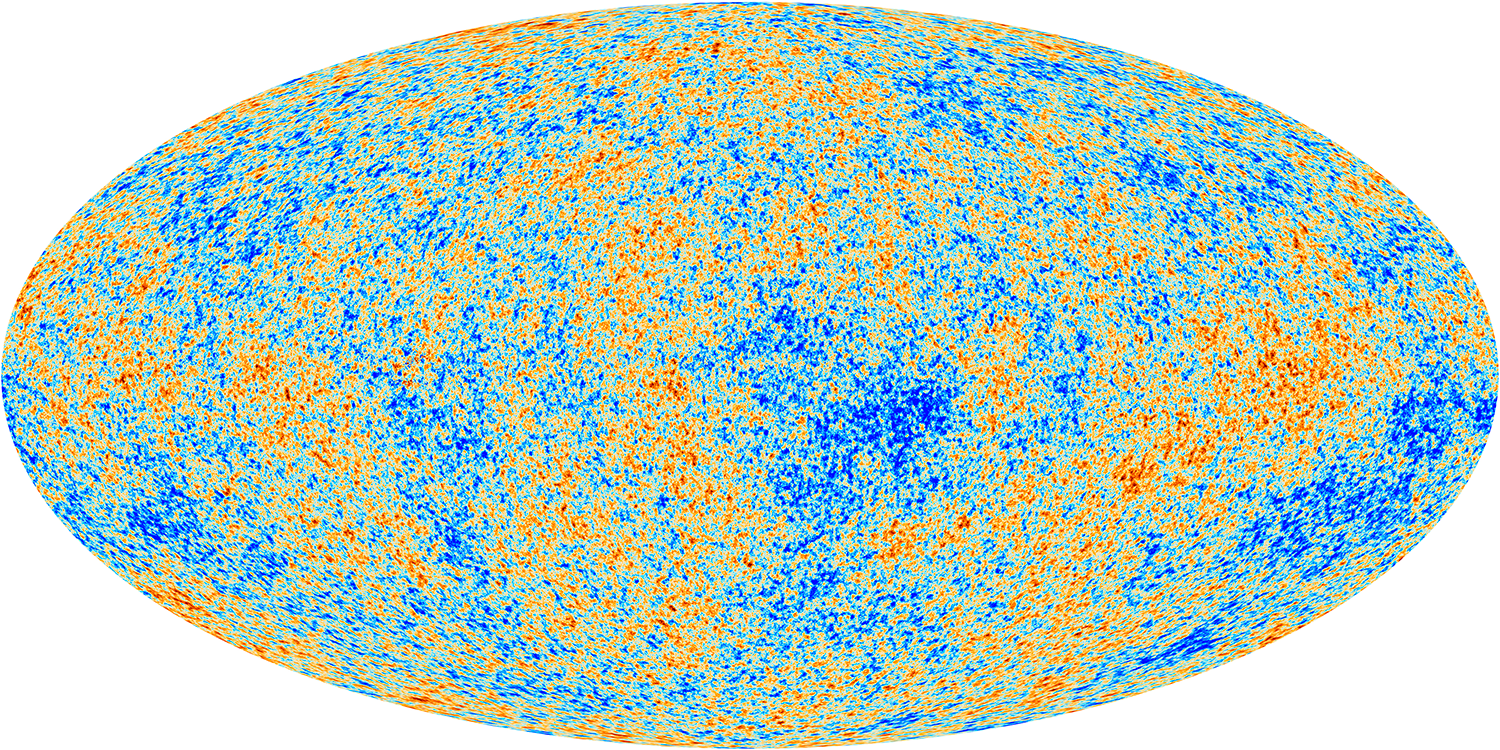 The cosmic microwave background as seen by the European Space Agency's Planck satellite. Credit: ESA and the Planck Collaboration
Everything we think we know about the shape of the universe could be wrong. Instead of being flat like a bedsheet, our universe may be curved, like a massive, inflated balloon, according to a new study.
That's the upshot of a new paper published today (Nov. 4) in the journal Nature Astronomy, which looks at data from the cosmic microwave background (CMB), the faint echo of the Big Bang. But not everyone is convinced; the new findings, based on data released in 2018, contradict both years of conventional wisdom and another recent study based on that same CMB data set.
If the universe is curved, according to the new paper, it curves gently. That slow bending isn't important for moving around our lives, or solar system, or even our galaxy. But travel beyond all of that, outside our galactic neighborhood, far into the deep blackness, and eventually—moving in a straight line—you'll loop around and end up right back where you started. Cosmologists call this idea the "closed universe." It's been around for a while, but it doesn't fit with existing theories of how the universe works. So it's been largely rejected in favor of a "flat universe" that extends without boundary in every direction and doesn't loop around on itself. Now, an anomaly in data from the best-ever measurement of the CMB offers solid (but not absolutely conclusive) evidence that the universe is closed after all, according to the authors: University of Manchester cosmologist Eleonora Di Valentino, Sapienza University of Rome cosmologist Alessandro Melchiorri and Johns Hopkins University cosmologist Joseph Silk.
The difference between a closed and open universe is a bit like the difference between a stretched flat sheet and an inflated balloon, Melchiorri told Live Science. In either case, the whole thing is expanding. When the sheet expands, every point moves away from every other point in a straight line. When the balloon is inflated, every point on its surface gets farther away from every other point, but the balloon's curvature makes the geometry of that movement more complicated.
More:
https://www.scientificamerican.com/article/is-the-universe-a-giant-loop/
3 replies, 547 views
Replies to this discussion thread
| | | | |
| --- | --- | --- | --- |
| 3 replies | Author | Time | Post |
| Is the Universe a Giant Loop? (Original post) | Judi Lynn | Nov 11 | OP |
| | SonofDonald | Nov 11 | #1 |
| | Midnight Writer | Nov 11 | #2 |
| | eppur_se_muova | Nov 12 | #3 |
---
Response to Judi Lynn (Original post)
Mon Nov 11, 2019, 01:22 AM
SonofDonald (1,939 posts)
1. That's interesting
I've always been under the assumption that everything was moving directly away from the starting point

But the there's dark matter and I wonder if that plays a part in distribution of clusters

Look at the stars.....
---
Response to Judi Lynn (Original post)
Mon Nov 11, 2019, 02:54 AM
Midnight Writer (4,442 posts)
2. Gee, I hope our "balloon" doesn't pop. As it expands outward in all directions.
---
Response to Judi Lynn (Original post)
Tue Nov 12, 2019, 10:57 AM
eppur_se_muova (30,660 posts)
3. Hmmm ... I had thought this was already a prevailing view ...
viz, that the Universe is finite but unbounded, curving around on itself in three dimensions, like a higher-dimensional analog of a torus. Maybe that view is just so popular among SF authors that it gives the impression of being accepted by more respected cosmologists.