Thu Oct 31, 2019, 08:35 PM
Judi Lynn (135,275 posts)
Measles Wipes Your Immune System's 'Memory,' So It Can't Fight Other Infections
Measles Wipes Your Immune System's 'Memory,' So It Can't Fight Other Infections
By Nicoletta Lanese - Staff Writer 6 hours ago Health
Two new studies detail how the measles virus causes "immune amnesia."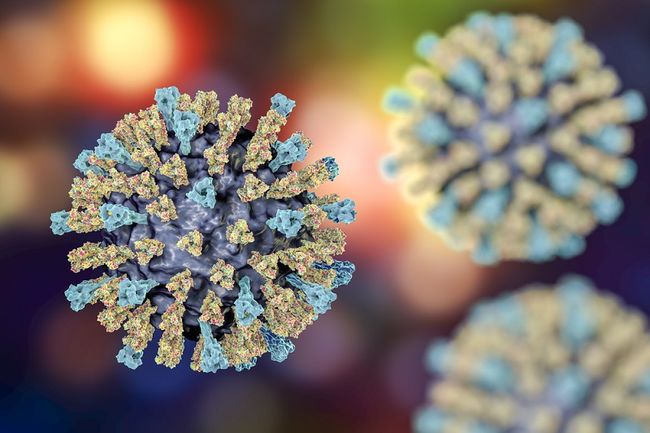 The notorious measles virus not only makes people sick, it also sneaks inside important immune cells in the body and wipes their "memories," new research suggests.
Once infected, the amnesic immune system no longer recognizes the harmful pathogens that it has fought off in the past. This means measles survivors can remain susceptible to dangerous diseases — such as the flu and pneumonia — for years to come, despite having weathered their initial illness.
"Measles essentially takes away their ability to efficiently protect themselves," said Michael Mina, an epidemiologist at Harvard University and co-author of the new study, published today (Oct. 31) in the journal Science. The paper pairs with another published today in Science Immunology. Using data from a group of unvaccinated children in the Netherlands, both studies revealed what scientists have long suspected: that the measles virus cripples the immune system in a profound and lasting way.
"What this has done is document exactly how that immunosuppression takes place, and gives us a sense of how broad that immunosuppression can be," said Dr. William Schaffner, a professor of preventive medicine and infectious disease at Vanderbilt University who was not involved in the work. The findings also serve as a reminder that this year's record-breaking measles outbreaks in the U.S. will have lingering effects, Schaffner added.
More:
https://www.livescience.com/measles-wipes-immune-memory.html
8 replies, 576 views
Replies to this discussion thread
| | | | |
| --- | --- | --- | --- |
| 8 replies | Author | Time | Post |
| Measles Wipes Your Immune System's 'Memory,' So It Can't Fight Other Infections (Original post) | Judi Lynn | Oct 31 | OP |
| | efhmc | Oct 31 | #1 |
| | Staph | Oct 31 | #2 |
| | PoindexterOglethorpe | Oct 31 | #3 |
| | Igel | Nov 1 | #8 |
| | PoindexterOglethorpe | Oct 31 | #4 |
| | efhmc | Nov 1 | #5 |
| | PoindexterOglethorpe | Nov 1 | #6 |
| | Jim__ | Nov 1 | #7 |
---
Response to Judi Lynn (Original post)
Thu Oct 31, 2019, 09:19 PM
efhmc (11,370 posts)
1. No, I had it as did most of the people I knew growing up before the vaccine
and yet many of us have lived and are still living with fine immune system.
---
Response to efhmc (Reply #1)
Thu Oct 31, 2019, 10:15 PM
Staph (4,800 posts)
2. I had measles as a kid, too.
But most of the other infectious diseases that I've had, I had after measles. However, I did have chicken pox before the measles, and in the last few years I had shingles. Hmmmmm?!?



---
Response to Staph (Reply #2)
Thu Oct 31, 2019, 11:21 PM
PoindexterOglethorpe (11,250 posts)
3. Shingles is a re-activation of the chicken pox virus.
It has nothing to do with measles, or the order in which you had each disease. The chicken pox virus stays in your body, and sometimes it apparently gets bored and comes out of hiding, causing shingles. All of us who ever had chicken pox have a decent likelihood of getting shingles. And, if I understand it correctly, back before the vaccine, because adults were routinely in contact with (mostly kids) who had chicken pox and were shedding virus, that re-acquaintance with the virus makes your immune system, go, "I know what that is" and tends to keep the virus from causing the mischief of shingles. Because most kids are now vaccinated, we older folks don't come into contact with the virus, so we sometimes get shingles.

Those who were vaccinated, don't have the virus living in their system, and so should never get shingles. Lucky them.

The rest of us should be getting the shingles vaccine. I got the old one a few years ago, and I need to get the new, two part one. I'm on a waiting list at a local pharmacy, but it's always in short supply.
---
Response to efhmc (Reply #1)
Fri Nov 1, 2019, 08:31 PM
Igel (29,071 posts)
8. Not quite the claim
The claim is that if you acquire immunity to some disease and then contract measles, there's a very good chance that you'll lose the prior immunity. Then you could become infected with that "some disease" again and become immune again.
This isn't the first time that this claim's been aired, with pretty good (and similar) evidence. What's new here isn't the what ("people tend to lose previously acquired immunity&quot
but the how of the process of immunity lose and immune system reset.
---
Response to Judi Lynn (Original post)
Thu Oct 31, 2019, 11:26 PM
PoindexterOglethorpe (11,250 posts)
4. I have likewise read about this.
I'm one of the millions who got measles (along with mumps, rubella, chicken pox and I'm not sure what else) as a child and survived quite nicely. I do have a very strong immune system, although I recall getting sick A LOT when I was a little kid. Perhaps that was in the more or less immediate aftermath of measles. I'm not sure just when I got them, probably at age 4 or 5. Once I passed through that phase, by the time I was 7, I was generally very healthy and didn't get sick very often.

I am more or less the healthiest person I know at my age (71) and I think it's in part because I was exposed to and came down with a lot as a child. I've also never smoked, mostly eat reasonably well, and I try very hard to get plenty of sleep. I think that last one is far more important than most people realize.
---
Response to PoindexterOglethorpe (Reply #4)
Fri Nov 1, 2019, 01:07 PM
efhmc (11,370 posts)
5. I really find this research very suspect.
---
Response to efhmc (Reply #5)
Fri Nov 1, 2019, 01:20 PM
PoindexterOglethorpe (11,250 posts)
6. I'm wondering about it also.
Here's the key line:
before the measles vaccine was introduced in the 1960s, an estimated 50% of childhood deaths may have been associated with infections that kids caught after surviving a bout of measles
"May have been" means someone is making a guess, intended to be an educated one. I doubt that figure can ever be confirmed, because we're not going to have good statistics on exactly when kids in decades past got measles, and then how many kids died within some defined period after. If there are any good numbers on measles epidemics in this country (and I'm not sure there ever were; I think measles were a reasonably steady thing for a long time) it would be possible to see if there are spikes in childhood mortality immediately afterwards.
I'm certainly not arguing against the measles vaccine, but this feels a bit overblown.
---
Response to PoindexterOglethorpe (Reply #6)
Fri Nov 1, 2019, 03:31 PM
Jim__ (11,727 posts)
7. Did you read the linked study - the study linked to your key line?
That study is
here
.
Figure 1 from that study gives some idea as to the data they used - if you go to the study, you can blow up figure 1 for some clarification of the details:
...
Measles incidence, nonmeasles infectious disease mortality, and measles-induced immunomodulation
Nonmeasles infectious disease mortality and measles incidence time series (A to C) and regressions (E to G) are shown for England and Wales, the United States, and Denmark. The vertical dashed lines in (A) to (C) indicate the year of introduction of the measles vaccine. (D) Measles-induced lymphopenia and subsequent measles-specific lymphocyte expansion in the weeks after MV infection, as described in (17, 23), are shown, and time is extended to depict hypothesized long-term immunomodulatory effects of MV infection and reconstitution of the immune response through individual exposures. Scatter plots and best-fit regression curves (plotted with 95% confidence bands) are shown for nonmeasles infectious disease mortality versus measles incidence for England and Wales (E), the United States (F), and Denmark (G).
__________________________________________________________________________________________________
To assess the underlying immunological hypothesis (Fig. 1D) using population-level data, we required that first, nonmeasles mortality should be correlated with measles incidence data, especially because the onset of vaccination reduces the latter. Second, an immune memory loss mechanism should present as a strengthening of this association when measles incidence data are transformed to reflect an accumulation of previous measles cases (a measles "shadow"). For example, if immune memory loss (or more broadly, immunomodulation) lasts 3 years, the total number of immunomodulated individuals (S) in the nth quarter can be calculated as the sum of the measles cases (M) over the previous (and current) 12 quarters: Sn = Mn−11 + Mn−10 + …+ Mn−1 + Mn. In practice, we weighted the quarters using a gamma function. Dividing S by the total population of interest thus provides the prevalence of immunomodulation (see SM 2, and 3; fig. S1, A to C; and movie S1 for detailed methods). Third, the strength of this association should be greatest when the mean duration over which the cases are accumulated matches the mean duration required to restore immunological memory after MV infection. Fourth, the estimated duration should be consistent both with the available evidence of increased risk of mortality after MV, compared with uninfected children, and with the time required to build a protective immune repertoire in early life (Fig. 1D, fig. S2, and SM 5 and 6).
To explicitly address whether the observed nonspecific benefits of vaccination can be attributed to the prevention of MV immunomodulation, evidence for the four hypotheses must be present separately within the pre-vaccine eras.
...
Just before figure 1, the study contains a link to Supplementary Materials which provides materials and methods for the data manipulation - there is a text document and 3 videos.