Wed Sep 11, 2019, 02:28 PM
Judi Lynn (134,255 posts)
Gargantuan 'Bubbles' of Radio Energy Spotted at the Center of Our Galaxy. How'd They Get There?
By Brandon Specktor - Senior Writer an hour ago Space
Two huge bubbles of radio energy swirling out of the Milky Way's middle could be evidence of an ancient cosmic explosion — or maybe the start of a new one.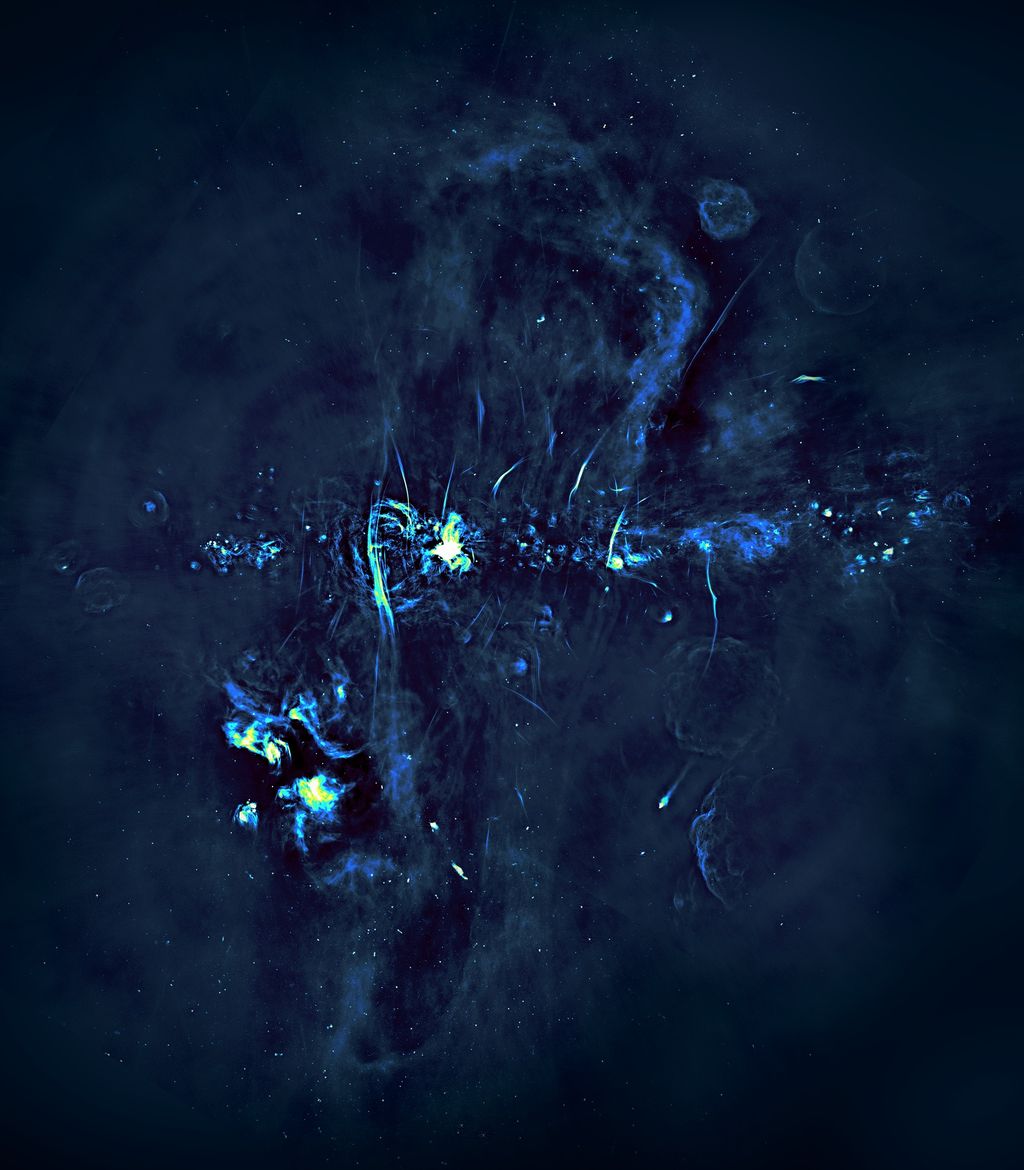 In this radio image of the Milky Way's center, a supermassive black hole (hidden in the bright blue spot in the middle) seethes while gargantuan bubbles of radio energy puff out on either side. Scientists aren't sure what's creating them.(Image: © South African Radio Astronomy Observatory/ Heywood et al.)
A few million years ago, the center of the Milky Way experienced a bout of bad gas.
Suddenly, some unknown quantity of matter and electromagnetic energy swirling near our galaxy's central black hole erupted in a gargantuan explosion. Electrons moving at nearly the speed of light tore into nearby clouds of dust and gas, causing them to balloon into two enormous, nearly identical bubbles of invisible energy. They're still there today, each one towering some 25,000 light-years high (about a quarter of the width of the Milky Way itself), but you won't see them unless you have an eye for the most energetic radiation in the universe.
Astronomers discovered these galactic fart bubbles in 2010, while looking toward the center of the galaxy with NASA's Fermi Gamma-ray Space Telescope. Now known as the Fermi Bubbles, these massive, gassy blobs appear only in X-ray and gamma-ray light, teasing at an ancient and extremely powerful origin. How and when this galactic bubble-blowing blast occurred, astronomers can't say. But in a new study published today (Sept. 11) in the journal Nature, an international team of researchers reported some fresh clues found by looking to the opposite end of the electromagnetic spectrum, at radio waves.
Using a radio telescope array called MeerKAT to look through the dust clouding our galaxy's navel, researchers in South Africa have detected a pair of bubble-like radio-wave structures bulging out of the galactic center right next to the Fermi Bubbles. While these "radio bubbles" appear much smaller and much less energetic than the frenetic Fermi Bubbles, they likely originated from a similarly cataclysmic event involving our galaxy's central black hole. They may even be part of an ongoing process that's slowly fueling the Fermi Bubbles' inflation, the researchers wrote.
More:
https://www.livescience.com/milky-way-radio-bubbles-bad-gas.html?utm_source=notification
4 replies, 402 views
Replies to this discussion thread
| | | | |
| --- | --- | --- | --- |
| 4 replies | Author | Time | Post |
| Gargantuan 'Bubbles' of Radio Energy Spotted at the Center of Our Galaxy. How'd They Get There? (Original post) | Judi Lynn | Sep 11 | OP |
| | at140 | Sep 11 | #1 |
| | cstanleytech | Saturday | #2 |
| | at140 | Saturday | #3 |
| | cstanleytech | Saturday | #4 |
---
Response to Judi Lynn (Original post)
Wed Sep 11, 2019, 02:33 PM
at140 (2,839 posts)
1. All that ferocious activity does not affect planet earth!
We are too many light years away. Only thing that affects us is our Sun, which is barely 9 light-minutes away. Any hiccup on the Sun, and we feel it. Because the Sun is 1.3 Million times bigger than our puny planet and has constant ongoing hot fusion going on.
---
Response to at140 (Reply #1)
Sat Sep 14, 2019, 12:45 PM
cstanleytech (18,735 posts)
2. I wouldnt go that far who knows what could happen if the central black hole was to merge
with another black hole of similar or greater mass right now.
---
Response to cstanleytech (Reply #2)
Sat Sep 14, 2019, 04:04 PM
at140 (2,839 posts)
3. That is how I envision the Universe will end
when a few massive black holes merge and devour every kg of mass floating around in the universe.
And then the giant blank hole will be so powerful with crushing gravitational forces, it will again have a Big Bang #2 explosion (or 100 or 1000 or gazillion) and a new universe will begin.

But of course we are talking geological clock here meaning Billions of years away. Seems like everything in nature goes in cycles. Ice age will be here again based on that cycle and many millions will perish.
---
Response to at140 (Reply #3)
Sat Sep 14, 2019, 05:08 PM
cstanleytech (18,735 posts)
4. For all we know it could actually already be heading that way if the universe is
is essentially shaped like a giant Klein bottle.