Wed Sep 11, 2019, 01:16 AM
Judi Lynn (134,684 posts)
Scientists find a link between brain's emotion circuit and movement
By Angela Betsaida B. Laguipo, BSNSep 11 2019
The brain is a powerful organ that controls all the body processes, including movement. In some athletes, however, they usually experience a phenomenon called "choking," wherein their performance rapidly declines when they're under a lot of pressure.
The exact mechanism of choking has been widely studied, but now, new highlights emerged, thanks to a new study by researchers at Salk Institute. The study, which was published in the journal eLife, shows that one-way signals from the emotion circuit of the brain go to the movement circuit, making emotions affect action.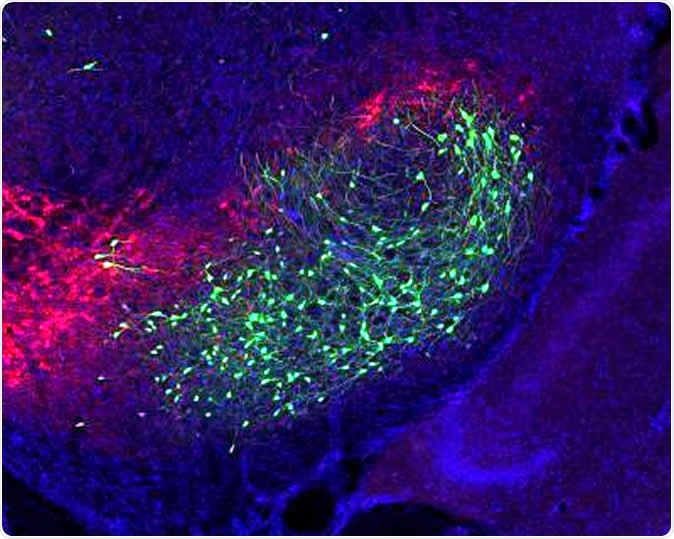 A cluster of basal ganglia output neurons (green) that convey emotion information to the movement
circuit to control action. Dopaminergic neurons (red) are also present in the image. Image Credit:
Salk Institute / Shutterstock

The new study could pave the way for the formulation of new treatment strategies for treating diseases with disruptive movement, including anxiety, depression, and obsessive-compulsive disorder. The new body of knowledge can also contribute to the therapy for people with spinal cord injuries, or among athletes who experience altered physical performance when they face high-stress situations.
"This finding is very exciting as it is the first time that a comprehensive circuit mechanism has been found showing how emotional states can influence movement through connections in an area of the brain called the basal ganglia, a region involved in guiding behavior," Xin Jin, study's lead author, said in a statement.

"We did not previously know much about this pathway, so it brings about a whole new paradigm for examining psychiatric disorders as well as spinal cord injury," he added.
More:
https://www.news-medical.net/news/20190911/Scientists-find-a-link-between-braine28099s-emotion-circuit-and-movement.aspx
1 replies, 597 views
Replies to this discussion thread
| | | | |
| --- | --- | --- | --- |
| 1 replies | Author | Time | Post |
| Scientists find a link between brain's emotion circuit and movement (Original post) | Judi Lynn | Sep 11 | OP |
| | Jim__ | Sep 11 | #1 |
---
Response to Judi Lynn (Original post)
Wed Sep 11, 2019, 04:00 AM
Jim__ (11,690 posts)
1. I wonder if that connection can also contribute to enhanced performance.
Some athletes seem to perform better under extreme stress.