Sat Sep 7, 2019, 08:03 PM
Judi Lynn (135,958 posts)
The 'Fireworks Galaxy' Is Exploding in X-Ray Light, and Scientists Are Confused
By Brandon Specktor - Senior Writer a day ago Space
Scientists spotted a mysterious blast of intense X-ray light flashing out of the distant Fireworks galaxy, and it's no mere supernova.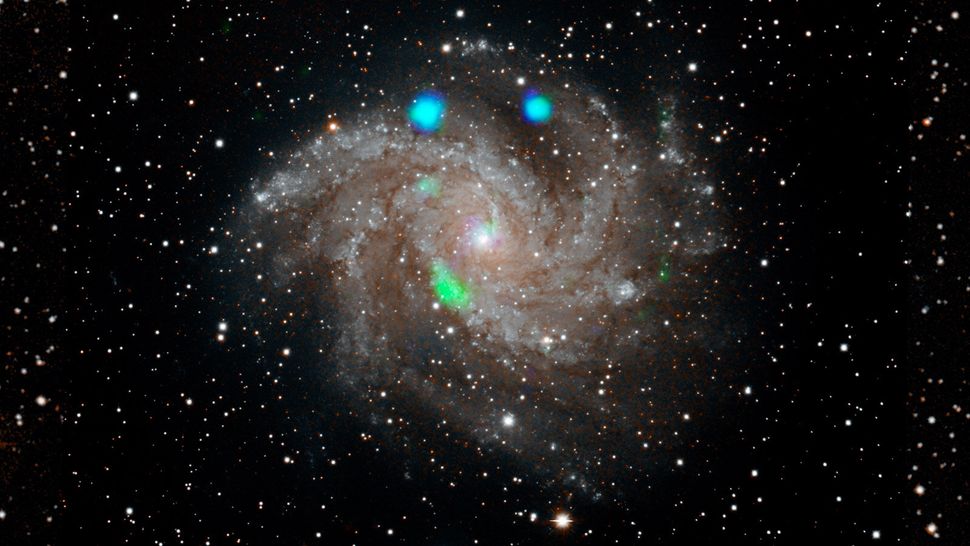 The Fireworks galaxy is known for its supernovas (seen in blue), but a mysterious X-ray explosion (green) has scientists scratching their heads.(Image: © NASA/JPL-Caltech)
Don't be alarmed, but the Fireworks galaxy is exploding.
To be fair, it's been exploding for a while ó at least since 1917 (give or take the 25 million years that light takes to travel from that galaxy to Earth), when astronomers first glimpsed a large star erupting into a supernova there. Since then, scientists have detected nearly a dozen stellar explosions in the busy galaxy, but none quite like the mysterious green blotch of X-ray light visible in the image above.
What makes that blotch special? For starters, it's not a supernova. The X-ray signature detected by NASA's Nuclear Spectroscopic Telescope Array (NuSTAR) observatory is far more energetic than that of a typical supernova. (You can see one of those explosions glowing blue in the upper right corner of the same image.) But more importantly, the energetic X-ray blast also appeared and disappeared from the galaxy in about 10 days ó a much briefer appearance than a supernova, which can brighten and fade over hundreds of days.
So, the greenish blast of invisible energy is probably not a supernova. What is it, then? A study published Aug. 9 in The Astrophysical Journal provides a few guesses. The study authors, who glimpsed the mysterious blast of energy by chance while studying supernovas in the Fireworks galaxy, said the mystery explosion likely involves one of the most powerful objects in the universe, possibly a black hole or neutron star, tearing apart one of its stellar neighbors.
More:
https://www.livescience.com/mysterious-xray-explosion-fireworks-galaxy.html
5 replies, 621 views
Replies to this discussion thread
| | | | |
| --- | --- | --- | --- |
| 5 replies | Author | Time | Post |
| The 'Fireworks Galaxy' Is Exploding in X-Ray Light, and Scientists Are Confused (Original post) | Judi Lynn | Sep 2019 | OP |
| | tblue37 | Sep 2019 | #1 |
| | erronis | Sep 2019 | #2 |
| | LunaSea | Sep 2019 | #4 |
| | erronis | Sep 2019 | #5 |
| | 2naSalit | Sep 2019 | #3 |
---
Response to Judi Lynn (Original post)
Sat Sep 7, 2019, 08:05 PM
tblue37 (35,618 posts)
1. K&R and thanks. nt
---
Response to Judi Lynn (Original post)
Sat Sep 7, 2019, 08:28 PM
erronis (7,281 posts)
2. Maybe a far advanced civiliations sending us SETI communications?
(Just joking, but...)

Ever since "The Three Body Problem" came out I have to think about ways other civilizations might communicate with us - not just using our primitive knowledge of radio wave-lengths.

If we get to the point of accepting that gravitational waves would be a great, if slow, form, then we might also accept that seemingly non-sentient objects such as planets/rocks could also communicate.

OK - getting late. Time for bed.

---
Response to erronis (Reply #2)
Sat Sep 7, 2019, 09:14 PM
LunaSea (2,208 posts)
4. You may find this paper interesting-
Authored by standup comedian (best known as the voice of Roger Rabbit)
CanSequentially LinkedGamma-Ray BurstsNullifyRandomness?
Charles Fleischer 2012
ABSTRACT
In order to nullify the property of randomness perceived in the dispersion of gamma-ray bursts(GRBís) we introduce two new procedures. 1.Create a segmented group of sequentially linked GRB's and quantify the resultant angles. 2.Create segmented groups of sequentially linkedGRB'sin order to identify the location of GRBís that are positioned at equidistance, by using theselected GRB as the origin for apaired point circle, where the circumference of said circle intercepts the location of other GRB's in the same group.
https://arxiv.org/ftp/arxiv/papers/1205/1205.0518.pdf
---
Response to LunaSea (Reply #4)
Sun Sep 8, 2019, 07:42 AM
erronis (7,281 posts)
5. That is a fascinating read - Gamma Ray Bursts and harmonics
Makes me think back to the film Close Encounters of the Third Kind - and the eerie notes that are played to communicate.

---
Response to Judi Lynn (Original post)
Sat Sep 7, 2019, 08:30 PM
2naSalit (31,473 posts)
3. Fascinating!