Wed Aug 14, 2019, 10:10 PM
Judi Lynn (133,604 posts)
Jupiter's Strange Core May Have Been Forged by a Colossal Head-On Crash
By Chelsea Gohd 9 hours ago Science & Astronomy
A massive planetary embryo may have hit Jupiter 4.5 billion years ago.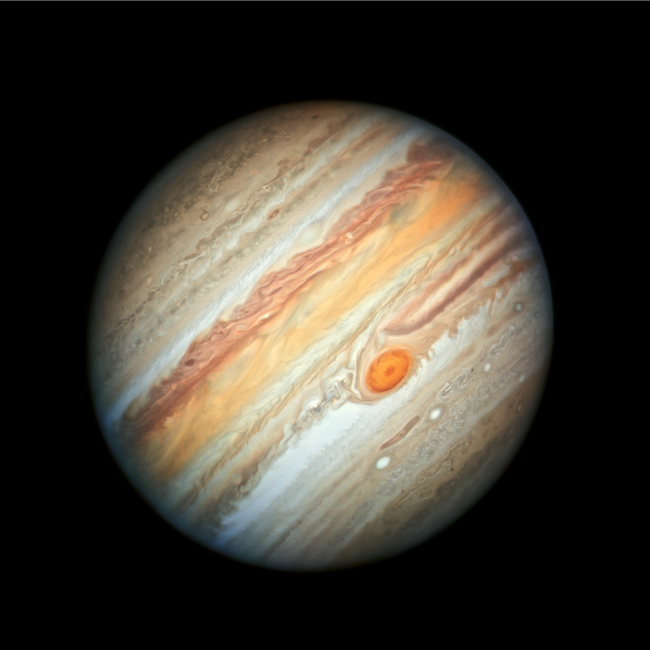 This Hubble Space Telescope view of Jupiter, taken on June 27, 2019, reveals the giant planet's trademark Great Red Spot, and a more intense color palette in the clouds swirling in Jupiter's turbulent atmosphere than seen in previous years. One new study suggest that the gas giant's dilute core was formed by a massive collision billions of years ago. (Image: © NASA, ESA, A. Simon (Goddard Space Flight Center) and M.H. Wong (University of California, Berkeley))
About 4.5 billion years ago, a young Jupiter collided head-on with a planetary embryo 10 times more massive than Earth. This giant impact formed Jupiter's dilute core, which contains hydrogen and helium, one new study suggests.
Before NASA's Juno mission launched to orbit and study Jupiter, scientists thought that the planet's core was dense and compact. "Astronomers assumed that Jupiter has a small compact core with a mass ranging from 5 to 20 Earth masses," lead study author Shangfei Liu of Sun Yat-sen University in Zhuhai, China, said in an email to Space.com.
This was assumed because Jupiter started off as a rocky and icy planetary embryo. However, studies using data from Juno found that the planet has an extended, dilute core — a core that is not only made up of rocky material and ice, but also hydrogen and helium. This "also means there is no sharp transition between the core and the envelope as we previously envisioned from planet formation theory," Liu said. This dilute core is something that scientists determined could not form naturally.
"That's why we came up with the impact idea: Jupiter was smacked head-on by another massive planetary embryo (about 10 Earth masses) shortly after its formation," Liu said. "Such a catastrophic collision destroyed Jupiter's primordial compact core, and a dilute-core-like structure was formed."
More:
https://www.space.com/jupiter-strange-core-formed-by-collision.html?utm_source=notification
2 replies, 363 views
Replies to this discussion thread
| | | | |
| --- | --- | --- | --- |
| 2 replies | Author | Time | Post |
| Jupiter's Strange Core May Have Been Forged by a Colossal Head-On Crash (Original post) | Judi Lynn | Aug 14 | OP |
| | PoindexterOglethorpe | Aug 14 | #1 |
| | tblue37 | Aug 15 | #2 |
---
Response to Judi Lynn (Original post)
Wed Aug 14, 2019, 11:58 PM
PoindexterOglethorpe (10,509 posts)
1. Interesting.
The early solar system was filled with a lot of junk. One Mars-sized planet, called Theia, crashed into Earth around that same time, and the resulting debris coalesced to become our Moon.
---
Response to Judi Lynn (Original post)
Thu Aug 15, 2019, 11:32 PM
tblue37 (33,069 posts)
2. K&R and thanks! nt