Tue Aug 13, 2019, 04:19 PM
Judi Lynn (134,221 posts)
Weird Star Slows Down Before 'Glitching,' and No One Knows Why
By Passant Rabie 9 hours ago Science & Astronomy
The spinning star slows down right before it speeds up.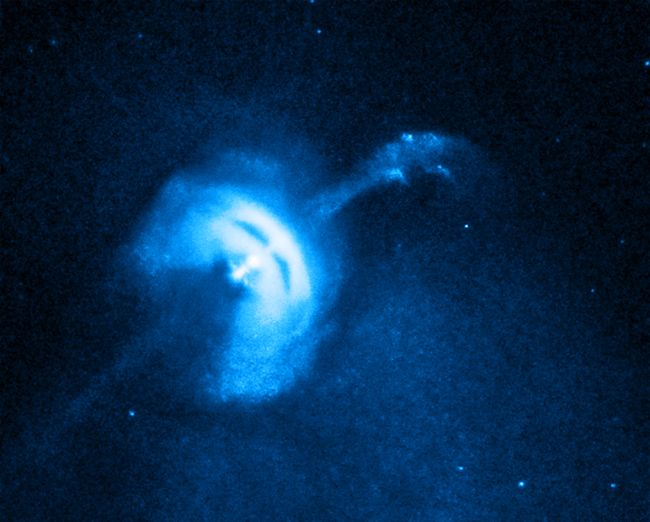 (Image: © X-ray: NASA/CXC/Univ of Toronto/M.Durant et al; Optical: DSS/Davide De Martin/)
Vela is a neutron star famous among so-called "glitch hunters," or astronomers who search the skies for stars that rotate regularly but suddenly speed up. This particular star, which is known to glitch around once every three years, just revealed its stellar insides during its latest glitch.
A team of astronomers at Monash University in Australia recently studied the glitching star, located around 1,000 light-years away from Earth in the southern sky. They observed how Vela spins faster during its glitch before relaxing to a final state, Monash University officials said in a statement.
During this observation, the scientists also noticed that the rotating star slows down right before it glitches.
"Immediately before the glitch, we noticed that the star seems to slow down its rotation rate before spinning back up," Greg Ashton, a researcher at the Monash University School of Physics and Astronomy and one of the authors of the study, said in the statement. "We actually have no idea why this is, and it's the first time it's ever been seen."
More:
https://www.space.com/glitching-neutron-star-slows-down.html?utm_source=notification
2 replies, 456 views
Replies to this discussion thread
| | | | |
| --- | --- | --- | --- |
| 2 replies | Author | Time | Post |
| Weird Star Slows Down Before 'Glitching,' and No One Knows Why (Original post) | Judi Lynn | Aug 13 | OP |
| | SWBTATTReg | Aug 13 | #1 |
| | eppur_se_muova | Aug 13 | #2 |
---
Response to Judi Lynn (Original post)
Tue Aug 13, 2019, 05:15 PM
SWBTATTReg (7,420 posts)
1. Interesting. Perhaps an uneven balance of materials on its surface slows it down before it 'burps'?
---
Response to Judi Lynn (Original post)
Tue Aug 13, 2019, 11:03 PM
eppur_se_muova (29,942 posts)
2. Sounds like it's inflating and deflating, or wobbling between prolate and oblate spheroids ...
... like a spinning skater, bringing their his/her arms in and out.
It's interesting that some atomic nuclei do this, so it might not be unexpected in a neutron star, which is basically a big ball of nucleons.