Mon Aug 12, 2019, 04:02 PM
Judi Lynn (134,727 posts)
Cloaked Black Hole Found Hidden Behind Gas Cloud in Early Universe
By Passant Rabie 3 hours ago Science & Astronomy
It's the most distant cloaked black hole discovered to date.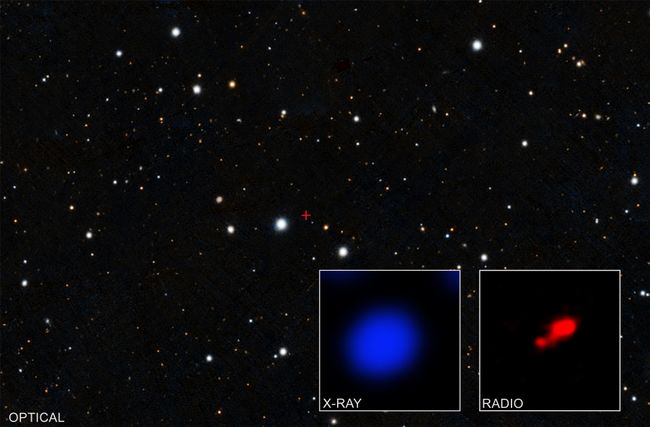 PSO167-13 was discovered by the Pan-STARRS telescope before being observed via Chandra X-ray Observatory(Image: © X-Ray: NASA/CXO/Pontificia Universidad Católica de Chile/F. Vito. Radio: ALMA (ESO/NAOJ/NRAO). Optical: Pan-STARRS)
A cloaked black hole, one of the rarest black hole sightings, was found lurking behind a cloud of gas, and it dates to the early years of the universe.
In a recent discovery made using the Chandra X-ray Observatory, astronomers found the farthest cloaked black hole to date. The object is only about 6% of the age of the universe, according to a statement from NASA.
Before they turn into supermassive black holes, these monstrous cosmic beings feed off material from a disk of surrounding matter, the process of which creates an extremely bright, compact source of light known as a quasar. During a black hole's early growth period, a dense cloud of gas blocks the quasar's light until the black hole finishes consuming the gas.
"It's extraordinarily challenging to find quasars in this cloaked phase, because so much of their radiation is absorbed and cannot be detected by current instruments," Fabio Vito, an astrophysicist at the Pontificia Universidad Católica de Chile in Santiago, Chile, and lead author of a study describing the research, said in the statement.
More:
https://www.space.com/cloaked-black-hole-discovered-in-early-universe.html?utm_source=notification
1 replies, 407 views
Replies to this discussion thread
| | | | |
| --- | --- | --- | --- |
| 1 replies | Author | Time | Post |
| Cloaked Black Hole Found Hidden Behind Gas Cloud in Early Universe (Original post) | Judi Lynn | Aug 12 | OP |
| | EarnestPutz | Aug 12 | #1 |
---
Response to Judi Lynn (Original post)
Mon Aug 12, 2019, 04:21 PM
EarnestPutz (532 posts)
1. If something is "only about 6% of the age of the universe" how can it....
....date to "the earliest years of the universe"? The earth is almost exactly 33% of the age of the universe, but the 13.77 Billion year old universe was over 9 billion years old when earth was first formed. Wait a minute, just hold on. I think you might be referring to the black holes apparent age, as we observe it back in time. O.K. Fine. Never mind.