Mon Aug 12, 2019, 02:50 PM
Judi Lynn (134,812 posts)
Nuclear Reactor for Mars Outpost Could Be Ready to Fly by 2022
By Mike Wall 8 hours ago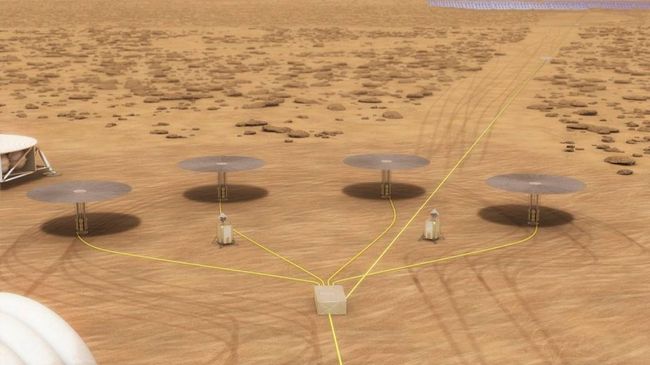 Artist's illustration of a fission power system on the surface of Mars using four 10-kilowatt units.(Image: © NASA)
A new type of nuclear reactor designed to power crewed outposts on the moon and Mars could be ready for its first in-space trial just a few years from now, project team members said.
A flight test is the next big step for the Kilopower experimental fission reactor, which aced a series of critical ground tests from November 2017 through March 2018. No off-Earth demonstration is on the books yet, but Kilopower should be ready to go by 2022 or so if need be, said Patrick McClure, Kilopower project lead at the Department of Energy's (DOE) Los Alamos National Laboratory in New Mexico.
"I think we could do this in three years and be ready for flight," McClure said late last month during a presentation with NASA's Future In-Space Operations working group.
"I think three years is a very doable time frame," he added, stressing that this is his opinion, not necessarily that of NASA, which is developing the Kilopower project along with the DOE.
More:
https://www.space.com/nuclear-reactor-for-mars-outpost-2022.html?utm_source=notification
8 replies, 557 views
Replies to this discussion thread
| | | | |
| --- | --- | --- | --- |
| 8 replies | Author | Time | Post |
| Nuclear Reactor for Mars Outpost Could Be Ready to Fly by 2022 (Original post) | Judi Lynn | Aug 12 | OP |
| | Tiggeroshii | Aug 12 | #1 |
| | sts069 | Aug 12 | #2 |
| | NNadir | Aug 12 | #3 |
| | cstanleytech | Aug 12 | #4 |
| | NNadir | Aug 13 | #5 |
| | cstanleytech | Aug 13 | #6 |
| | NNadir | Aug 14 | #7 |
| | hunter | Aug 18 | #8 |
---
Response to Judi Lynn (Original post)
Mon Aug 12, 2019, 03:32 PM
Tiggeroshii (8,596 posts)
1. That sounds dangerous.
---
Response to Tiggeroshii (Reply #1)
Mon Aug 12, 2019, 04:20 PM
sts069 (1 post)
2. Not really
The reactor won't even be activated until it's in at least a stable orbit. If a problem occurs, it shuts down automatically without requiring intervention. (This happened with the only reactor flown by the U.S., back in the '60s; an unrelated problem was sensed by the reactor controls and the unit was shut off permanently.)
---
Response to Tiggeroshii (Reply #1)
Mon Aug 12, 2019, 05:50 PM
NNadir (23,401 posts)
3. It is certainly nowhere near as as dangerous as a smokestack.
It's almost amusing, were it not so tragic, that people make Pavlovian "danger" statements whenever they hear the word "nuclear," although nuclear energy has a spectacular record of producing an extraordinarily low death toll per unit of energy produced, while the wastes pouring out of smokestacks and chimneys kills over 7 million people per year with not even a single whimper.
I would submit for something to be "dangerous" it must produce
significant
harm, like say air pollution. If some prevents that which is dangerous it is a tool for safety.
Nuclear energy
saves
lives.
Prevented Mortality and Greenhouse Gas Emissions from Historical and Projected Nuclear Power
(Pushker A. Kharecha* and James E. Hansen Environ. Sci. Technol., 2013, 47 (9), pp 4889–4895)
In stating this, I am not advocating for a mission to Mars; right now I think we have more important tasks to accomplish, but if people make small portable nuclear reactors for this purpose, it may, as is the case for the computer technology developed for the Apollo missions, have broader applications.
We need small portable nuclear reactors, desperately.
---
Response to NNadir (Reply #3)
Mon Aug 12, 2019, 10:03 PM
cstanleytech (18,955 posts)
4. Or in other words the risk to lives is extremely minimal unless the rocket carrying the fuel was to
explode and or crash and spread the fuel directly on a major metropolitan area which is so statistically improbable primarily due to the trajectory of most launches that a person would have better odds at winning the lottery the night of liftoff?
---
Response to cstanleytech (Reply #4)
Tue Aug 13, 2019, 07:46 PM
NNadir (23,401 posts)
5. Nuclear fuel has crashed on Earth from space vehicles on multiple occasions.
The most famous example is the Apollo 13 lander which was used as a lifeboat. After it was jettisoned it crashed into the Pacific Ocean.

It had a plutonium-238 RTG. Radiation from it has never been detected.

RTG's are designed to crash.

I'm not familiar with this particular reactor, but I'm familiar with many analogues of reactors of this type.

This reactor will be a fission reactor and not an RTG, and thus will almost certainly not be critical during launch, and probably not all that radioactive. Most likely the fuel would be designed to be a "breed and burn" type device, meaning that the critical materials will be present in rather small amounts, I'd suspect a U-235 core with either thorium or depleted uranium as a blanket.

My son interned at ORNL and in the last week got a tour of the HFIR, which is not in operation owing to the use of a new fuel manufacturing technology that led to the fuel not being the right size. The core, he told me, is about 30 cm in diameter, which gives a feel for how small reactors can actually be. It's roughly the size of a paint can.

As the ocean naturally contains a little less than 5 billion tons of uranium, owing to its oxygen atmosphere, this is not a particularly risky device.

The ocean also contains about 500 million curies of potassium-40, naturally. In fact, if a human being didn't contain radioactive potassium, he or she would die since potassium is an essential element and all of it radioactive.

The public fear of radiation is absurd and rather ignorant. This ignorance is quite literally killing the planet.

In spite of deliberate public ignorance, egged on by uneducated journalists, I'd like to see more terrestrial "breed and burn" reactors. The concept makes nuclear fission fuel basically inexhaustible.
---
Response to NNadir (Reply #5)
Tue Aug 13, 2019, 09:21 PM
cstanleytech (18,955 posts)
6. A simple "Correct" would have sufficed :)
---
Response to cstanleytech (Reply #6)
Wed Aug 14, 2019, 05:01 AM
NNadir (23,401 posts)
7. I apologize. I'm very sorry.
I have this annoying habit of wishing to express my thoughts, sometimes wasting a few minutes of people's time by elaborating.

It is a good thing that I am an old man and won't live all that much longer, since I am ill suited for the age of twitter twittery where one is required to express the depth of one's thinking in as few words as possible, well laced, of course, with sarcasm wherever possible.

This may be why we have malicious idiots running the country, but no matter. Times are what they are.

You are, of course, correct.
---
Response to Judi Lynn (Original post)
Sun Aug 18, 2019, 05:59 PM
hunter (30,339 posts)
8. A prototype has already been tested at full power in Nevada.