Sun Aug 11, 2019, 08:48 PM
Judi Lynn (134,748 posts)
NASA's Next Big Space Telescope Aces Key Mirror Test (Video)
By Mike Wall 13 hours ago Science & Astronomy
The James Webb Space Telescope is scheduled to launch in 2021.
NASA's next big space telescope is getting its light-collecting gear ready to go. Technicians successfully tested deployment of the secondary mirror on the James Webb Space Telescope, which is expected to launch in 2021.
Despite its name, the secondary mirror has a huge role to play in the success of the Webb telescope's mission. And the technicians had just one chance to get the design right, as the telescope will orbit too far from Earth for astronauts to fix any mistakes.
When Webb is fully deployed, the secondary mirror will sit in front of 18 honeycomb-like primary mirrors. After these mirrors pick up light from a distant object, the secondary mirror will collect their individual signals. Then, the secondary mirror will funnel the combined light beam through tertiary and fine-steering mirrors, finally bringing the signal to the four instruments on Webb that will help scientists with their astronomical analysis.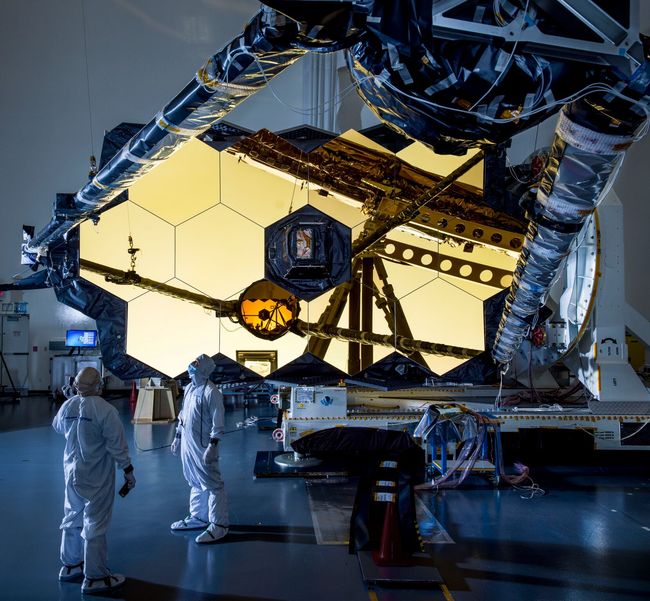 Following a successful deployment test of the James Webb Space Telescope's mission-critical
secondary mirror, technicians and engineers visually inspect the support structure that holds
it in place.
(Image credit: Chris Gunn/NASA)
"The proper deployment and positioning of its secondary mirror is what makes this a telescope — without it, Webb would not be able to perform the revolutionary science we expect it to achieve. This successful deployment test is another significant step towards completing the final observatory," Lee Feinberg, optical telescope element manager for Webb at NASA's Goddard Space Flight Center in Maryland, said in a statement Tuesday (Aug. 6)
More:
https://www.space.com/nasa-james-webb-telescope-mirror-test-video-photos.html
0 replies, 293 views