Tue Aug 6, 2019, 06:41 PM
Judi Lynn (134,188 posts)
Thousands of Tardigrades Stranded on the Moon After Lunar Lander Crash
By Mindy Weisberger 5 hours ago Spaceflight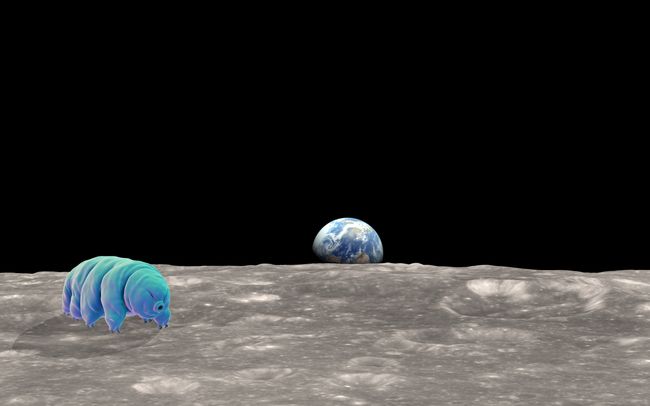 If any creature could survive a crash-landing on the moon, it would probably be a tardigrade.
(Image: © Shutterstock/NASA)
When you look up at the moon, there may now be a few thousand water bears looking back at you.
The Israeli spacecraft Beresheet crashed into the moon during a failed landing attempt on April 11. In doing so, it may have strewn the lunar surface with thousands of dehydrated tardigrades, Wired reported yesterday (Aug. 5).
Beresheet was a robotic lander. Though it didn't transport astronauts, it carried human DNA samples, along with the aforementioned tardigradesand 30 million very small digitized pages of information about human society and culture. However, it's unknown if the archive — and the water bears — survived the explosive impact when Beresheet crashed, according to Wired. [8 Reasons Why We Love Tardigrades]
The tardigrades and the human DNA were late additions to the mission, added just a few weeks before Beresheet launched on Feb. 21. Much like Cretaceous fossils locked in amber, the DNA samples and tardigrades were sealed in a resin layer protecting the DVD-size lunar library, while thousands more tardigrades were poured onto the sticky tape that held the archive in place, Wired reported.
More:
https://www.space.com/tardigrades-moon-israeli-lander.html
4 replies, 761 views
Replies to this discussion thread
| | | | |
| --- | --- | --- | --- |
| 4 replies | Author | Time | Post |
| Thousands of Tardigrades Stranded on the Moon After Lunar Lander Crash (Original post) | Judi Lynn | Aug 6 | OP |
| | Baitball Blogger | Aug 6 | #1 |
| | Kurt V. | Aug 6 | #2 |
| | Ghost Dog | Aug 6 | #3 |
| | Judi Lynn | Aug 7 | #4 |
---
Response to Judi Lynn (Original post)
Tue Aug 6, 2019, 06:58 PM
Baitball Blogger (32,224 posts)
1. 1000 years from now they will have evolved into moon beasts.
---
Response to Judi Lynn (Original post)
Tue Aug 6, 2019, 07:08 PM
Kurt V. (3,862 posts)
2. They're kinda cute.
---
Response to Judi Lynn (Original post)
Tue Aug 6, 2019, 07:39 PM
Ghost Dog (16,279 posts)
3. There should be strong laws against contaminating
biologically such pristine extraterrestrial environments...

And vice-versa.
---
Response to Judi Lynn (Original post)
Wed Aug 7, 2019, 12:23 AM
Judi Lynn (134,188 posts)
4. Indestructible tardigrades thought to have lived through crash-landing on the Moon
an hour ago
Nick Lavars
An ambitious but ultimately doomed mission to land the first private spacecraft on the Moon may not be without entirely without scientific consequence. Among the many items onboard Israel's ill-fated Beresheet lunar lander were thousands and thousands of tardigrades. Yes, those microscopic creatures capable of surviving the harshest of conditions – including even severe impacts with the lunar surface, according to the team behind the experiment.
The Beresheet lunar lander was poised to make history as it zeroed in on the Moon's surface in late April, but was unable to reduce its velocity on approach and wound up crashing into the surface. The lander was lost, along with a host of scientific instruments including a magnetomer and laser reflector array for NASA.
But at least one item of luggage is thought to have survived the crash, as first reported by Wired. The Arch Lunar Library is a DVD-sized capsule hoped to "preserve records of our civilization for up to billions of years." It is the first in a series of such archives from non-profit the Arch Mission Foundation, who aims to provide an off-site a backup of planet Earth, a vision that includes "disseminating humanity's most important knowledge across time and space."
The Arch Lunar Library is made up of 25 nickel discs storing all kinds of data including photos, images of book pages, illustrations and the entire English Wikipedia. And encapsulated in artificial amber within the lunar library were 100 million cells from 25 humans, along with thousands and thousands of tardigrades.
More:
https://newatlas.com/tardigrades-israel-crash-landing-moon/60929/