Thu Jun 13, 2019, 01:13 AM
Judi Lynn (132,197 posts)
World Cup 2019: Astronaut Cheers on US Women's Soccer Team from Space
World Cup 2019: Astronaut Cheers on US Women's Soccer Team from Space
By Elizabeth Howell 11 hours ago Spaceflight
World Cup 2019: Astronaut Cheers on US Women's Soccer Team from Space
NASA astronaut Anne McClain tweeted on June 11 to mark the women's World Cup and share images of the stadium she snapped as the International Space Station orbited overhead.(Image: © NASA)
Talk about nosebleed seats. A U.S. astronaut had the perfect view of the French stadium hosting the FIFA Women's World Cup — although the action may be a little bit hard to see from about 250 miles (400 kilometers) above Earth's surface.
"Finally made it to a @FIFAWWC in person," Anne McClain, a member of Expedition 59, tweeted on Tuesday (June 11), along with two pictures showing the cloudy view beneath the International Space Station. Red circles carefully mark Reims, France, the location of the epic match.
McClain added that she'll be watching the U.S. women's team defend their title from the space station — we presume using a computer or television, since even binoculars wouldn't pick up the action below. "Go #USA!" she added. (McClain was a member of the U.S. national rugby team before heading to space.)
The World Cup is often an occasion for space station crews to let loose on their usually busy schedules; crews are typically responsible for about 200 space experiments and the inevitable maintenance and repairs that come from living on an isolated laboratory.
More:
https://www.space.com/astronaut-cheers-2019-world-cup-us-women-team-from-space.html
NASA ASTRONAUTS TO CONDUCT HISTORIC FIRST ALL-FEMALE SPACEWALK
14 MARCH, 2019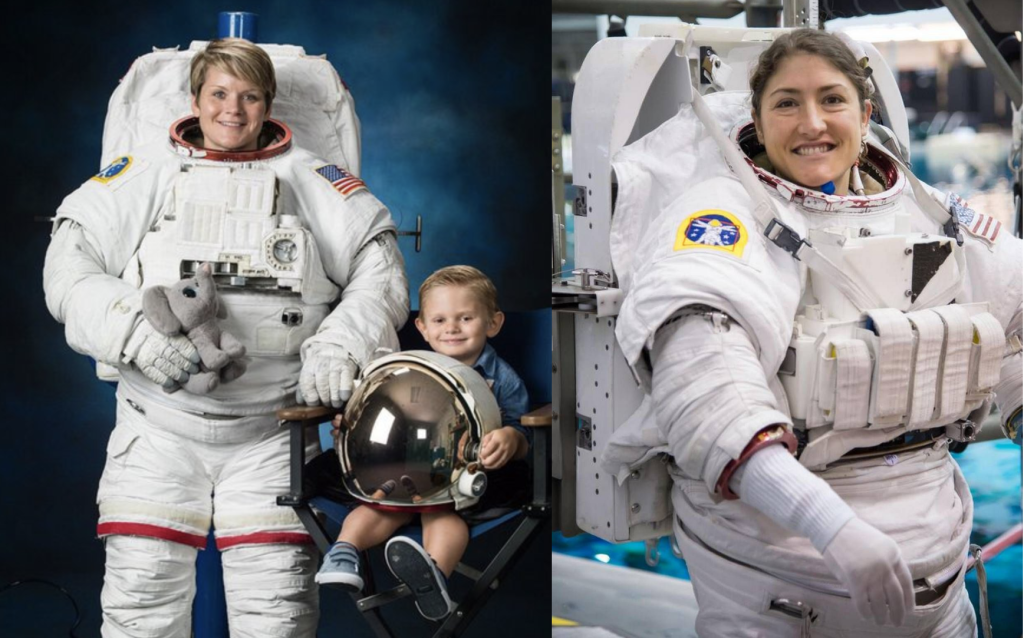 L – NASA Astronaut Anne McClain with her son posing for her official NASA EVA portrait [NASA]
R – NASA Astronaut Christina Koch during EVA/Spacewalk training at NASA [NASA]
Article:
https://rocket-women.com/2019/03/nasa-astronauts-to-conduct-historic-first-all-female-spacewalk/
0 replies, 160 views