Thu Feb 14, 2019, 12:10 AM
Judi Lynn (128,665 posts)
NASA Wants Help from Private Companies to Land Astronauts on the Moon by 2028
By Doris Elin Salazar 6 hours ago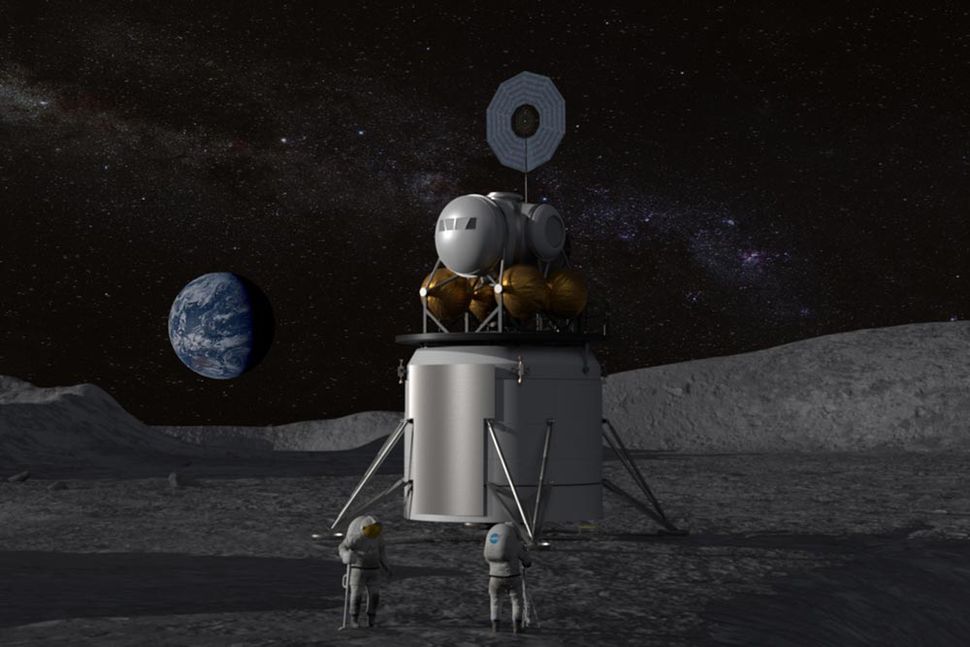 Art of human landing system and crew on lunar surfaceThis is an artist's concept of a human landing system and its crew on the lunar surface.(Image: © NASA)
NASA is officially looking for ideas from private companies to develop future lunar technologies, with responses due by the end of next month.
In addition, the agency published its methodology for bringing crewed missions back to the lunar surface.
The moon has had a big 2019 so far: China's Chang'e-4 lander mission achieved the first soft landing on the far side of the moon at the start of January. Then, millions of people across North and South America enjoyed a mesmerizing lunar eclipse, dubbed the Super Blood Wolf Moon, on Jan. 21. This year, NASA is also commemorating a major lunar milestone: The agency will celebrate the 50th anniversary of the iconic Apollo 11 mission that brought astronauts Neil Armstrong, Buzz Aldrin and Michael Collins to the moon to take that incredible "giant leap for mankind." (Collins remained in lunar orbit.) [Watch a Meteor Smack the Blood Moon in This Lunar Eclipse Video!]
In a statement published Feb. 7, NASA laid out how it will work with U.S. companies to develop reusable systems through which astronauts could return to the moon by 2028.
More:
https://www.space.com/nasa-ideas-human-moon-landing-2028.html
1 replies, 178 views
Replies to this discussion thread
| | | | |
| --- | --- | --- | --- |
| 1 replies | Author | Time | Post |
| NASA Wants Help from Private Companies to Land Astronauts on the Moon by 2028 (Original post) | Judi Lynn | Thursday | OP |
| | exboyfil | Thursday | #1 |
---
Response to Judi Lynn (Original post)
Thu Feb 14, 2019, 12:27 AM
exboyfil (11,018 posts)
1. No way this is going to happen
Focus on getting the Webb telescope up (the telescope that ate NASA).
https://www.nytimes.com/2016/11/22/science/nasa-webb-space-telescope-hubble.html
Now, after 20 years with a budget of $8.7 billion, the Webb telescope is on track and on budget to be launched in October 2018 and sent a million miles from Earth, NASA says.
Didn't happen. Contractor refused to take a haircut even though much of the delay is attributable to them.
2021? 2022? 2025?
https://www.space.com/41016-nasa-delays-james-webb-space-telescope-2021.html
The liftoff of Webb, the successor to the agency's iconic Hubble Space Telescope, has been pushed back from May 2020 to March 2021, NASA officials announced today (June 27). The project's development cost has risen from $8 billion to $8.8 billion, and its total lifecycle price tag now stands at $9.66 billion, they added.