Thu Feb 14, 2019, 12:07 AM
Judi Lynn (128,747 posts)
NASA Will Launch a New Space Telescope in 2023 to Investigate the Universe
By Meghan Bartels 5 hours ago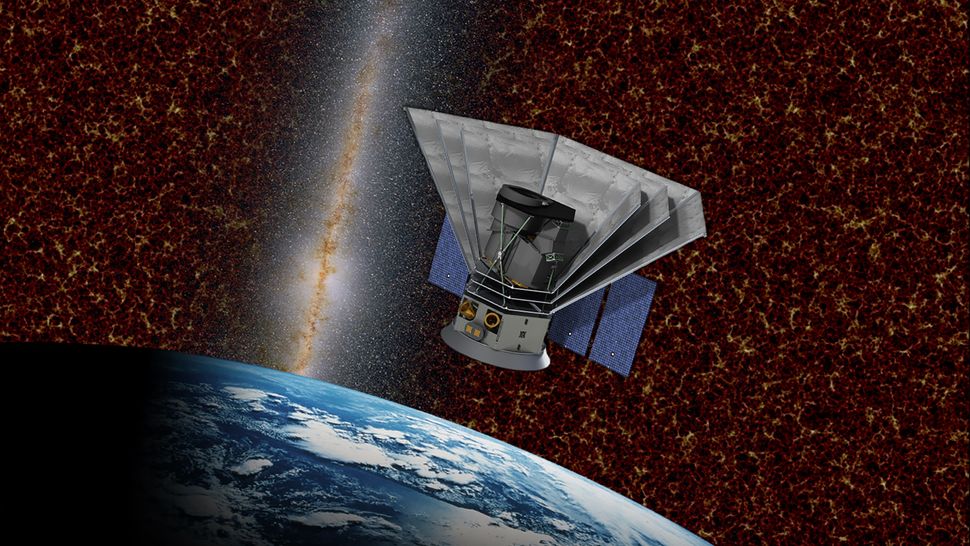 An artist's depiction of the SPHEREx mission at work.(Image: © Caltech)
Come 2023, NASA will have a new eye tracking the heavens and looking to solve some of the greatest scientific mysteries we know of.
That's thanks to a newly approved mission called Spectro-Photometer for the History of the Universe, Epoch of Reionization and Ices Explorer and nicknamed SPHEREx. The instrument is designed to tackle two key questions: how the universe evolved and how common some crucial building blocks of life are across our galaxy.
"I'm really excited about this new mission," NASA Administrator Jim Bridenstine said in a statement. "Not only does it expand the United States' powerful fleet of space-based missions dedicated to uncovering the mysteries of the universe, it is a critical part of a balanced science program that includes missions of various sizes."
The SPHEREx instrument will be able to gather optical and near-infrared light from a mind-bogglingly large number of sources: more than 100 million stars in the Milky Way itself and more than 300 million other galaxies. It will manage to tackle two different but equally fundamental questions in those two different purviews.
More:
https://www.space.com/nasa-announces-spherex-mission-cosmology.html?utm_source=notification
2 replies, 163 views
Replies to this discussion thread
| | | | |
| --- | --- | --- | --- |
| 2 replies | Author | Time | Post |
| NASA Will Launch a New Space Telescope in 2023 to Investigate the Universe (Original post) | Judi Lynn | Thursday | OP |
| | mr_lebowski | Thursday | #1 |
| | Angleae | Thursday | #2 |
---
Response to Judi Lynn (Original post)
Thu Feb 14, 2019, 02:12 AM
mr_lebowski (5,851 posts)
1. First off ... cool. Secondly ... this Bridenstine sounds like a freaking moron ... lemme GUESS ...
Trump Appointee?

So what year did this 'mission' ... REALLY start? Cause I'm betting it's not 'new'. AmIRite?
---
Response to mr_lebowski (Reply #1)
Thu Feb 14, 2019, 04:30 AM
Angleae (2,625 posts)
2. Correct
The closest thing to science he's ever done is serve on the house committee on science, space and technology (congressman from OK for 5 years)