Fri Jan 11, 2019, 04:49 AM
Judi Lynn (127,590 posts)
This Lobster Trap Aims to Protect Endangered Whales -- and Fishers' Livelihoods
A team of engineers is designing a low-cost, lineless, self-surfacing lobster trap that would prevent right whale entanglement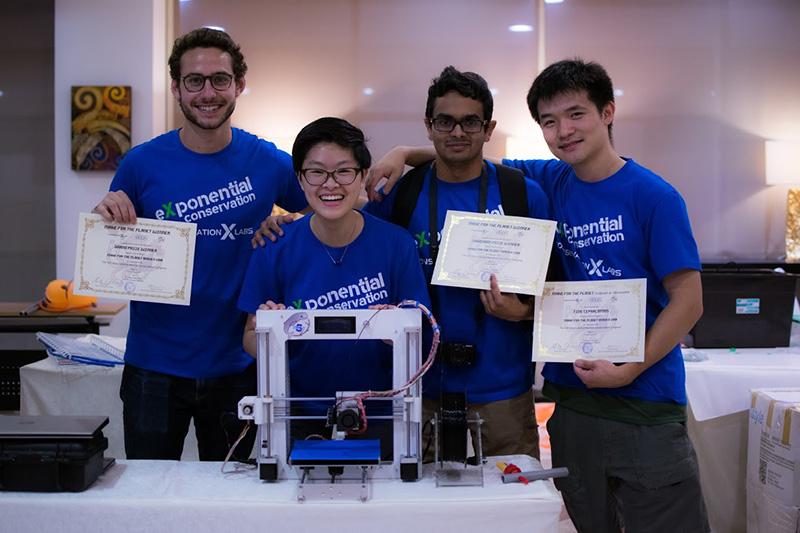 Cormac Hondros-McCarthy, Lauren Shum, Parth Sagdeo and Ted Zhu celebrate their successful top prize spot at the Make for the Planet Borneo hackathon in Kuching, Malaysia in June 2018. (Courtesy of the researchers)
By Michelle Z. Donahue
smithsonian.com
January 10, 2019 9:48AM
For North Atlantic right whales, 2019 is off to a good start: a right whale calf was spotted swimming with its mother off the coast of Florida in the final days of December. With a right whale population estimated at 411 individuals, and no other babies born last year, every calf counts extra.
After a slow recovery through the latter half of the 20th century following centuries of whaling, today endangered right whales face injuries and death from collisions with ships, and gruesome, energy-draining entanglements in fishing gear—particularly in lobster and crab trap lines. A 2012 study by right whale researcher Amy Knowlton estimated that around 83 percent of all living right whales have been entangled in fishing gear at some point in their lives, as evidenced by the bright white scars the gear leaves on their dark bodies.
So a team of conservation-minded engineers set about finding a solution for the problem of right whale entanglements—while also keeping in mind the needs of lobster fishing families. The winners of last year's Make for the Planet Borneo hackathon at the 5th annual International Marine Conservation Congress came up with a device they dubbed the Lobster Lift.
Here's how it works: At its essence, Lobster Lift is a collapsible buoy, triggered to inflate by a unique acoustic signal from its home boat. Attached to one end of a lobster trap line, or trawl, the inflated buoy would carry the first several traps to the surface, where the lobster fisher can retrieve them and haul the rest of the trawl in. To reset the system for its next round, the lobster fisher would need to repack the deflated buoy into the lead trap unit, make sure the buoy's canister has sufficient air to drag it up again, and throw the whole kit back overboard.
Read more:
https://www.smithsonianmag.com/innovation/lobster-trap-aims-protect-endangered-whalesand-fishers-livelihoods-180971208/#SLXE6TDU5YOdWEda.99
0 replies, 170 views