Thu Mar 8, 2018, 11:19 PM
eppur_se_muova (28,974 posts)
New Photo Shows Huge Cyclone Horde on Jupiter (NatGeo)
The Juno spacecraft is revealing what's churning below the surface of the largest planet in the solar system.
By Nadia Drake
PUBLISHED March 7, 2018
Most of the planet Jupiter is painted in red and white, with exquisite stripes and splotches brushed onto its face. But, it turns out, its poles are dark blue and marked by a multitude of cyclones that scientists have now seen up close.
Observations from NASA's Juno spacecraft — which was the first to get a clear look at the gas giant's poles — show the tempestuous curlicues clustered in geometric configurations, with several storms surrounding a central spiral. In the north, the storms are arranged in an octagonal shape. In the south, they form a pentagon.
Juno has been orbiting the planet since July 2016, and it snapped images of the planet in both visible and infrared light. These allowed scientists to measure the size and temperature of the violent spirals, most of which are at least as wide as the United States.
"Their centers are arranged on the [corners] of imaginary polygons," says Alberto Adriani of Italy's Istituto di Astrofisica e Planetologia Spaziali, who describes the storms Wednesday in the journal Nature.
Within each clump, the cyclones tend to drift or migrate, but they never disappear (at least not since Juno has been watching) and the polygonal groupings are unlike anything that's been seen on another planet in the solar system. Saturn, the gas giant next door to Jupiter, wears a hexagonal shape on its north pole — but the geometry is all the work of a single storm. Now, scientists are trying to figure out how the Jovian polygons formed and are maintained.
***
more:
https://news.nationalgeographic.com/2018/03/jupiter-nasa-juno-cyclones-picture-space-science/
Hmmmm ....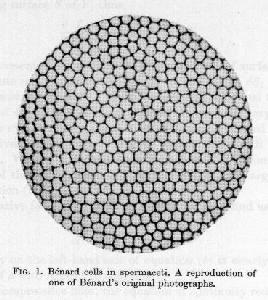 Perhaps (a) sufficient thermal gradients to induce convection cell formation, and (b) sufficient spin to induce large Coriolis forces result in (c) convection cells each containing cyclonic vortices. No other gas giant planet is so large, has such a warm interior, and spins so fast.
2 replies, 809 views
Replies to this discussion thread
| | | | |
| --- | --- | --- | --- |
| 2 replies | Author | Time | Post |
| New Photo Shows Huge Cyclone Horde on Jupiter (NatGeo) (Original post) | eppur_se_muova | Mar 2018 | OP |
| | Xipe Totec | Mar 2018 | #1 |
| | Loki Liesmith | Mar 2018 | #2 |
---
Response to eppur_se_muova (Original post)
Thu Mar 8, 2018, 11:24 PM
Xipe Totec (41,094 posts)
1. Kind of reminiscent of this
---
Response to eppur_se_muova (Original post)
Thu Mar 8, 2018, 11:25 PM
Loki Liesmith (2,605 posts)
2. Definitely convection cells