Fri Jan 5, 2018, 10:57 PM
Judi Lynn (125,977 posts)
Overabundance Of Massive Stars Could Explain Evolution Of The Universe
5 January 2018, 6:24 am EST By Charmagne Nojas Tech Times
The Perseid meteor shower: What you need to know
The Tarantula Nebula, also known as 30 Doradus or NGC 2070, measures a thousand light years across. It
features a high concentration of massive stars, which allows astronomers to further explore the formation
of such celestial bodies. This image was taken using the 1.5 m Danish telescope at the ESO La Silla
Observatory in Chile. ( R. Gendler, C.C. Thöne, C. Féron, and J.-E. Ovaldsen | Wikimedia Commons )
A research team at Chile's Very Large Telescope observatory has discovered more than a thousand massive stars.
The massive stars are 200 to 300 times larger than the Earth's Sun, a size range that astronomers previously considered to be impossible. The supergiant stars are found along the Tarantula Nebula or 30 Doradus, a star-forming region in the Large Magellanic Cloud galaxy where the largest and fastest stars have been observed. Its intense starburst activity has also been postulated to resemble that of the early Universe.
Massive stars have been known to exist but not in excessive numbers. They were believed to be rare as such stars lived shorter than their smaller counterparts.
In contrast, the Sun is estimated to be around 4.6 billion years old. It is expected to continue existing for another five billion years while supergiant stars have been theorized to last only for a few million.
More:
http://www.techtimes.com/articles/218095/20180105/overabundance-of-massive-stars-could-explain-evolution-of-the-universe.htm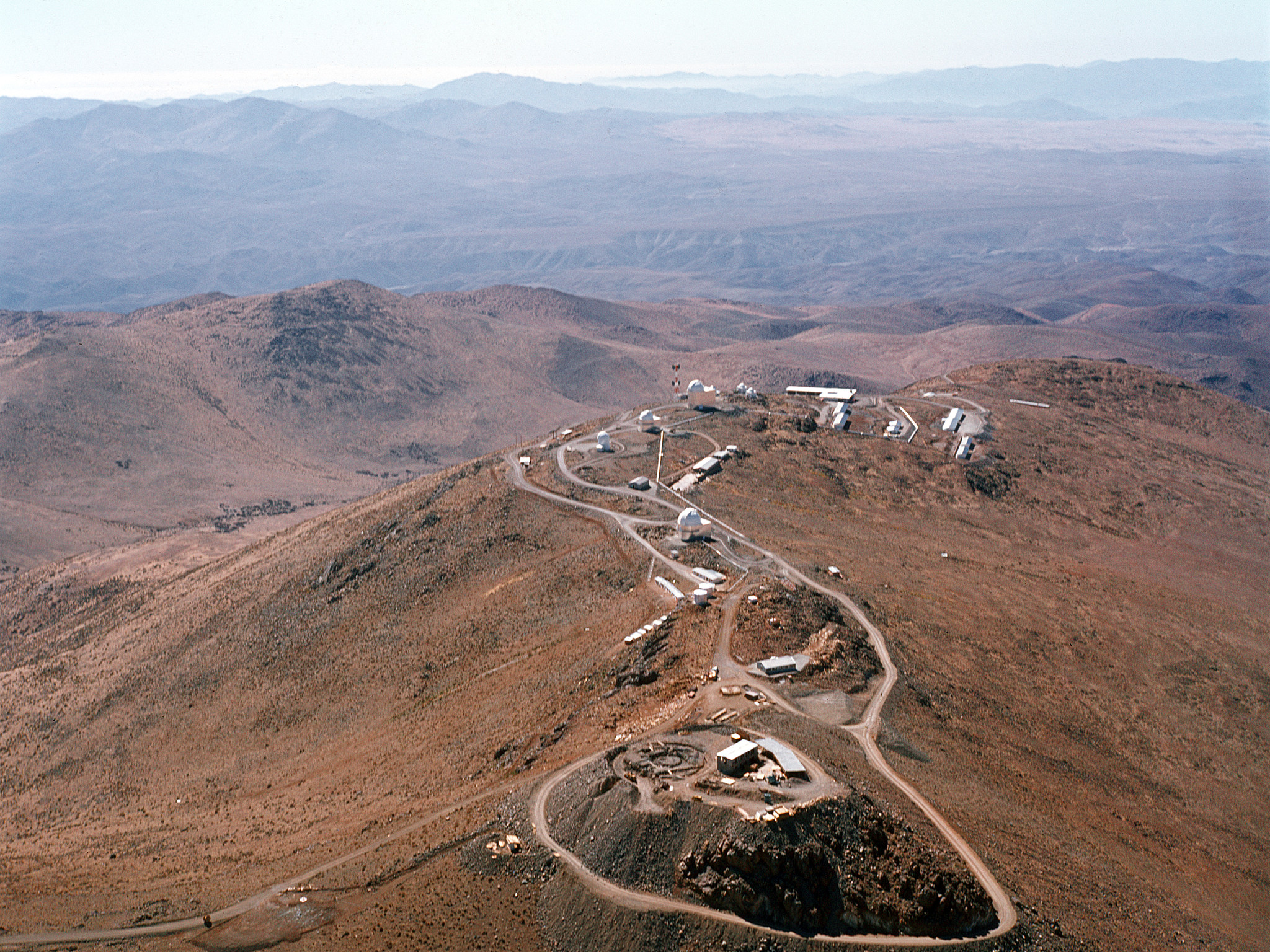 More images of La Silla Observatory in the Atacama Desert in Chile:
https://images.search.yahoo.com/search/images;_ylt=AwrTcX3QR1BawBcAsDKJzbkF;_ylu=X3oDMTBsZ29xY3ZzBHNlYwNzZWFyY2gEc2xrA2J1dHRvbg--;_ylc=X1MDOTYwNjI4NTcEX3IDMgRhY3RuA2NsawRiY2sDZWFlcjdmOWNnbDI5ZyUyNmIlM0Q0JTI2ZCUzRGZFVE9PSzFyWUgzS3VfNWJGaWk4THF3a19jX3JYc19ya1E2azM1dGQ0N2NwM1EtLSUyNnMlM0RkayUyNmklM0RMTzhTSTE5eTd6OVc3aks0ckFZeQRjc3JjcHZpZANhZHZHb1RFd0xqTGxPMmQ2V1FxSk1BRXZNall3TUFBQUFBQjcwM2xpBGZyA3NmcARmcjIDc2EtZ3AEZ3ByaWQDU29fWGhrdkdUejIuV3AubU1CX3RnQQRtdGVzdGlkA1VJMDElM0RCNTA5NARuX3N1Z2cDNARvcmlnaW4DaW1hZ2VzLnNlYXJjaC55YWhvby5jb20EcG9zAzMEcHFzdHIDbGEgc2lsbGEgb2JzZXJ2YXRvcnkgBHBxc3RybAMyMQRxc3RybAMyOQRxdWVyeQNsYSBzaWxsYSBvYnNlcnZhdG9yeSBpbiBjaGlsZQR0X3N0bXADMTUxNTIxMDg3MwR2dGVzdGlkA0I1MDk0?gprid=So_XhkvGTz2.Wp.mMB_tgA&pvid=advGoTEwLjLlO2d6WQqJMAEvMjYwMAAAAAB703li&p=la+silla+observatory+in+chile&fr=sfp&fr2=sa-gp-images.search.yahoo.com&ei=UTF-8&n=60&x=wrt#id=94&iurl=http%3A%2F%2Fnewswatch.nationalgeographic.com%2Ffiles%2F2014%2F08%2Feso1425a.jpg&action=close
2 replies, 584 views
Replies to this discussion thread
| | | | |
| --- | --- | --- | --- |
| 2 replies | Author | Time | Post |
| Overabundance Of Massive Stars Could Explain Evolution Of The Universe (Original post) | Judi Lynn | Jan 2018 | OP |
| | Me. | Jan 2018 | #1 |
| | PJMcK | Jan 2018 | #2 |
---
Response to Judi Lynn (Original post)
Fri Jan 5, 2018, 11:45 PM
Me. (21,683 posts)
1. KR
---
Response to Judi Lynn (Original post)
Sat Jan 6, 2018, 07:53 AM
PJMcK (8,234 posts)
2. Great pictures and an excellent article - K&R