Sun Oct 13, 2013, 11:54 AM
n2doc (47,198 posts)
Monarchs Fight for Their Lives
By VERLYN KLINKENBORG
October 12, 2013
The more you know about monarch butterflies, the more extraordinary they seem. Their life cycle — the adaptive web of behaviors they have evolved — is almost unbelievably complex. They migrate en masse (this month, as a rule) from all across the Midwest and Northeast to just a few high altitude sites in Mexico, where they winter, sheltering in profusion beneath a canopy of fir trees, from whose trunks they draw the residual heat they need to stay alive. Winter past, they migrate thousands of miles northward, where they lay their eggs on milkweed plants, the only plant a monarch caterpillar can eat.
The complexity of their life cycle is mirrored by the complexity of the threats they face. For the past 15 years, scientists have been watching monarch numbers plummet, as much as 81 percent between 1999 and 2010. They reached nearly catastrophic lows in the winter of 2009-2010 and have barely recovered since.
One recent study suggests that the long-term survival of the species may be in doubt. A few weeks ago, one of the scientists devoted to studying monarchs, Ernest Williams at Hamilton College, summarized for me the threats that have been reported in recent studies.
Nearly every link in the monarchs' chain of being, he said, is at risk. Illegal logging in Mexico has reduced their winter habitat — an already vanishingly small area, which is itself being altered by the warming climate. Ecotourists who come to witness the congregation of so many butterflies disturb the creatures they have come to see. But perhaps most damaging is the demise of milkweed.
more
http://mobile.nytimes.com/2013/10/13/opinion/sunday/monarchs-fight-for-their-lives.html?_r=0&
5 replies, 1128 views
Replies to this discussion thread
| | | | |
| --- | --- | --- | --- |
| 5 replies | Author | Time | Post |
| Monarchs Fight for Their Lives (Original post) | n2doc | Oct 2013 | OP |
| | WCLinolVir | Oct 2013 | #1 |
| | bvar22 | Oct 2013 | #2 |
| | truebluegreen | Oct 2013 | #3 |
| | caraher | Oct 2013 | #4 |
| | Name removed | Oct 2013 | #5 |
---
Response to n2doc (Original post)
Sun Oct 13, 2013, 03:19 PM
WCLinolVir (951 posts)
1. Yes-easy to help them-plant milkweed for them! I had so many butterflies this year with parsley
and milkweed. Milkweed is easy to grow as well.
---
Response to n2doc (Original post)
Sun Oct 13, 2013, 03:25 PM
bvar22 (39,909 posts)
2. DURec.
I spent a Summer studying, chasing, and photographing these amazing creatures in Minnesota (2004). Minneapolis/St Paul is thick with Monarch Butterflys during the Summer.
These are two of my favorite photos from that Summer: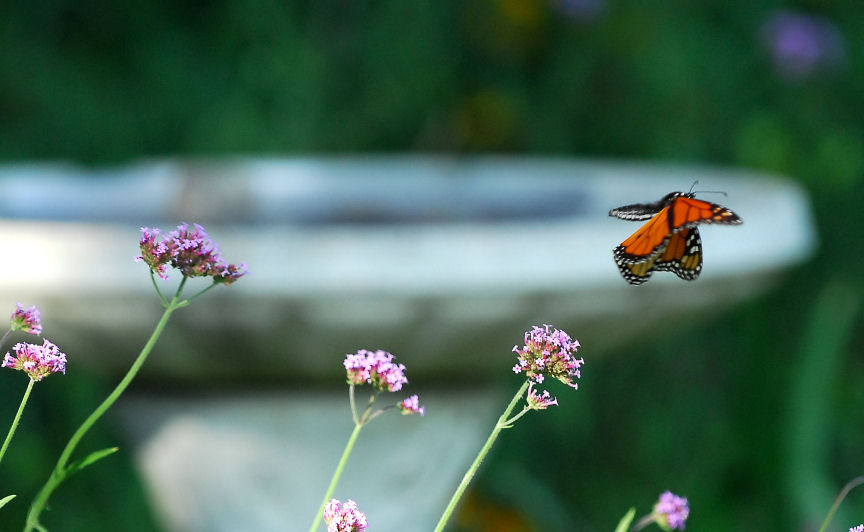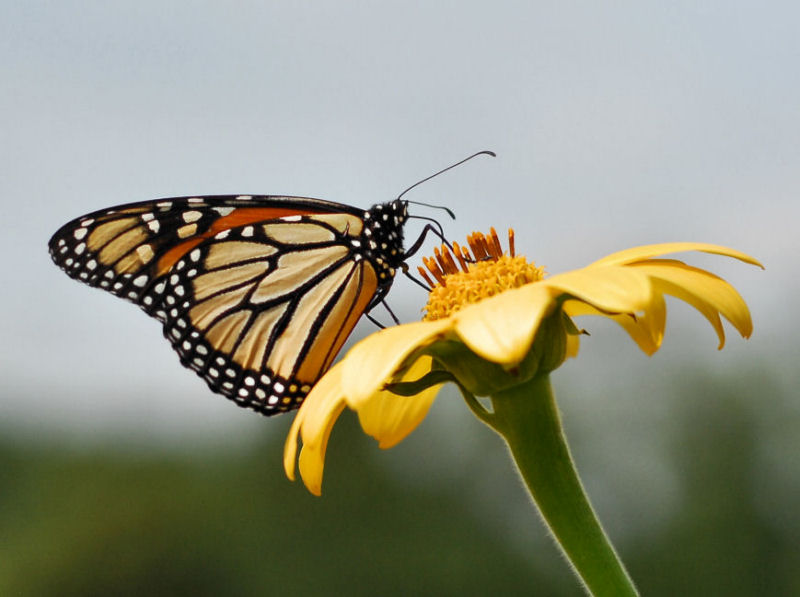 In 2006, my Wife & I moved to Central Arkansas,
which is on the
Monarch Migration Flyway
,
and we have always welcomed and enjoyed the Monarch Stopovers,
but this year....not a single Monarch.
We haven't spotted a single Monarch this year.
We are hoping that this is just a one year anomaly,
or a minor route change,
but we fear they are gone.
---
Response to n2doc (Original post)
Sun Oct 13, 2013, 06:03 PM
truebluegreen (9,033 posts)
3. One of the first things we did after moving to Mexico a few years back
was go the Butterfly Sanctuary near Angangueo in the state of Michoacan. This one is publicly held, and strictly regulated. Located in the central mountains above 8500 ft, we had to hike up to the area where the fir trees were, in thick forest. We were not allowed to get close, only within viewing distance of the lowest tree; further up every tree would be covered, so that from the air it looks like a brown patch in a green forest.
It was still cool, and the tree was shaded, so there was very little activity but on the way back down we stopped in a sunny glade, where there was a seep of clear, slow-moving water. The sun was in and out of a few clouds that day and when it was out, the butterflies flowed down from higher up the mountain, swirling around us in the sun. When the sun went in, it was as if someone had turned off a tap. It was like standing in a snow globe filled with butterflies.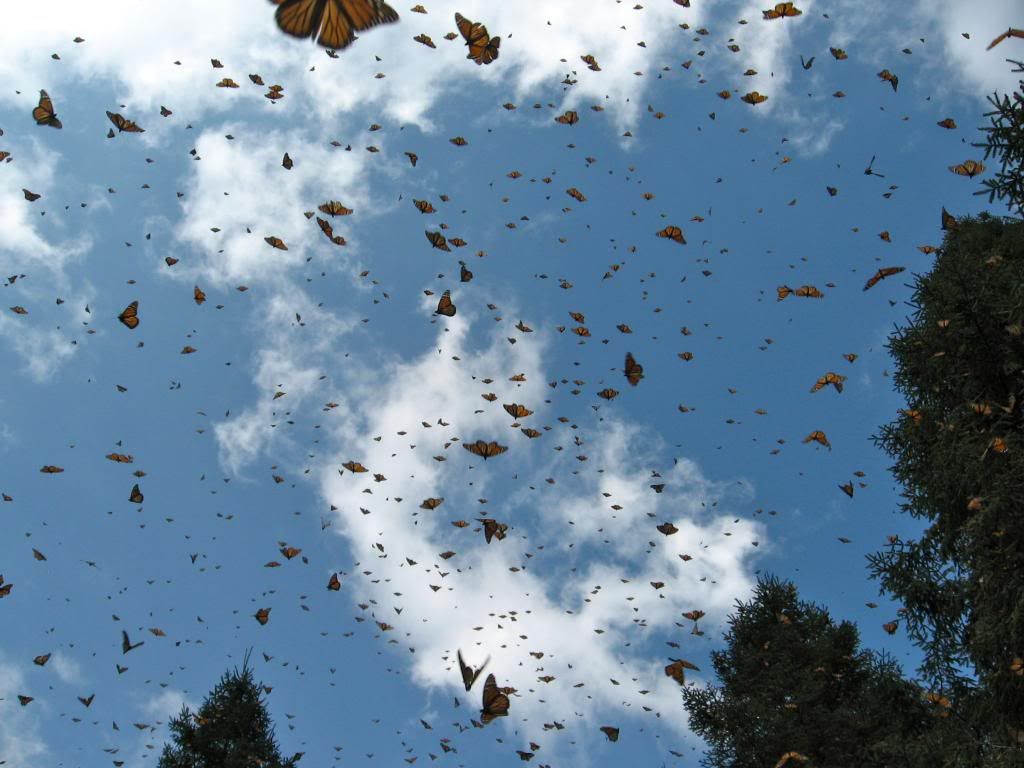 The experience was profound: awe inspiring, and sad. One of the wonders of the world, and desperately fragile.
---
Response to n2doc (Original post)
Sun Oct 13, 2013, 10:21 PM
caraher (5,172 posts)
4. Monarchs star in Barbara Kingsolver's recent book "Flight Behavior"
The story involves them (somewhat) mysteriously wintering in Tennessee rather than Mexico thanks to climate change.
---