Sun Feb 17, 2013, 10:22 PM
n2doc (45,718 posts)
Uncertainty principle scaled up to visible size
They knew it was true, but now they've shown it: Scientists have demonstrated that the uncertainty principle, one of the most famous rules of quantum physics, operates in macroscopic objects visible to the naked eye.
The principle, described by physicist Werner Heisenberg nearly a century ago, states that the mere act of measuring the position of a particle, such as an electron, necessarily disturbs its momentum. That means the more precisely you try to measure its location, the less you know about how fast it's moving, and vice versa.
While in theory this principle operates on all objects, in practice its effects were thought to be measurable only in the tiny realm where the rules of quantum mechanics are important. In a new experiment, described in the Feb. 15 issue of the journal Science, physicists have shown that the uncertainty principle effects can be detected in a tiny drum visible to the naked eye.
more
http://www.livescience.com/27137-uncertainty-principle-measured-macro-scale.html
6 replies, 2638 views
Replies to this discussion thread
| | | | |
| --- | --- | --- | --- |
| 6 replies | Author | Time | Post |
| Uncertainty principle scaled up to visible size (Original post) | n2doc | Feb 2013 | OP |
| | sir pball | Feb 2013 | #1 |
| | BadgerKid | Feb 2013 | #4 |
| | rhett o rick | Feb 2013 | #2 |
| | mindwalker_i | Feb 2013 | #3 |
| | concreteblue | Feb 2013 | #5 |
| | pscot | Feb 2013 | #6 |
---
Response to n2doc (Original post)
Mon Feb 18, 2013, 01:04 AM
sir pball (2,576 posts)
1. Hmm
I left my copy of Atkins (my physical chemistry textbook) in another life, but something about this doesn't sit quite right with me in terms of the actual definitions of the uncertainty principle in terms of the mathematical relationships between momentum and position, as opposed to the essentially thought-experiment example of bouncing photons. This feels more like simple resonance to me...but I haven't sat down with my books in ten years so I could be completely off the mark.
---
Response to sir pball (Reply #1)
Mon Feb 18, 2013, 12:20 PM
BadgerKid (4,004 posts)
4. I'm thinking harmonic oscillator.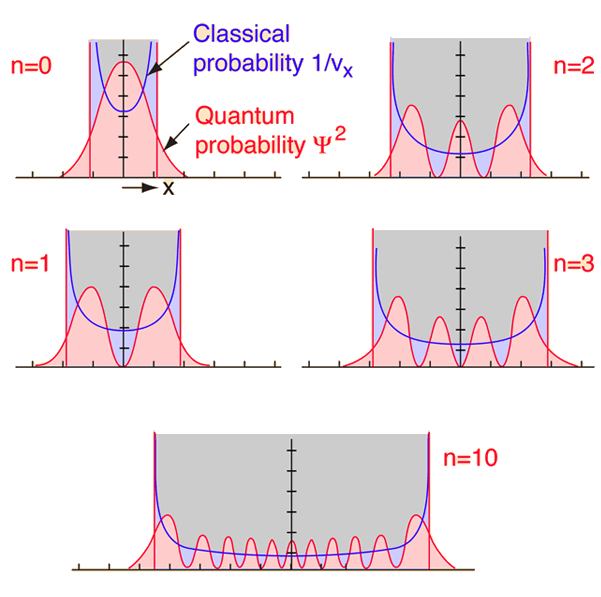 For low quantum number n, particularly the n=0 ground state, the quantum particle is most likely found at the center. As the quantum number n (and therefore the energy) increases, the quantum probability approaches the classical probability where the particle is found now most often at extrema of the oscillation.
http://hyperphysics.phy-astr.gsu.edu/hbase/quantum/hosc6.html
---
Response to n2doc (Original post)
Mon Feb 18, 2013, 01:21 AM
rhett o rick (55,981 posts)
2. That's the problem with all this scientific schtuff. Lots of "uncertainty". Give me faith any day.
---
Response to n2doc (Original post)
Mon Feb 18, 2013, 02:03 AM
mindwalker_i (4,407 posts)
3. So you can't beat the uncertainty in a drum
I would have never though of that in a million years.

---
Response to mindwalker_i (Reply #3)
Mon Feb 18, 2013, 03:21 PM
concreteblue (410 posts)
5. but can you
beat the uncertainty out of the Economy?
---
Response to concreteblue (Reply #5)
Tue Feb 19, 2013, 01:31 AM
pscot (20,520 posts)
6. Not according to Keynes