Thu Feb 7, 2013, 06:37 PM
struggle4progress (93,526 posts)
Common Ancestor of Mammals Is Plucked From Obscurity
By JOHN NOBLE WILFORD
Published: February 7, 2013
... In a comprehensive six-year study of the mammalian family tree, scientists have identified and reconstructed what they say is the most likely common ancestor of the many species on the most abundant and diverse branch of that tree — the branch of creatures that nourish their young in utero through a placenta. The work appears to support the view that in the global extinctions some 66 million years ago, all non-avian dinosaurs had to die for mammals to flourish...
... as researchers reported Thursday in the journal Science, the animal had several anatomical characteristics for live births that anticipated all placental mammals and led to some 5,400 living species, from shrews to elephants, bats to whales, cats to dogs and, not least, humans ...
Maureen A. O'Leary of Stony Brook University on Long Island, a leader of the project and the principal author of the journal report, wrote that a combination of genetic and anatomical data established that the ancestor emerged within 200,000 to 400,000 years after the great dying at the end of the Cretaceous period ...
Within another two million to three million years, Dr. O'Leary said, the first members of modern placental orders appeared in such profusion that researchers have started to refer to the explosive model of mammalian evolution. The common ancestor itself appeared more than 36 million years later than had been estimated based on genetic data alone ...
http://www.nytimes.com/2013/02/08/science/common-ancestor-of-mammals-plucked-from-obscurity.html?_r=0
7 replies, 2131 views
Replies to this discussion thread
| | | | |
| --- | --- | --- | --- |
| 7 replies | Author | Time | Post |
| Common Ancestor of Mammals Is Plucked From Obscurity (Original post) | struggle4progress | Feb 2013 | OP |
| | LiberalEsto | Feb 2013 | #1 |
| | BlueJazz | Feb 2013 | #2 |
| | DreamGypsy | Feb 2013 | #3 |
| | loudsue | Feb 2013 | #6 |
| | dipsydoodle | Feb 2013 | #4 |
| | loudsue | Feb 2013 | #5 |
| | SquirrelHill4444 | Feb 2013 | #7 |
---
---
---
Response to struggle4progress (Original post)
Thu Feb 7, 2013, 08:11 PM
DreamGypsy (2,248 posts)
3. We can just call her Auntie Donnae for short ...
Protungulatum donnae would be about our 45-million-greats-grandparent, give or take.
Here's a paper from 2011 about Auntie: [link:
http://www.bio.sdsu.edu/faculty/archibald.html/ArchibaldEtAl.11JMEonline.pdf
|Protungulatum, Confirmed Cretaceous Occurrence
of an Otherwise Paleocene Eutherian (Placental?) Mammal]
I haven't found the Science article cited in the NYTimes article yet, to figure out what the new findings encompass. However, the scientists have clearly confirmed (
subject to the usual review
) that Donnae was placental.
Welcome to the Eutheria, Auntie!
on edit: added the photo (well, artist's conception)
---
Response to DreamGypsy (Reply #3)
Fri Feb 8, 2013, 07:32 PM
loudsue (14,087 posts)
6. I know Auntie Donnae, and this rascal does not resemble her at all.
But that does kinda look like Sedona in the background!
---
Response to struggle4progress (Original post)
Fri Feb 8, 2013, 04:35 AM
dipsydoodle (42,239 posts)
4. Ancestor of humans and all other mammals was small furry insect eater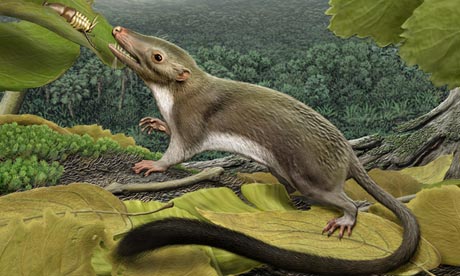 An identikit picture of a small furry ancestor of humans and most other mammals has been pieced together by scientists.
The shrew-like creature weighed less than half a pound, had a long tail and ate insects. It evolved some 200,000 years after a massive asteroid impact led to the extinction of the dinosaurs 65 million years ago.
From this small beginning sprang every "placental" mammal – which give birth to mature live young – including dogs, cats, rodents, whales and humans.
Placental mammals are the largest branch of the mammalian family tree, with more than 5,100 living species. Non-placental mammals comprise kangaroos and other marsupials, and egg-laying monotremes such as the duck-billed platypus.
http://www.guardian.co.uk/science/2013/feb/07/ancestor-humans-mammals-insect-eater
---
Response to struggle4progress (Original post)
Fri Feb 8, 2013, 07:30 PM
loudsue (14,087 posts)
5. I wonder what life form will emerge after mankind has vanished
---