Fri Feb 1, 2013, 01:00 PM
pokerfan (27,677 posts)
William Hurt as legendary physicist Richard Feynman
Good casting...
The BBC and the Science Channel are making a docudrama about the 1986 Challenger space shuttle disaster, starring William Hurt as scientist, physicist and all-around awesome person Richard Feynman, who investigated the tragedy as part of the Presidential Rogers Commission while battling cancer. The movie, titled 73 Seconds: The Challenger Investigation, won't air until the fall, but at least we know they seem to be getting Feynman right; the resemblance here is a little uncanny, and besides, Hurt is a brilliant choice for the role. Not Feynman-level brilliant, obviously, but still, pretty brilliant.
http://io9.com/5980830/heres-william-hurt-playing-the-legendary-physicist-richard-feynman
8 replies, 4592 views
Replies to this discussion thread
| | | | |
| --- | --- | --- | --- |
| 8 replies | Author | Time | Post |
| William Hurt as legendary physicist Richard Feynman (Original post) | pokerfan | Feb 2013 | OP |
| | Tagish_Charlie | Feb 2013 | #1 |
| | DreamGypsy | Feb 2013 | #2 |
| | pokerfan | Feb 2013 | #4 |
| | Ernesto | Feb 2013 | #3 |
| | pokerfan | Feb 2013 | #5 |
| | drm604 | Feb 2013 | #7 |
| | Bigmack | Feb 2013 | #6 |
| | progressoid | Feb 2013 | #8 |
---
---
Response to Tagish_Charlie (Reply #1)
Fri Feb 1, 2013, 01:48 PM
DreamGypsy (2,249 posts)
2. Qui genus humanum ingenio superavit.
Yeah, Feynman was pretty incredible, but I'd still give Newton the edge for 'brilliance'. As the inscription from his statue at Trinity College says, he is the one "'Who surpassed the race of men in understanding".
Here is buried Isaac Newton, Knight, who by a strength of mind almost divine, and mathematical principles peculiarly his own, explored the course and figures of the planets, the paths of comets, the tides of the sea, the dissimilarities in rays of light, and, what no other scholar has previously imagined, the properties of the colours thus produced.
Newton, more than anyone before him, pulled order out of darkness and made legitimate the scientific description of Nature. Feynman lived in a time of tremendous scientific activity and, while he surfed some of the highest waves, many others were out paddling and surfing around him.
Below is one of my favorite Feynman clips. Wish YouTube was around in Sir Issac's time...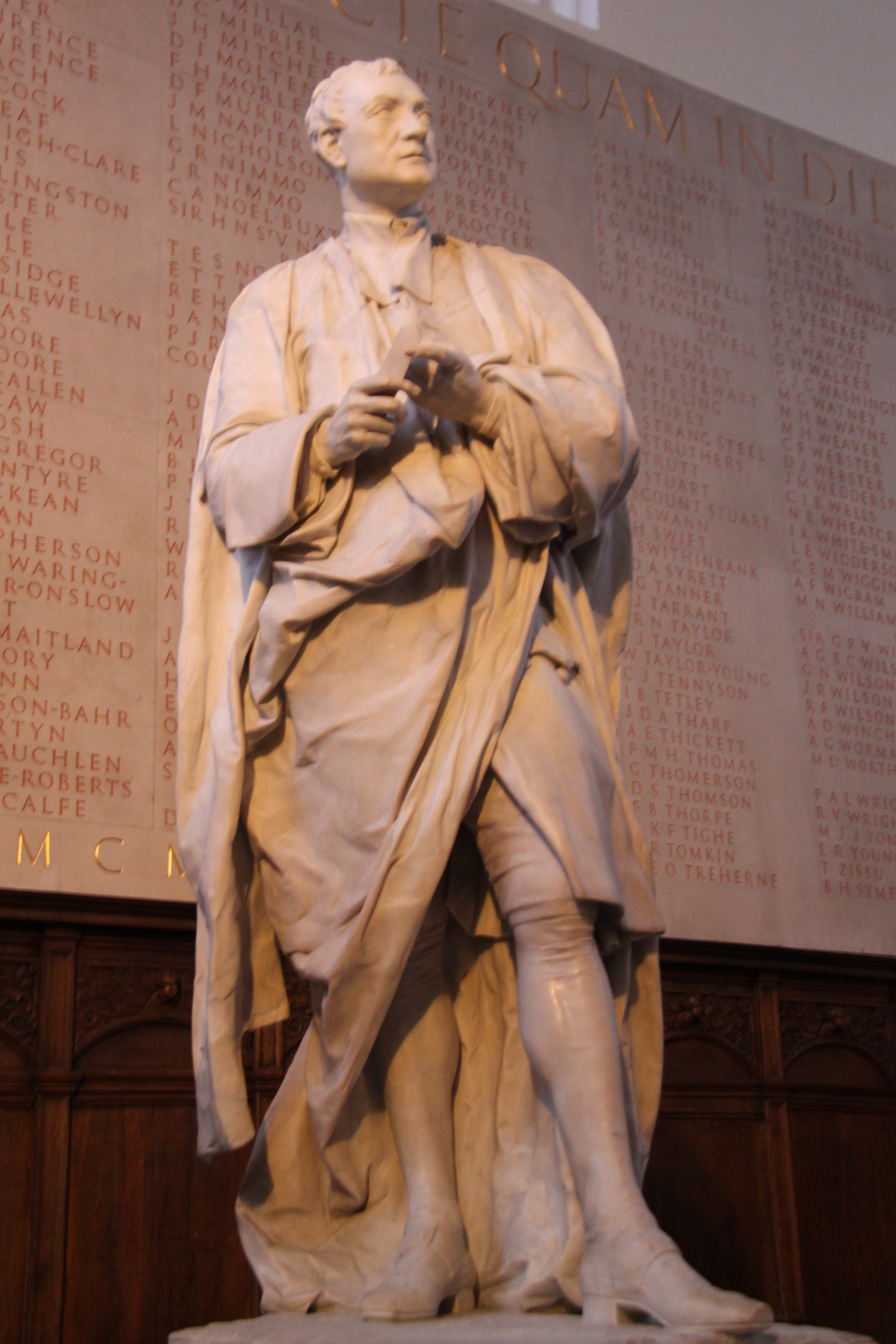 ---
Response to DreamGypsy (Reply #2)
Fri Feb 1, 2013, 02:28 PM
pokerfan (27,677 posts)
4. Can't really disagree with Newton


DeGrasse Tyson: Isaac Newton. I mean, just look… You read his writings. Hair stands up… I don't have hair there but if I did, it would stand up on the back of my neck. You read his writings, the man was connected to the universe in ways that I never seen another human being connected. It's kind of spooky actually. He discovers the laws of optics, figured out that white light is composed of colors. That's kind of freaky right there. You take your colors of the rainbow, put them back together, you have white light again. That freaked out the artist of the day. How does that work? Red, orange, yellow, green, blue, violet gives you white. The laws of optics. He discovers the laws of motion and the universal law of gravitation. Then, a friend of his says, "Well, why do these orbits of the planets… Why are they in a shape of an ellipse, sort of flattened circle? Why aren't… some other shape?" He said, you know, "I can't… I don't know. I'll get back to you." So he goes… goes home, comes back couple of months later, "Here's why. They're actually conic sections, sections of a cone that you cut." And… And he said, "Well, how did find this out? How did you determine this?" "Well, I had to invent integral and differential calculus to determine this." Then, he turned 26. Then, he turned 26. We got people slogging through calculus in college just to learn what it is that Isaac Newton invented on a dare, practically. So that's my man, Isaac Newton.
---
Response to pokerfan (Original post)
Fri Feb 1, 2013, 02:17 PM
Ernesto (4,977 posts)
3. Thanks for the post!
Here I am, 67 years old and I just got an old copy of "Surely you're joking"
Looking forward to reading next month in Death Valley!
---
Response to Ernesto (Reply #3)
Fri Feb 1, 2013, 03:23 PM
pokerfan (27,677 posts)
5. Great book.
One of my favorite chapters, Judging Books By Their Covers, is
online here
if anyone wishes to read an excerpt.
The chapter deals with his frustration when he agreed to join California's Curriculum Commission to assist in selecting textbooks.
Finally I come to a book that says, "Mathematics is used in science in many ways. We will give you an example from astronomy, which is the science of stars." I turn the page, and it says, "Red stars have a temperature of four thousand degrees, yellow stars have a temperature of five thousand degrees . . ." -- so far, so good. It continues: "Green stars have a temperature of seven thousand degrees, blue stars have a temperature of ten thousand degrees, and violet stars have a temperature of . . . (some big number)." There are no green or violet stars, but the figures for the others are roughly correct. It's vaguely right -- but already, trouble! That's the way everything was: Everything was written by somebody who didn't know what the hell he was talking about, so it was a little bit wrong, always! And how we are going to teach well by using books written by people who don't quite understand what they're talking about, I cannot understand. I don't know why, but the books are lousy; UNIVERSALLY LOUSY!

Anyway, I'm happy with this book, because it's the first example of applying arithmetic to science. I'm a bit unhappy when I read about the stars' temperatures, but I'm not very unhappy because it's more or less right -- it's just an example of error. Then comes the list of problems. It says, "John and his father go out to look at the stars. John sees two blue stars and a red star. His father sees a green star, a violet star, and two yellow stars. What is the total temperature of the stars seen by John and his father?" -- and I would explode in horror.

My wife would talk about the volcano downstairs. That's only an example: it was perpetually like that. Perpetual absurdity! There's no purpose whatsoever in adding the temperature of two stars. Nobody ever does that except, maybe, to then take the average temperature of the stars, but not to find out the total temperature of all the stars! It was awful! All it was was a game to get you to add, and they didn't understand what they were talking about. It was like reading sentences with a few typographical errors, and then suddenly a whole sentence is written backwards. The mathematics was like that. Just hopeless!
---
Response to Ernesto (Reply #3)
Sat Feb 2, 2013, 03:06 PM
drm604 (16,223 posts)
7. Great Book!
---
Response to pokerfan (Original post)
Fri Feb 1, 2013, 10:09 PM
Bigmack (8,020 posts)
6. I LOVE Richard Feynman
And have since I was in high school over 50 years ago! PSSC Physics had just come out, and our physics teacher managed to get the $ to buy the new textbooks, and have the films that went with the course to show us. AND OUR FAVORITE STAR OF THOSE FILMS WAS RICHARD FEYNMAN! We ALL loved him and cheered when he came up on the screen. He was WONDERFUL, and convinced almost all of us, that physics was truly WONDERFUL! I mean this was in a tiny little town in northwest Washington state, where the main sources of $ in the town were the pulp mills. He was just SO COOL. Imagine a famous physics professor who would agree to make science films to show to high school kids, and to DO IT WITH GREAT ENTHUSIASM. What a TRUE TREASURE of a human being. I STILL LOVE RICHARD. Ms Bigmack
---
Response to pokerfan (Original post)
Sat Feb 2, 2013, 09:09 PM
progressoid (42,003 posts)
8. Cool!