Fri Dec 28, 2012, 09:53 AM
Jim__ (11,004 posts)
Infants, Monkeys, Love, And AI
The beginning of this article is a description of some unfortunate experiments performed with infant monkeys in the 60s, essentially depriving the monkeys of a mother's love. But the conclusion of the article is that if we ever hope to have a robot with some type of primate intelligence, the robot will have to go through a period of child development, including the experience of a caregiver. The author is not a biologist, but rather, a software engineer and AI researcher.
A short excerpt from the
article
(from Science 2.0):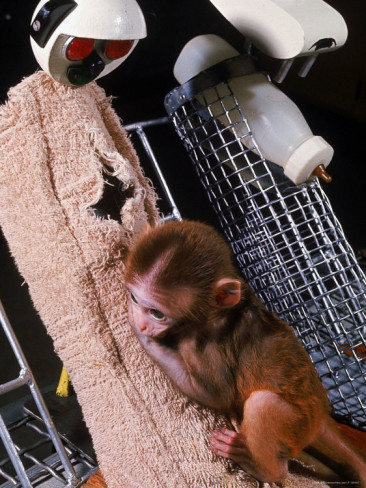 ...
If one ... wanted to make an AI robot that was similar in intelligence to a primate, it would have to have the equivalent of child development. And the emotional interaction stages are inherently part of that.
One might argue that an AI robot could be built to be equivalent to an adult primate. In other words, just shortcut the messy biological ontogeny.
However, that shortcut may still require at least one good run of a robot from infant to adult. Then that "gold" example system can be cloned, as long as the robots are identical. And live in very similar environments and societies.
The golden AI child may be difficult to create, however. Especially if you are trying to shortcut development. Here is a crude metaphor:
Imagine you decided to make an "artificial" airplane. You have discovered the primitive building block of airplanes: the molecule. So all you have to do to make an artificial airplane is scan every single molecule in an example airplane. And then carefully assemble all those trillions of molecules in the exact same structures and positions.
more ...
1 replies, 732 views
Replies to this discussion thread
| | | | |
| --- | --- | --- | --- |
| 1 replies | Author | Time | Post |
| Infants, Monkeys, Love, And AI (Original post) | Jim__ | Dec 2012 | OP |
| | Odin2005 | Dec 2012 | #1 |
---
Response to Jim__ (Original post)
Fri Dec 28, 2012, 10:55 AM
Odin2005 (53,521 posts)
1. This part caught my attention:
They would rock back and forth to soothe themselves, stare into space, and compulsively suck their thumbs. Worse still, the appearance of other monkeys would startle them and cause them to stare at the floor of the cage.
This sounds like an stereotypical autistic child. Hell, I'm an autistic grown-up and I still do the rocking thing when I'm nervous or overstimulated. Ditto with the staring at the floor.
This makes me wonder of the social deficits of autism stem from our sensory issues getting in the way of fully "linking" with our parents psychologically. That would turn the old "refrigerator mother" nonsense on it's head.