Sun Dec 16, 2012, 07:07 AM
unhappycamper (60,364 posts)
Two Higgs Bosons? CERN Scientists Revisit Large Hadron Collider Particle Data
http://www.huffingtonpost.com/2012/12/15/two-higgs-bosons_n_2302897.html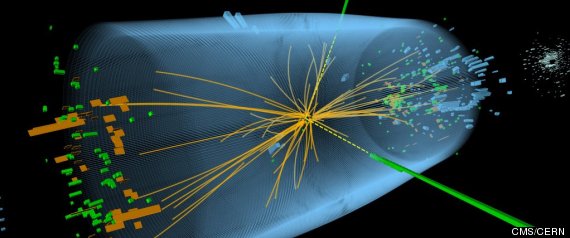 ?8
Two Higgs Bosons? CERN Scientists Revisit Large Hadron Collider Particle Data
By Michael Moyer
Posted: 12/15/2012 12:11 am EST
A month ago scientists at the Large Hadron Collider released the latest Higgs boson results. And although the data held few obvious surprises, most intriguing were the results that scientists didn't share.
The original Higgs data from back in July had shown that the Higgs seemed to be decaying into two photons more often than it should—an enticing though faint hint of something new, some sort of physics beyond our understanding. In November, scientists at the Atlas and LHC experiments updated everything except the two-photon data. This week we learned why.
Yesterday researchers at the Atlas experiment finally updated the two-photon results.
What they seem to have found is bizarre—so bizarre, in fact, that physicists assume something must be wrong with it. Instead of one clean peak in the data, they have found two. There seems to be a Higgs boson with a mass of 123.5 GeV (gigaelectron volts, the measuring unit that particle physicists most often use for mass), and another Higgs boson at 126.6 GeV—a statistically significant difference of nearly 3 GeV. Apparently, the Atlas scientists have spent the past month trying to figure out if they could be making a mistake in the data analysis, to little avail. Might there be two Higgs bosons?
Although certain extensions of the Standard Model of particle physics postulate the existence of multiple Higgs bosons, none of them would predict that two Higgs particles would have such similar masses. They also don't predict why one should preferentially decay into two Z particles (the 123.5 GeV bump comes from decays of the Higgs into Zs), while the other would decay into photons.
2 replies, 1274 views
Replies to this discussion thread
| | | | |
| --- | --- | --- | --- |
| 2 replies | Author | Time | Post |
| Two Higgs Bosons? CERN Scientists Revisit Large Hadron Collider Particle Data (Original post) | unhappycamper | Dec 2012 | OP |
| | ROBROX | Dec 2012 | #1 |
| | tama | Dec 2012 | #2 |
---
Response to unhappycamper (Original post)
Sun Dec 16, 2012, 05:31 PM
ROBROX (392 posts)
1. MORE INPUT
An electron has 511 KEV or 0.0005 GEV, so the 123.5 & 126.6 GEV are much more energy then expected. The CERN accelerator works at TEV energy levels 1000 GEV = 1 TEV. I wonder how much energy the BOSON really had at its normal state. We have much more to learn and I hope the dark side does not prevent money from funding more research. This type of information always scares the religious right since they have no desire to disprove religion or other old beliefs.
I studied and was employed in the health physics area versus experimental physics. Saving lives versus experimenting.
---