Tue Nov 20, 2012, 02:16 PM
n2doc (47,226 posts)
Astronomers Directly Image Distant Exoplanet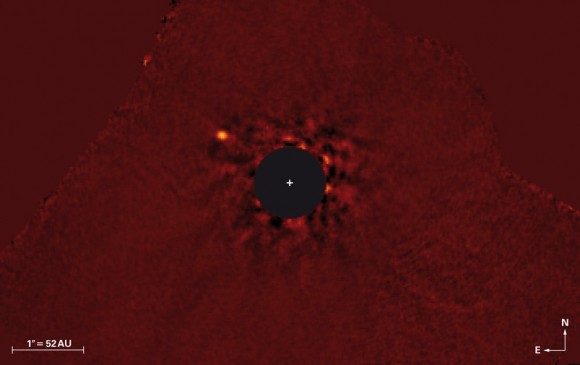 False color, near infrared image of the Kappa Andromedae system, by the Subaru Telescope. Almost all of the light of the host star has been removed by the dark, software-generated disk in the center. Credit: NAOJ/Subaru/J. Carson (College of Charleston)/T. Currie (University Toronto)
Astronomers using the Subaru Telescope in Hawaii have found a super-Jupiter-sized exoplanet orbiting a massive star about 170 light years away from Earth. Not only have they detected the planet, but they've also taken a direct image of it. This is exciting because only a handful of exo-planets have been imaged directly. But the other interesting aspect of this newly-found planet is that it orbits its star at a distance comparable to Neptune in our own solar system. Astronomers say this is a strong indication that the planet formed in a manner similar to how it is believed smaller, rocky planets form: from a protoplanetary disk of gas and dust which surrounded the star during its earliest stages.
The star, Kappa Andromedae, is a naked-eye object that can be seen in the constellation Andromeda, and it has a mass 2.5 times that of the Sun, making it the highest mass star to ever host a directly observed planet. The observations were made by a team of astronomers from the Max Planck Institute for Astronomy and the University of Toronto and the College of Charleston, part of the SEEDS project (Strategic Explorations of Exoplanets and Disks with Subaru.)
"Our team identified a faint object located very close to Kappa Andromedae in January that looks much like other young, massive directly imaged planets but does not look like a star," said Thayne Currie. co-author of the paper from the University of Toronto. "It's likely a directly imaged planet."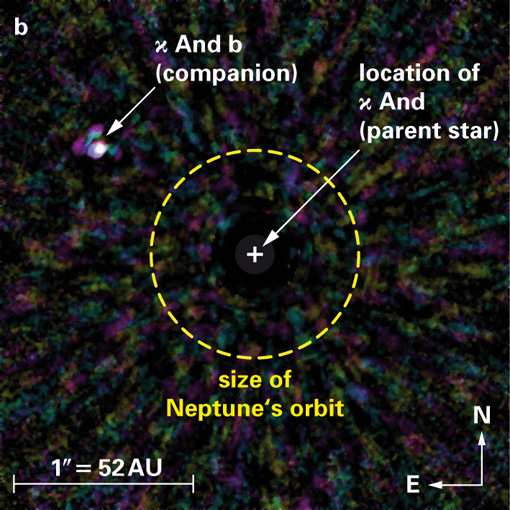 Read more:
http://www.universetoday.com/98540/astronomers-directly-image-distant-exoplanet/
2 replies, 1236 views
Replies to this discussion thread
| | | | |
| --- | --- | --- | --- |
| 2 replies | Author | Time | Post |
| Astronomers Directly Image Distant Exoplanet (Original post) | n2doc | Nov 2012 | OP |
| | thereismore | Nov 2012 | #1 |
| | byronius | Nov 2012 | #2 |
---
Response to n2doc (Original post)
Tue Nov 20, 2012, 02:27 PM
thereismore (13,326 posts)
1. Beauty! nt
---
Response to n2doc (Original post)
Tue Nov 20, 2012, 03:02 PM
byronius (5,287 posts)
2. !!!