Sun Nov 4, 2012, 07:15 AM
Coyotl (15,262 posts)
Know Your Mushrooms
http://the-alternative.co.uk/spotlight/know-your-mushrooms/
From the award-winning director of Comic Book Confidential, Grass, Go Further and a host of paradigm-shifting films reappraising the backwaters of popular culture, Ron Mann investigates the miraculous, near-secret world of fungi with his newest piece of cinema, KNOW YOUR MUSHROOMS.
KNOW YOUR MUSHROOMS follows über myco visionaries Gary Lincoff and Larry Evans as they lead us on a hunt for the wild mushroom and the deeper cultural experiences attached to the mysterious fungi.
Combining material filmed at the Telluride Mushroom Fest with animation and archival footage along with a neo-psychedelic soundtrack by The Flaming Lips and The Sadies, KNOW YOUR MUSHROOMS opens the doors to perception and takes the audience on a longer, stranger trip.
8 replies, 2256 views
Replies to this discussion thread
| | | | |
| --- | --- | --- | --- |
| 8 replies | Author | Time | Post |
| Know Your Mushrooms (Original post) | Coyotl | Nov 2012 | OP |
| | littlemissmartypants | Nov 2012 | #1 |
| | DCKit | Nov 2012 | #2 |
| | Coyotl | Nov 2012 | #3 |
| | NickB79 | Nov 2012 | #4 |
| | AlecBGreen | Nov 2012 | #6 |
| | HopeHoops | Nov 2012 | #5 |
| | opiate69 | Nov 2012 | #7 |
| | PufPuf23 | Nov 2012 | #8 |
---
Response to Coyotl (Original post)
Sun Nov 4, 2012, 09:20 AM
littlemissmartypants (8,287 posts)
1. Fungi and endophytes are
totally under appreciated.
---
Response to Coyotl (Original post)
Sun Nov 4, 2012, 09:32 AM
DCKit (18,541 posts)
2. Found some shaggy mane mushrooms at the end of last month...
They're too delicate/perishable to ever be commercial, but they're yummy. Sauteed in butter, they can be frozen and kept for months. Unfortunately, it takes a couple of pounds, as they cook down to nothing.

Also a large, young chicken of the woods/sulfur shelf mushroom that I blanched and froze. It's one of those that needs to be cooked thoroughly and can't be eaten with alcohol (safely), but it's the best specimen of the four I've found so far. They get old, dry, tough and infested with bugs quickly, this one had just popped up.
---
Response to DCKit (Reply #2)
Sun Nov 4, 2012, 11:00 AM
Coyotl (15,262 posts)
3. Shaggy manes make a great soup
that way you don't lose all the water the bear.
---
Response to DCKit (Reply #2)
Sun Nov 4, 2012, 01:28 PM
NickB79 (13,583 posts)
4. Last year we had morels popping up in our front yard
I was suspicious of the identification at first; two of my coworkers always talked about morel hunting, and had their secret locations they always scouted. And here there were dozens of them, growing in my yard!
I brought a few into work and gave them to my knowledgeable coworkers, who both confirmed them as morels! I let one of them come over and pick them, since I wasn't much of a chef at the time. Man, he was excited!
I've worked on my culinary skills though, and next year I'll be ready
---
Response to NickB79 (Reply #4)
Wed Nov 14, 2012, 10:23 PM
AlecBGreen (3,874 posts)
6. morels are great eating and easy to ID once you've seen them
MORELS
= safe
They have a hollow cap, which is directly attached to stalk = safe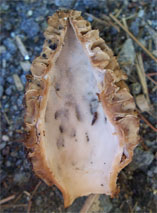 only one other mushroom looks like them
FALSE MOREL
= not safe
solid inside, cap hangs = not safe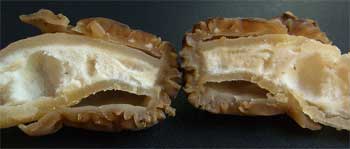 ---
Response to Coyotl (Original post)
Wed Nov 14, 2012, 03:07 PM
HopeHoops (47,675 posts)
5. Nearly every species of edible mushrooms has a (at least semi) poisonous clone.
The reverse is not true. I saw a destroying angel in the woods of NW PA - highlighted by a beam of sunlight - and instantly understood where it got the name. Man was that pretty.


---
Response to Coyotl (Original post)
Thu Nov 15, 2012, 01:28 PM
opiate69 (10,107 posts)
7. This year was supposed to be my first foray into mushroom hunting...
But so far, it looks like the weather isn`t going to be conducive to a good season. My good friend has been foraging for over 25 years, and he`s amazed that the Saffron Milkcaps and Shaggy Manes haven`t popped yet. All we saw a couple weeks ago was one patch of King Boletes in some guys yard out by Grayland, Wa.
---
Response to Coyotl (Original post)
Fri Nov 16, 2012, 03:48 PM
PufPuf23 (5,877 posts)
8. My contribution to Thanksgiving this year will be Tanoak (Matusake) Mushroom soup.
Recipe (very rich)
Fresh Tanoak Mushrooms (don't wash)!! - scrape and brush to clean then slice
Butter
Shallots and garlic.
1/2 and 1/2 milk and sherry wine (I use Christian Brothers) in about a 2:1 ratio
I don't really measure but say quart milk, handfull of chopped shallots and garlic (3/4 shallots), and 4-8 mushrooms depending on size. One can make a smaller batch for 1-4 people.
Melt butter
Add tanoaks, shallots and garlic
Cook just several minutes until soft
Add milk and sherry and bring to a rapid boil. Take off heat, you are done.
Sometimes sprinkle a dash of cayanne pepper and or dried cilantro on the soup once in bowl for color.
Here is a link to a page with pictures and also links to many common forest mushrooms. This nice webpage is from New England and Eastern Canada but about 2/3s the mushrooms listed to the left are local for me. I live on a National Forest inholding about 20 miles inland from Redwood National Park in extreme northcoast California.
http://mushroom-collecting.com/mushroommatsutake.html
Here is a Matusake slideshow from the New Yorker (one needs to subscribe to read the article now)
http://www.newyorker.com/online/2007/08/20/slideshow_070820_bilger#slide=1
I grew up in the 50s and 60s here where tanoak mushrooms were part of the round of life in my family. We would gather them each year and my Mom and grandmother would dry, can, and pickle tanoaks.
Back in the 70s while an undergrad at Cal I cracked up because I saw them for sale in Berkeley's Monterey Market for $30/lb.
Since the late 80s there have been commercial buyers and pickers that buy by grade. The unopened buttons (#1 grade) are sometimes purchased wholesale for $50-$100/lb. They mostly go to Japan.
98% plus of the nearby land is National Forest and one needs to get a personal use or commercial use permit. The last several years a
one day
personal use permit from the Forest Service costs $35 and one must deface the mushroom so it cannot be sold commercially. I can find them in my "yard" so the heck with that. A commercial permit is much more.
Personally, I would never pick for sale on principal but the tanoaks give the woods cops something to do.