Tue Jan 8, 2013, 03:06 PM
rug (82,333 posts)
I Went to the Last Gay Catholic Mass at the UK's Church of Our Lady of the Assumption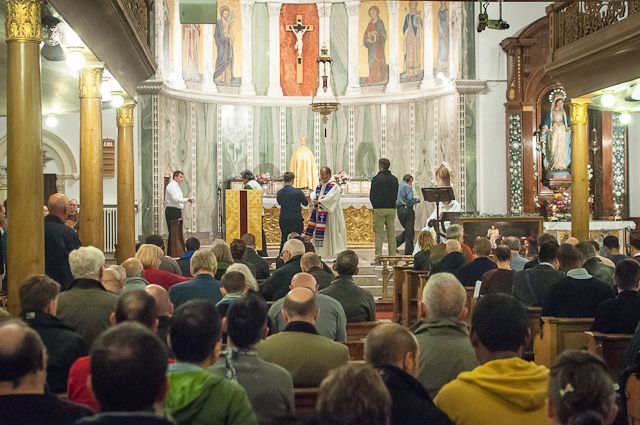 At LGBT Mass, the bishop wears a rainbow stole.
11 hours ago
By Matt Shea, Photos: Jake Lewis
Other than a few fauxhawks, better music, and the bishop wearing a rainbow-colored stole (the scarf thing that goes over their robes), gay Catholic mass in the UK is pretty much indistinguishable from normal Catholic mass. Being a gay Catholic may seem kind of contradictory to you—like being a Log Cabin Republican, a Muslim EDL members, or Skrillex's new future garage track—but just because you like hooking up with guys doesn't mean you can't also like the Holy Spirit.
The "Soho Masses" at the Church of Our Lady of the Assumption have provided a safe place for hundreds of LGBT Catholics to worship for six years, a service provided to the community ever since neo-Nazi David Copeland nail-bombed the Admiral Duncan pub on Old Compton Street in 1999. That was until last week, when Archbishop Vincent Nichols, head of the Catholic Church in England and Wales, put an official end to the masses. After his recent fight against the introduction of gay marriage, it seemed to only add insult to injury, but it's a story that has been widely misinterpreted by the media.
This Sunday, I went to one of their last masses before the dissolution, and the bishop assured his flock that they needn't worry. "We may have been given an 'Ite, Missa est,'" he said from behind the lectern, "but we can translate that, not as 'The mass has ended,' but as 'Go forth, go forth and find God in your lives, however some people may describe those lives.'"
To the ire of many Catholics who are determined to keep their religion firmly tethered to the Stone Age, the Soho masses have also allowed the first transgender Catholics to do readings at Mass. For Benjamin it isn't a problem to be trans and be Catholic. "It's impossible to have a truly honest relationship with God if you can't be honest with yourself," he told me.
http://www.vice.com/read/britains-gay-catholics-are-here-to-stay-soho-masses
4 replies, 1813 views
Replies to this discussion thread
| | | | |
| --- | --- | --- | --- |
| 4 replies | Author | Time | Post |
| I Went to the Last Gay Catholic Mass at the UK's Church of Our Lady of the Assumption (Original post) | rug | Jan 2013 | OP |
| | Mrs. Overall | Jan 2013 | #1 |
| | CurtEastPoint | Jan 2013 | #2 |
| | rug | Jan 2013 | #3 |
| | Mrs. Overall | Jan 2013 | #4 |
---
Response to rug (Original post)
Tue Jan 8, 2013, 04:42 PM
Mrs. Overall (4,624 posts)
1. I admire gay and lesbian Catholics who are willing to stay in the Church
and fight the leadership. I bailed out because as a woman I just couldn't take the archaic patriarchal atmosphere and that was before Benedict XVI and the Church's sharp right turn.

It takes courage to stay and fight in order to change the institution. That sort of sacrifice is more in line with Christ than any official Catholic lawmaking body.
---
Response to Mrs. Overall (Reply #1)
Tue Jan 8, 2013, 09:58 PM
CurtEastPoint (8,367 posts)
2. Thanks, Mrs. O. I need to read your 2nd para again and again.
I am so f'ing pissed at the dorks who THINK they run our church...who think they ARE the church. WE, the people are the church and I wanna keep hanging around now and see some change.

My parish is VERY open and welcoming. I remember years ago in Chicago attending mass with a Dignity group (I mean that it WAS the Dignity mass) and when we ... hundreds... stood, held hands, and prayed the Our Father... gay people together... it was so powerful.

We cannot let the 12th century minds keep us from living our faith and loving.
---
Response to CurtEastPoint (Reply #2)
Tue Jan 8, 2013, 10:41 PM
rug (82,333 posts)
3. +!
---
Response to CurtEastPoint (Reply #2)
Wed Jan 9, 2013, 12:40 AM
Mrs. Overall (4,624 posts)
4. You are an inspiration as are several of my friends who have stayed in the Church--
keep the faith because I'm sure there will be change, not only regarding gay people but also in terms of the Church finally acknowledging women as leaders.

I just hope this transformation happens in our lifetime!