Fri Dec 21, 2012, 09:28 AM
rug (82,333 posts)
5 People It's Easy to Forget Are Catholic
December 20, 2012 By Marc 25 Comments
1. Jack Kerouac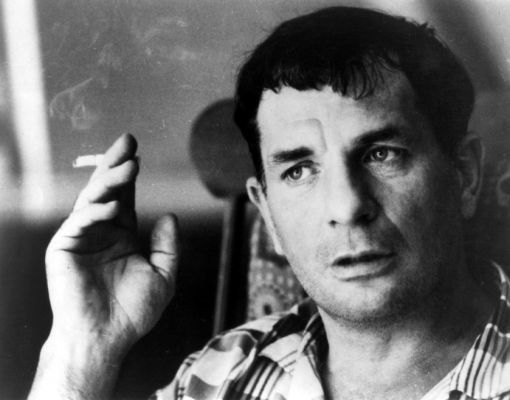 The gentleman we can blame for hipsters and a prolific collection of beautiful, anti-establishment prose was a Catholic. He was no angel, and certainly not a practicing Catholic (he stopped attending Mass at 14), but it has been rightly pointed out that Jack Kerouac never left his Catholicism. The beat revolution — which later seemed to think Kerouac was advocating moral relativism and playing crap music in coffee houses (which led to the hippies, who led to the hipsters) — largely misunderstood Kerouac's writing and philosophy, which was informed by a rich, pre-Vatican II Catholicism. From a biography by Dennis McNally, Desolate Angel:
"He was obsessed, enraged, with a sense of America being debauched by the clanking, alienating horror called the new industrial state. Secondly, his rage was cut with a sense of Dostoyevskian suffering and guilt, for he felt that the American citizen's complicity in the exploiting modern state went far too deep to be 'solved'. Racism and violence were not issues — "Issues" he'd say with a curling sneer, "F*ck issues" – but sins, and for that only penance was possible."
His coining of the term "the beat generation" comes from "the beatific generation", for — despite all the sin, desperation, existential displacement, and drug abuse — Kerouac believed that his generation would see God. "Beatific generation" was inspired by a vision Kerouac had of a statue of the Virgin Mary turning her head toward him. He said:
"It is because I am Beat, that is, I believe in beatitude and that God so loved the world that He gave His only begotten son to it… Who knows, but that the universe is not one vast sea of compassion actually, the veritable holy honey, beneath all this show of personality and cruelty?"
http://www.patheos.com/blogs/badcatholic/2012/12/5-people-its-easy-to-forget-are-catholic.html
2 replies, 1461 views
Replies to this discussion thread
| | | | |
| --- | --- | --- | --- |
| 2 replies | Author | Time | Post |
| 5 People It's Easy to Forget Are Catholic (Original post) | rug | Dec 2012 | OP |
| | 47of74 | Dec 2012 | #1 |
| | Pterodactyl | Feb 2013 | #2 |
---
Response to rug (Original post)
Fri Dec 21, 2012, 07:47 PM
47of74 (14,504 posts)
1. Interesting that they listed John Wayne
I read the book Wayne's daugter Aissa Wayne had written - she had disputed that her father had converted before his death.
---
Response to rug (Original post)
Sun Feb 17, 2013, 12:13 PM
Pterodactyl (1,687 posts)
2. I was surprised by all of them except Dali and Pelosi.
Seriously, why is Pelosi even on that list? Has anyone ever forgotten she was Catholic?