Wed Feb 15, 2012, 02:26 PM
rug (82,333 posts)
Mormons apologise for baptising Simon Wiesenthal's parents
Nazi hunter's forebears inducted posthumously by church in what Jewish rights group says is latest in a series of such gaffes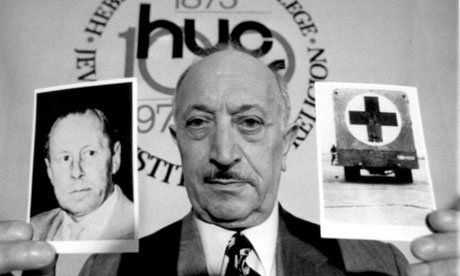 The Simon Wiesenthal Centre has complained after the Mormon Church posthumously baptised the Nazi hunter's parents. Photograph: AP
Reuters
guardian.co.uk
Wednesday 15 February 2012 00.31 EST
The Mormon Church has apologised after its members performed posthumous baptisms into Mormonism of the long-dead Jewish parents of famed Nazi hunter and Holocaust survivor Simon Wiesenthal.
The baptisms "by proxy" were performed last month in Mormon temples in Utah, Arizona and Idaho, according to the Los Angeles-based Simon Wiesenthal Centre, a Jewish human rights organisation named after the man who hunted down more than 1,000 Nazi war criminals in the years following the second world war.
Rabbi Abraham Cooper of the Simon Wiesenthal Centre told Reuters the baptisms were "unacceptable", adding that people who lost everyone and everything and were murdered for being Jewish during the Holocaust should not have their souls hijacked by another religion.
The apology came on the same day that Holocaust survivor and Nobel laureate Elie Wiesel called on the Republican US presidential candidate Mitt Romney, a Mormon, to address the issue after Wiesel's own Holocaust victim parents were similarly baptised.
http://www.guardian.co.uk/world/2012/feb/15/mormons-apologise-baptise-simon-wiesenthal
5 replies, 1961 views
Replies to this discussion thread
| | | | |
| --- | --- | --- | --- |
| 5 replies | Author | Time | Post |
| Mormons apologise for baptising Simon Wiesenthal's parents (Original post) | rug | Feb 2012 | OP |
| | Bluenorthwest | Feb 2012 | #1 |
| | Liberal Veteran | Feb 2012 | #2 |
| | MarkCharles | Feb 2012 | #3 |
| | lazarus | Feb 2012 | #4 |
| | Liberal Veteran | Feb 2012 | #5 |
---
Response to rug (Original post)
Wed Feb 15, 2012, 02:36 PM
Bluenorthwest (45,319 posts)
1. It is such a loathsome thing.
I'm sorry, Mormons, this is rotten, hateful, self important crap. Stop it.
---
Response to rug (Original post)
Wed Feb 15, 2012, 02:43 PM
Liberal Veteran (22,018 posts)
2. I wonder how Mormons think that works.
I assume the only need to baptize someone posthumously is due to the fear that God is a bureaucrat that won't let a person into heaven unless all the forms are filled out correctly and submitted in triplicate (or some metaphysical equivalent thereof).

So do they think that the person is roasting in hell until they file the right paperwork?

Or do they assume God is omniscient with regards to spacetime and knows that the Mormon clergy are going to baptize someone later on and he lets them into heaven on a contingency clause?

It all seems a bit confusing to me.
---
Response to Liberal Veteran (Reply #2)
Wed Feb 15, 2012, 03:22 PM
MarkCharles (2,261 posts)
3. I'm sure there's a lot of red tape involved up there!!!
With over 7 billion living people to be always available to, and then there's about 125 billion people who lived and died and are waiting to get into heaven's gate... it's a long long line out there, especially since only a few billion of those waiting were ever Christians, and actually knew and accepted Jesus as their savior.

There's got to be an easier way ... so leave it to the Mormons to come up with one.


---
Response to Liberal Veteran (Reply #2)
Wed Feb 15, 2012, 04:57 PM
lazarus (27,383 posts)
4. let me try
You don't go immediately to heaven to when you die. Your soul is in a form of suspended animation until the return of Christ, at which point everybody, living and dead, enters. Modern American evangelicals call this the Rapture.

If you're unbaptized, you are doomed to hell. However, there's a shot at heaven here. If someone goes through a posthumous baptism in your honour, you are then given the choice of accepting this (and Christ) when you are resurrected.

That's why the Mormons are so into genealogy. They want to make sure that all of their ancestors are baptized in the Mormon Church.

Also, that they're specially married in the Mormon church, but that's a whole different bit of weirdness.
---
Response to lazarus (Reply #4)
Wed Feb 15, 2012, 05:19 PM
Liberal Veteran (22,018 posts)
5. Thanks. I knew there had to a scientific explanation for this.
Seriously though, my church was kind of wishy-washy on the suspended animation thing.
I kind of recall that being part of the "larger doctrine" in the associated literature (Sunday School pamphlets and such).
On the other hand, at funerals and such (and in conversation) they would always say the person was already in heaven (smiling down on us or possibly screaming up at us) and the bible itself seems to contradict the suspended animation stuff (Jesus on the cross telling the thief that today he would be with him in Paradise.....Apparently he had 2 tickets
) and that whole business of Lazarus and the rich man.
I really paid way too much attention growing up in an evangelical household and ended up being a confirmed agnostic because my church was pretty bad with the whole "consistency" thing.