Fri Feb 22, 2013, 03:46 PM
cbayer (146,218 posts)
Eruptions in the Catholic Church: Not about Religion, It's about Power Politics
http://www.citywatchla.com/4box-left/4551-eruptions-in-the-catholic-church-not-about-religion-it-s-about-power-politics
Written by John MacMurray
19 Feb 2013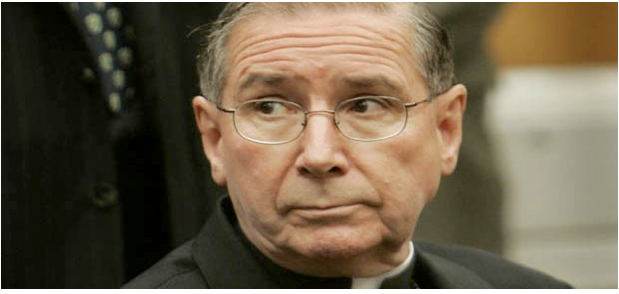 RELIGION POWER POLITICS - Try this for a scenario: when Cardinal Roger Mahony leaves for Rome to elect the new Pope, he may not be coming back. Consider: the current Pope, Benedict XVI, recently announced his resignation, literally giving two weeks' notice to leave a job that normally lasts a lifetime. He is the first Pope to resign since 1415. Advanced age was given as the reason, but the timing is interesting, coming as several very large Church scandals are breaking. These involve the Vatican Bank, again, and increasing numbers of reported sex abuse cases in Europe and the United States.
Cardinal Mahony, who retired as head of the Los Angeles Archdiocese in 2011, was recently stripped of his remaining administrative duties for the Archdiocese by his successor, Archbishop Jose Gomez. After reviewing the recently-opened and recently-published Church files detailing sex crimes by Cardinal Mahony's priests against children, Gomez said he "was disgusted by what was in the files".
Cardinal Mahony, however, will be one of the 117 Cardinals meeting in Rome to elect the new Pope; he was also one of the Cardinals who elected Benedict XVI.
And remember that Vatican City is a sovereign city-state. So, he is safe from any prosecution or legal action if the Church wishes to help him.
more at link
4 replies, 856 views
Replies to this discussion thread
| | | | |
| --- | --- | --- | --- |
| 4 replies | Author | Time | Post |
| Eruptions in the Catholic Church: Not about Religion, It's about Power Politics (Original post) | cbayer | Feb 2013 | OP |
| | GodlessBiker | Feb 2013 | #1 |
| | Warpy | Feb 2013 | #3 |
| | trotsky | Feb 2013 | #2 |
| | Angry Dragon | Feb 2013 | #4 |
---
Response to cbayer (Original post)
Fri Feb 22, 2013, 03:56 PM
GodlessBiker (6,314 posts)
1. Just like The Borgias.
---
Response to GodlessBiker (Reply #1)
Fri Feb 22, 2013, 05:37 PM
Warpy (96,479 posts)
3. They still are the Borgias and de Medicis in most respects
and it is all about power politics and court intrigue. The hierarchy is just as rotten as it was in the Middle Ages and for the same reason.

Henry VIII did the right thing for the wrong reason, breaking with Rome. The Anglican church has remained remarkably stable since the break, progressing along with the larger society but not altering core doctrine. Catholics who are disgusted with Rome have switched and noticed little difference beyond the breath of freedom social liberalism confers.

Rome, on the other hand, has ossified.
---
Response to cbayer (Original post)
Fri Feb 22, 2013, 05:00 PM
trotsky (44,395 posts)
2. But in the end, it IS about religion.
Because of religion, the Vatican enjoys its sovereign status and has the power to shield its pedophiles and their enablers.
---
Response to cbayer (Original post)
Fri Feb 22, 2013, 07:00 PM
Angry Dragon (31,743 posts)
4. The Church has lost its way
All the leaders need to do as Jesus would do
WALK through the Middle East and preach to the masses
Jesus would be proud of them ..........