Mon Jan 16, 2012, 10:50 AM
rug (82,333 posts)
Martin Luther King: Science Advocate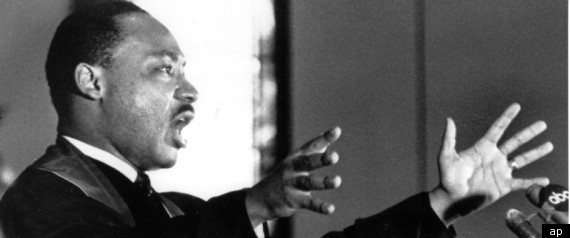 First Posted: 1/16/12 08:40 AM ET Updated: 1/16/12 09:07 AM ET
Cara Santa Maria
sciencecara@huffingtonpost.com
As a young atheist, I was fascinated by religious philosophy that attempted to square the circle that is modern science. And although my personal atheism hasn't softened over the years, I have grown to understand that science and faith aren't mutually exclusive. Which is why, when I first encountered the following quote by Dr. Martin Luther King, I don't think it resonated for me quite the same way it does today:
"Science investigates; religion interprets. Science gives man knowledge which is power; religion gives man wisdom which is control. Science deals mainly with facts; religion deals mainly with values. The two are not rivals. They are complementary. Science keeps religion from sinking into the valley of crippling irrationalism and paralyzing obscurantism. Religion prevents science from falling into the marsh of obsolete materialism and moral nihilism."
And although I disagree that without religion, human beings are condemned to an amoral existence, I don't believe that this was the point of Dr. King's words. He didn't say that religion prevents people from moral nihilism, he said that religion prevents science from such a fate. This is an important distinction. Science is the investigation of the natural world, and it often involves a manipulation of nature and development of new technologies. Both efforts have the potential to be beautifully informative, creative, and inspirational. But, unchecked, the potential for destruction and detriment cannot be ignored.
Martin Luther King understood this concept fully, and he cautioned against the frighteningly awesome power that new technologies were bringing to the hands of men, especially in the wake of the Vietnam War:
"Our scientific power has outrun our spiritual power. We have guided missiles and misguided men."
Science is an interesting paradox, because it is, fundamentally, thought to be devoid of outside influence. Science is the investigation of nature. And as we all know, nature just is. But, science is a verb, an activity. Being so, it is carried out by people. It does not--it cannot--exist in a vacuum. And hard as we may try, human beings are simply incapable of any behavior that carries no bias, no moral or political persuasion.
http://www.huffingtonpost.com/2012/01/16/martin-luther-king-science_n_1208349.html?ref=mostpopular
0 replies, 1188 views