Thu Dec 27, 2012, 01:55 AM
rug (82,333 posts)
Faith's dark side, capacity to purify subjects of Houston Catholic artist's paintings
Sharon Kopriva. The Cardinal. 1994. Papier-mache and mixed media. Collection: Nancy Reddin/Kienholz Redbud Gallery.
From Terra to Verde: The Work of Sharon Kopriva
On view through January 13, 2013
Ogden Museum of Southern Art, University of New Orleans
Wednesday, December 26, 2012
Menachem Wecker
Religion, as advertised, is supposed to make believers into better people. Many different faiths have enlisted art as a way to show how belief can improve human behavior. Saints can often be seen smiling and glowing with divine light — and haloed in some traditions — dressed in pristine costumes, and their obedience to a higher calling can be interpreted visually from their postures and temperaments.
But other times, religion can be dark and frightful, as appears to be the case when one first considers the work of Houston-based painter Sharon Kopriva. Kopriva's cardinal, for example, whose clothes are tattered, whose eyes are sunken, and whose skin is weathered, recalls one of the artist's inspirations, Francisco Goya, the 18th century Spanish artist who painted witches and monsters on the walls of his home as an old man.
A 30-year survey of Kopriva's art — created from 1982 to 2012 — is currently on exhibit in "From Terra to Verde" at the Ogden Museum of Southern Art in New Orleans. The exhibit title refers to Kopriva's artistic and spiritual movement from the "earthen umbers and red" of her early pieces to the "vibrant greens of her most recent forest-as-cathedral paintings," says Bradley Sumrall, chief curator of the Ogden Museum. (Terra means earth, and verde is green.)
The cardinal, which Kopriva sculpted in 1994, belongs to the early period. The man of the cloth is indeed a "proud bird," according to the artist. "Humility is not in his vocabulary. Totally filling his chair, he sits and waits for his turn for the papacy," she says.
http://blog.chron.com/iconia/2012/12/faiths-dark-side-capacity-to-purify-subjects-of-houston-catholic-artists-paintings/
7 replies, 2521 views
Replies to this discussion thread
| | | | |
| --- | --- | --- | --- |
| 7 replies | Author | Time | Post |
| Faith's dark side, capacity to purify subjects of Houston Catholic artist's paintings (Original post) | rug | Dec 2012 | OP |
| | iemitsu | Dec 2012 | #1 |
| | rug | Dec 2012 | #2 |
| | iemitsu | Dec 2012 | #3 |
| | rug | Dec 2012 | #5 |
| | Farmer Fowweather | Dec 2012 | #4 |
| | rug | Dec 2012 | #6 |
| | NCarolinawoman | Dec 2012 | #7 |
---
Response to rug (Original post)
Thu Dec 27, 2012, 02:20 AM
iemitsu (2,610 posts)
1. Dark side? I suppose if reality is the dark side.
Kopriva's work reminds me of the real priests and bishops I have seen in my life, old, bent, and unhealthy. Even the radiant, uplifting statuary saints lose their luster in person. Instead of ascending toward the heavens, the saints are tied to their rocky bases, and the walls, with dust and cob-webs.
Nuns don't fly or sing their way across the Alps, they hobble into church and scowl at you from their behind their habits.
The Roman Church is old and decadent and Kopriva's portrayals capture that reality perfectly
---
Response to iemitsu (Reply #1)
Thu Dec 27, 2012, 02:50 AM
rug (82,333 posts)
2. Like this?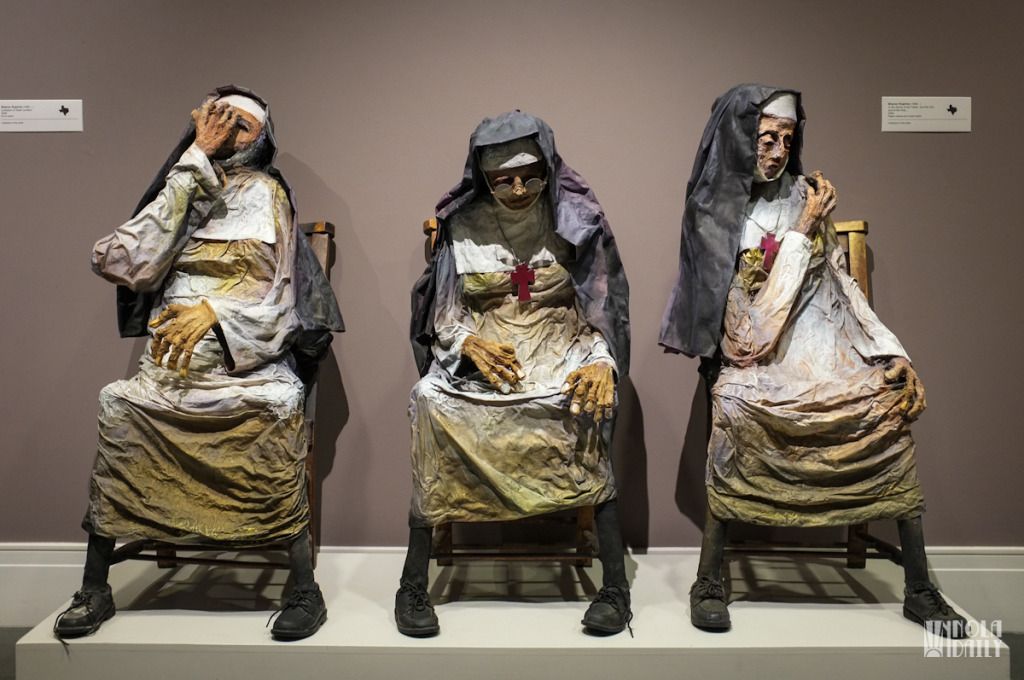 I disagree with you though. It's a part of the reality but far from the entirety of it.
What she does capture is striking.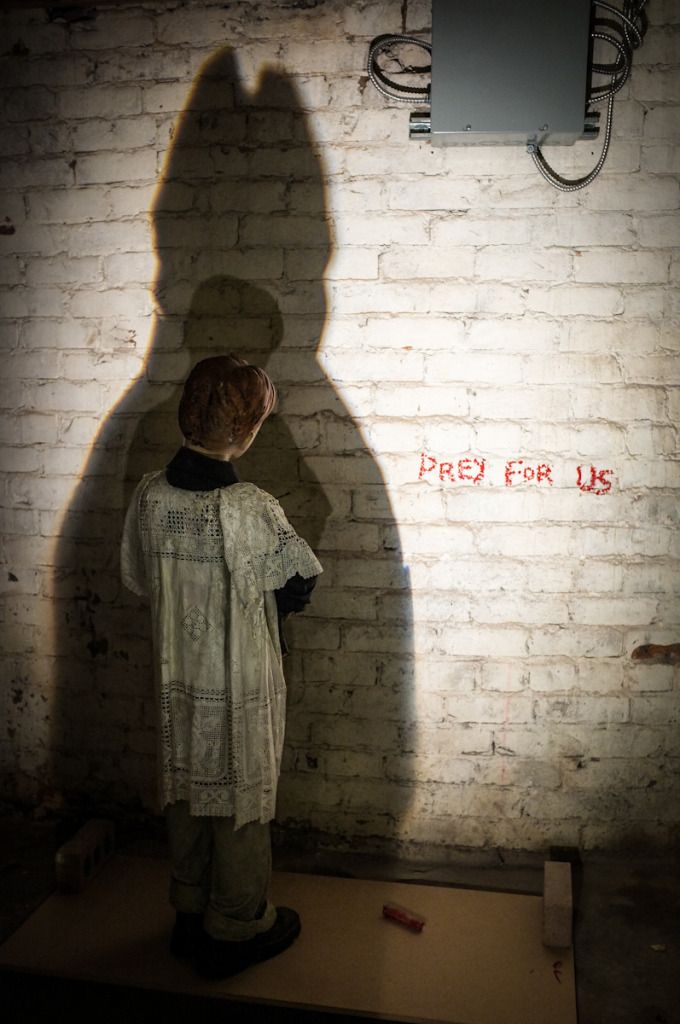 ---
Response to rug (Reply #2)
Thu Dec 27, 2012, 03:28 AM
iemitsu (2,610 posts)
3. This is exactly my recollection of Catholic reality
but I'm glad to know that someone finds greater dimension in the church than these works portray.
Actually I remember a day when Catholic churches were filled with children, each family filling a whole pew, half a dozen priests in the rectory (sometimes one was young), and gaggles of teaching and nursing nuns (they were all old and scowling) but even then the church lacked life outside of scheduled masses.
Today that church is nearly empty. Fewer than half the pews are left, they can't be filled. There are no children because families can't afford to live in the huge homes that occupy the neighborhood.
I see the church, that was once central to community life, becoming more and more marginalized.
My Catholic students identify themselves as "Catholic not Christian" a good indication of how strong an influence the Catholic church has had on their education.
---
Response to iemitsu (Reply #3)
Thu Dec 27, 2012, 03:46 AM
rug (82,333 posts)
5. It's still out there.
---
Response to rug (Original post)
Thu Dec 27, 2012, 03:38 AM
Farmer Fowweather (4 posts)
4. Goodness in religion
It is my conviction that you will find many good folk in the various churches, including what Thomas Paine called "the Turkish church", Islam, because they have been persuaded by common tradition that religion is good.
But that does not change the fact that, as Lord Acton put it, "power corrupts, and absolute power corrupts absolutely". It follows that we may as well expect a serious amount of wickedness to infect the higher echelons of any religious hierarchy. If we include the worship of Mammon, it even accounts for so much of the wickedness on Wall Street.

And of course, what if Lord Acton is right about the hypothetically Almighty Creator?

Perhaps it's better to be an atheist than to follow that synthesis.
---
Response to Farmer Fowweather (Reply #4)
Thu Dec 27, 2012, 03:50 AM
rug (82,333 posts)
6. Welcome to DU.
Power is the goal of pride.

But to address your question, if there is any truth to it, what does it say of a God who chose to be born in a stall?
---
Response to Farmer Fowweather (Reply #4)
Thu Dec 27, 2012, 01:04 PM
NCarolinawoman (2,825 posts)
7. "If you want to find Saints, look to the congregation,"
not to the pulpit".

That is what my Presbyterian minister in Philadelphia once told me. He also refused to be called Reverend. Wanted to be addressed as "Pastor". He didn't think any minister anywhere should be addressed as "Reverend".

He oversaw the soup kitchen, visited the sick and disheartened, and was a great counselor. He once told me he felt closest to God hiking the Appalachian Trail and the mountain ranges out West. These experiences he would incorporate into his sermons.

I moved back to NC, but I still think of what an inspiration he was, in the way he conducted his life.