Fri Dec 21, 2012, 09:22 AM
rug (82,333 posts)
Religious Minorities and Real Estate: Where They Live and How They Live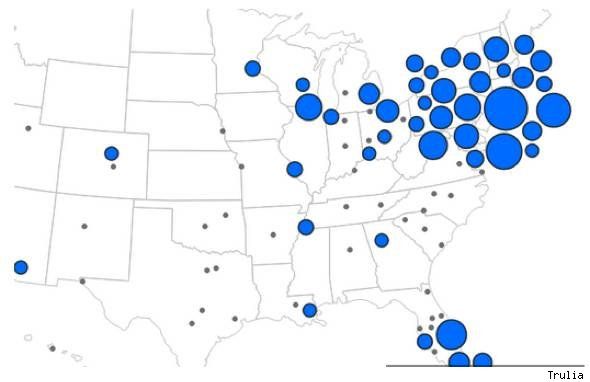 America's largest non-Christian religious minorities tend to live in bigger, more expensive metros. As a share of the total metro population, New York has the most Jews; Chicago and Detroit have the most Muslims; San Jose has the most Hindus; and Honolulu has the most Buddhists.
By Jed Kolko, Trulia Chief Economist
Posted Dec 21st 2012 6:00AM
Christmas is the biggest holiday of the year for most Americans. It also stands out as the only federal holiday with religious origins: all other federal holidays commemorate events or people in American history or mark the start of the secular calendar. America is a predominately Christian country: 76% of adults identify as Christian, only 4% identify with a non-Christian faith, and the remaining 20% either identify with no religion or declined to answer (American Religion Identification Survey, 2008). But for America's largest non-Christian religious minorities–Jews, Muslims, Hindus, and Buddhists–Christmas has a different meaning. To be sure, many Jews, Muslims, Hindus, and Buddhists join Christian friends and family in Christmas celebrations. Others create alternative traditions: Chinese restaurants and movies are packed on Christmas, for instance, and the Society of Young Jewish Professionals organizes annual "MatzoBall" parties on Christmas Eve in several cities.
In honor of Christmas, we took a look at the metros with the most and least non-Christian religious minorities in America. Jews, Muslims, Hindus, and Buddhists together account for 9.6% of New York's population – more than any other metro - followed by Edison-New Brunswick, NJ, and San Jose, CA. (See note at end on data source and definitions.) At the other extreme, Greenville, SC, Knoxville, TN, and El Paso, TX, have the fewest non-Christian religious minorities as a share of their population – making "Merry Christmas" a more appropriate holiday greeting than in New York. Each religious group has a very different geographic pattern, so let's look at each separately first before pulling it all together.
America's Jews are concentrated in the New York region and elsewhere on the East Coast. Jews account for 5.8% of the New York metro population, higher than any other metro, followed by neighboring Edison-New Brunswick, NJ, and Long Island, NY. Outside of the Northeast, the only metros in the top 10 for Jewish density are Lake County–Kenosha County (north of Chicago) and West Palm Beach, FL. None of the metros in the western half of the country make this top 10 list: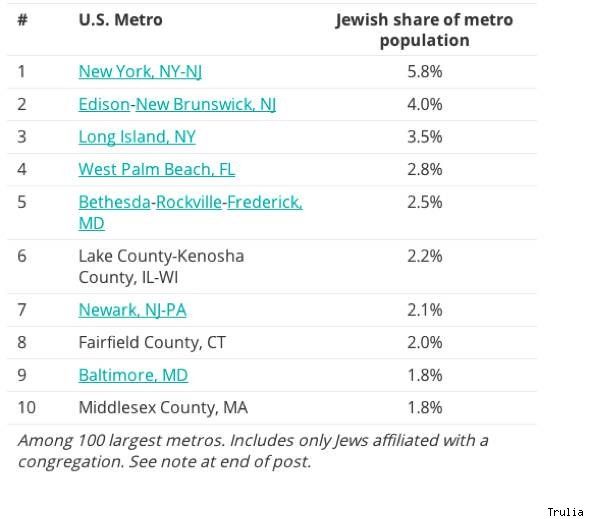 Muslims, unlike Jews, are more likely to live in the Midwest, Texas, and Virginia, with Chicago and Detroit having the highest density. Only New York and Newark are on the top 10 list for both Jews and Muslims. But no West Coast metros make the list for Muslims, either:
http://realestate.aol.com/blog/2012/12/21/religious-minorities-and-real-estate-where-they-live-and-how-th/
0 replies, 877 views