Wed Nov 7, 2012, 05:31 PM
rug (82,333 posts)
Atheist-reformist movement that preceded 'Periyar'
It is a mystery why the reformist initiative faded into oblivion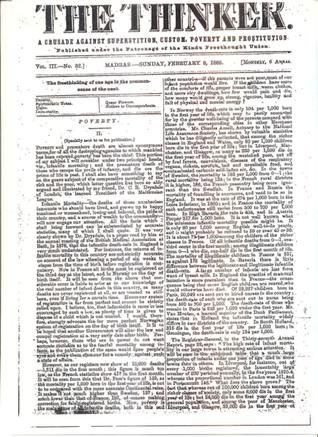 A page from the English journal ''The Thinker'' which was run by the Madras Secular Society between 1878 and 1888
CHENNAI, November 8, 2012
B. Kolappan
Many decades before 'Periyar' E.V. Ramsamy launched his self-respect movement (1925) and propagated atheism, the erstwhile Madras presidency had seen a well-organised atheist-reformist movement (1878-88), which later faded into oblivion.
The Hindu Free Thought Union, a movement launched in 1878, took inspiration from the London-based Anti-Church Movement of Charles Bradlaugh. In the middle of 1886, it was renamed Madras Secular Society (Chennai Loukeeka Sangam).
"Now there is a need to rewrite the history of the reformist and atheist movement in Tamil Nadu. There is a strong case for shifting the focus of the movement from Bengal-centric perspective," said V. Arasu, head of the department of Tamil, Madras University, who has traced the history of the movement and collected journals published by it.
But, there is no information available as to who launched and ran the movement and why it suddenly disappeared. P. Munesawmy Naicker was the manager of the two journals run by the society and there are references to P. Appathoaray Chettiayar , identified as the secretary. One Masilamany Mudaliar had written extensively. "The journals, one in English and another in Tamil, advocated atheism, pro-labour policies, women's education, widow-remarriage and strongly condemned the four-varna system," said Dr. Arasu, who first came across 'Thathuvavivesini,' the Tamil journal, in the Prof Anbazhagan library in Anna Arivalayam. The English journal was called 'The Thinker'.
http://www.thehindu.com/news/states/tamil-nadu/atheistreformist-movement-that-preceded-periyar/article4074929.ece
An interesting slice of history.
3 replies, 1052 views
Replies to this discussion thread
| | | | |
| --- | --- | --- | --- |
| 3 replies | Author | Time | Post |
| Atheist-reformist movement that preceded 'Periyar' (Original post) | rug | Nov 2012 | OP |
| | MineralMan | Nov 2012 | #1 |
| | rug | Nov 2012 | #2 |
| | MineralMan | Nov 2012 | #3 |
---
Response to rug (Original post)
Wed Nov 7, 2012, 07:42 PM
MineralMan (102,760 posts)
1. Unfortunately, the image is unreadable,
even at the link and when enlarged. Too bad. I enjoy reading 19th century stuff.
---
Response to MineralMan (Reply #1)
Wed Nov 7, 2012, 08:19 PM
rug (82,333 posts)
2. Yeah, it can't be enlarged.
I can't find anything on the Madras Secular Society. That's too bad because I'd like to know a little more about it. Anyway, here's wiki on Charles Bradlaugh, referenced in the article.
http://en.wikipedia.org/wiki/Charles_Bradlaugh
---
Response to rug (Reply #2)
Wed Nov 7, 2012, 08:20 PM
MineralMan (102,760 posts)
3. Thanks. I'll see what I can find, too.