Wed Nov 7, 2012, 10:24 AM
cbayer (146,218 posts)
Religious freedom in Europe – when both sides go too far
http://www.guardian.co.uk/commentisfree/belief/2012/nov/07/court-judgments-religious-freedom
Four British cases at the European court of human rights highlight the collision of libertarian and secularist approaches
Linda Woodhead
guardian.co.uk, Wednesday 7 November 2012 04.00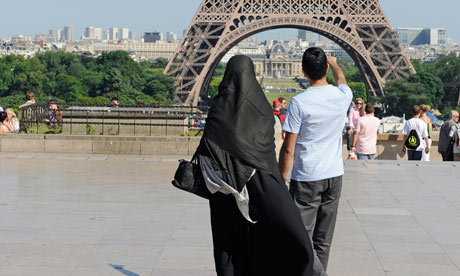 A woman wearing a niqab walks in Trocadero square in Paris, 2009. France banned the burqa and the niqab in April 2011. Photograph: Gonzalo Fuentes/Reuters
Who could have imagined that a court in Cologne would, this year, rule the ancient and sacred practice of male circumcision illegal, or that the previous year the European court of human rights (ECHR) would overturn its earlier ruling that crucifixes should not be displayed in state schools? The see-sawing nature of such judgments about religious freedom suggests something is going seriously wrong in the way the whole issue is being approached.
American commentators think they know what it is – the chickens of European secularism are coming home to roost. Marginalise religion, install secular elites and what do you get? A new secular intolerance to match Europe's old religious intolerance. Bans on headscarves and minarets strike Americans as egregious. Such things could never happen in the US, with its more robust tradition of respect for religious freedom.
Martha Nussbaum is the doyenne of this approach. Free exercise of religion is essential, she argues, because a person's religion is essential to their identity. To deny someone the right to live by their conscience is what the 17th-century pioneer of religious freedom Roger Williams called "soule rape". The only possible reason for restricting religious freedom is when it violates civil law or harms others.
This libertarian approach contrasts starkly with the secularist approach more common in Europe, according to which individuals should be free to express their religion in the privacy of their own homes, churches or temples – but not in public. Hence the restrictions in some countries on the display of religious symbols in public places – whether burqas on the streets of France or minarets on the skyline of Switzerland. Some leading political thinkers, including Jürgen Habermas before he revised his view, would even restrict the use of religious reasons in political debate, arguing that only "universal" secular reason is appropriate in public.
more at link
2 replies, 838 views
Replies to this discussion thread
| | | | |
| --- | --- | --- | --- |
| 2 replies | Author | Time | Post |
| Religious freedom in Europe – when both sides go too far (Original post) | cbayer | Nov 2012 | OP |
| | dimbear | Nov 2012 | #1 |
| | trotsky | Nov 2012 | #2 |
---
Response to cbayer (Original post)
Wed Nov 7, 2012, 07:34 PM
dimbear (6,271 posts)
1. Think of Europe as a set of Petri dishes. Marginalise religion and install secular elites and you
get Scandinavia, the alternative gives you Greece and Italy.


---
Response to cbayer (Original post)
Wed Nov 7, 2012, 08:26 PM
trotsky (45,602 posts)
2. "the ancient and sacred practice of male circumcision"
Female Genital Mutilation is also ancient, and considered by many to be a sacred religious/cultural practice.

Should we support efforts to end FGM? Or is that too much of an extremist secular position?