Wed Apr 25, 2012, 02:53 PM
rug (82,333 posts)
The fight to become the new archbishop of Canterbury is getting dirty
John Sentamu will likely be Rowan Williams's successor – but the campaign to get him there has employed unpleasant tactics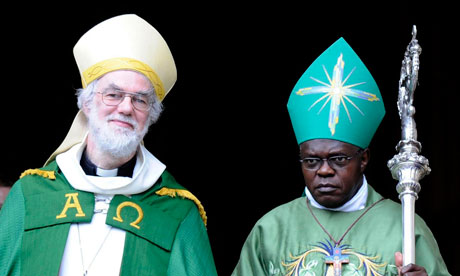 Posted by
Andrew Brown
Monday 23 April 2012 08.56 EDT guardian.co.uk
John Sentamu, the archbishop of York, is expected to announce his candidature for Canterbury this week, by the opaquely Anglican manoeuvre of declining a place on the committee that will choose the next archbishop of Canterbury to succeed Rowan Williams. Already his allies are suggesting that only racism could keep him from the job.
The Rev Arun Arora, who used to be his spin doctor at York, was quoted over the weekend as saying that:
At its best the besmirching of John Sentamu has revealed that strand of snobbery which views outsiders as lacking class, diplomacy or civility – in other words 'not one of us'. At worst it has elicited the naked racism which still bubbles under the surface in our society, and which is exposed when a black man is in line to break the chains of history."
Since Arora has just been appointed as head of all the Church of England's communications, this is a fairly heavy accusation. If Sentamu does not now get the job, it will hang over the successful candidate in a rather nasty way. And if he does, it will be open to his opponents to say, or at least to think, that he did so because it would have looked terribly racist not to give it him, and not because of his merits.
These are considerable. He has ambition, courage, and a gift for theatre. He works hard. He says unpopular things often, and popular things as often as he can. But it is absurd to pretend that his status as an outsider, who came here as an asylum seeker, is not central to his presentation of himself.
http://www.guardian.co.uk/commentisfree/belief/2012/apr/23/archbishop-of-canterbury-john-sentamu
1 replies, 721 views
Replies to this discussion thread
| | | | |
| --- | --- | --- | --- |
| 1 replies | Author | Time | Post |
| The fight to become the new archbishop of Canterbury is getting dirty (Original post) | rug | Apr 2012 | OP |
| | Goblinmonger | Apr 2012 | #1 |
---