Mon Apr 6, 2015, 11:26 AM
stone space (6,498 posts)
SCLC Suspends Pastor Who Called For Black Families To Arm Themselves Against Police
April V. Taylor
Breitbart News is reporting that Georgia Southern Christian Leadership Conference (SCLC) President Sam Mosteller has been suspended from the organization following his call for Black families to "exercise their Second Amendment rights" by arming themselves against police. In his statement, Mosteller acknowledged that his suggestion went against the SCLC mission of nonviolence, but he felt compelled to tell Black people to protect themselves because no one else is.
During his comments, Mosteller stated, "We going to have to do something in our community to let the rest of America know that we are not going to be victimized by just anybody whether it be police or folks that decide that Black people are thugs and we need to control that Black community. We [are] not going to allow that anymore."
The national SCLC office released this statement regarding Mostellar's comments:

"The Southern Christian Leadership Conference was founded and maintains it's [sic] position against violence of ANY type. We are founded on the bedrock of nonviolence and we encourage those principles as we seek social justice and social change in American society and around the world.

Although our organization does concur that the justice system in America has too often failed communities of color, particularly black youth, in reviewing the comments made by the Rev. Mosteller on Wednesday, March 31, we have found that his comments do not represent, nor reflect the principles and position of this organization."
SCLC has said that they are conducting an internal investigation while Mosteller is under an indefinite suspension. In addition, the organization is also demanding that Mosteller complete some internal training.
snip----------------
http://kulturekritic.com/2015/04/news/sclc-suspends-pastor-who-called-for-black-families-to-arm-themselves-against-police/
The Reverend may be confusing the Second Commandment with the Second Amendment. Seems like he's praying to the wrong God.
5 replies, 934 views
Replies to this discussion thread
| | | | |
| --- | --- | --- | --- |
| 5 replies | Author | Time | Post |
| SCLC Suspends Pastor Who Called For Black Families To Arm Themselves Against Police (Original post) | stone space | Apr 2015 | OP |
| | TreasonousBastard | Apr 2015 | #1 |
| | AtheistCrusader | Apr 2015 | #2 |
| | cbayer | Apr 2015 | #3 |
| | stone space | Apr 2015 | #4 |
| | cbayer | Apr 2015 | #5 |
---
Response to stone space (Original post)
Mon Apr 6, 2015, 11:30 AM
TreasonousBastard (36,884 posts)
1. I think he's just confused.
---
Response to stone space (Original post)
Mon Apr 6, 2015, 11:57 AM
AtheistCrusader (33,982 posts)
2. Non-violence or non-aggression?
There's an important distinction.

I always wonder about groups that claim to be non-violent, but they'll willingly outsource the violence to the police.
---
Response to stone space (Original post)
Mon Apr 6, 2015, 01:06 PM
cbayer (146,218 posts)
3. This is so inconsistent with the SCLC philosophy of nonviolence that it is really hard to understand
I do understand the anger and the fear and the demands that something be done, but he has gone too far, IMO.
---
Response to cbayer (Reply #3)
Mon Apr 6, 2015, 09:26 PM
stone space (6,498 posts)
4. Aparently, somebody thought it would be a good idea to bring his gun to Easter mass yesterday.
Good thing nobody was killed.
The gunman passed it to a friend after it went off, who tried to hide it in his church bulletin.
I think it's called concealed carry.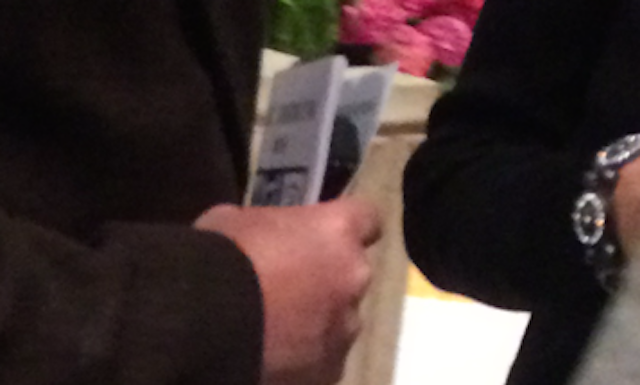 ---
Response to stone space (Reply #4)
Tue Apr 7, 2015, 08:12 AM
cbayer (146,218 posts)
5. Buffoons with guns. That's the kind of thing that interferes with my sleep.