Fri Apr 6, 2012, 10:30 AM
UnrepentantLiberal (11,700 posts)
Being 'Born-Again' Linked to More Brain Atrophy: Study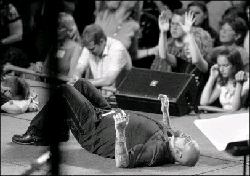 03/20/2012 8:03 AM
WEDNESDAY, May 25 (HealthDay News) --Older adults who say they've had a life-changing religious experience are more likely to have a greater decrease in size of the hippocampus, the part of the brain critical to learning and memory, new research finds.
According to the study, people who said they were a "born-again" Protestant or Catholic, or conversely, those who had no religious affiliation, had more hippocampal shrinkage (or "atrophy&quot
compared to people who identified themselves as Protestants, but not born-again.
The study is published online in PLoS ONE.
As people age, a certain amount of brain atrophy is expected. Shrinkage of the hippocampus is also associated with depression, dementia and Alzheimer's disease.
In the study, researchers asked 268 people aged 58 to 84 about their religious affiliation, spiritual practices and life-changing religious experiences. Over the course of two to eight years, changes to the hippocampus were monitored using MRI scans.
More:
http://mobile.philly.com/health/?wss=/philly/health&id=132456883
6 replies, 1901 views
Replies to this discussion thread
| | | | |
| --- | --- | --- | --- |
| 6 replies | Author | Time | Post |
| Being 'Born-Again' Linked to More Brain Atrophy: Study (Original post) | UnrepentantLiberal | Apr 2012 | OP |
| | Atman | Apr 2012 | #1 |
| | Arctic Dave | Apr 2012 | #2 |
| | KansDem | Apr 2012 | #3 |
| | longship | Apr 2012 | #4 |
| | nebenaube | Apr 2012 | #5 |
| | cbayer | Apr 2012 | #6 |
---
Response to UnrepentantLiberal (Original post)
Fri Apr 6, 2012, 10:36 AM
Atman (30,699 posts)
1. I was born right the first time.
---
---
Response to UnrepentantLiberal (Original post)
Fri Apr 6, 2012, 11:17 AM
KansDem (28,498 posts)
3. Might explain today's USA Today article.
'Reverts' return to their childhood religions

Bruce Boling will celebrate Easter Sunday this weekend among Southern Baptists, just as he did when he prayed at a tiny Kentucky church where his family filled half the pews.

After decades away from faith, "I slowly began to see what I was missing was the relationship with God that I could find in my church," says Boling, 45, settled in with a little Baptist congregation in Hendersonville, Tenn.

Lydia Scrafano's heart will again thrill to hear Catholic hymns sounding on a great pipe organ, just as she did as a child in Detroit.

"I missed it all. I missed taking communion with a priest. I missed the stained glass. I missed the Virgin Mary," says Scrafano, 55, who has reconnected with her faith through a Catholic church in Williamsburg, Va.

Like many Christians and Jews, Boling and Scrafano drifted — or marched — away from the religion of their childhood.
--more--
http://www.usatoday.com/news/religion/story/2012-04-05/religion-catholic-baptist/54055072/1
---
Response to UnrepentantLiberal (Original post)
Fri Apr 6, 2012, 11:35 AM
longship (38,527 posts)
4. I have some issues with this
It's a small study. It's a single, and not yet replicated. It's based on self-report data, which opens it up to bias. It doesn't seem to be blinded (although I may be wrong about that).
And here's the big complaint! All the people studied were older than 58, which introduces a huge bias. Of course there's going to be changes in those individuals! And of course there's going to be correlations. Most interesting is the apparent correlation between born agains and non-believers. What the Sam Hell does that mean? This sounds like an example of the
Texas sharpshooter
fallacy. You do a study and look for any correlation that exists. That's no way to do science.
This makes this study highly suspect.
---
Response to longship (Reply #4)
Fri Apr 6, 2012, 11:48 AM
nebenaube (3,496 posts)
5. That fallacy applies to all the drug war lies as well. n/t
---
Response to UnrepentantLiberal (Original post)
Fri Apr 6, 2012, 12:51 PM
cbayer (146,218 posts)
6. It looks like this *study*, which was initially reported last year, was never published in
PLoS ONE (whatever that is is).

This report doesn't even say where it was done or who did it.

Sorry, but it's a worthless piece of garbage.