Thu Mar 22, 2012, 04:07 PM
rug (82,333 posts)
Reflections on the end of Heathen's progress
It is a shame some responses to this series have been tribal, because atheists and believers can have a constructive dialogue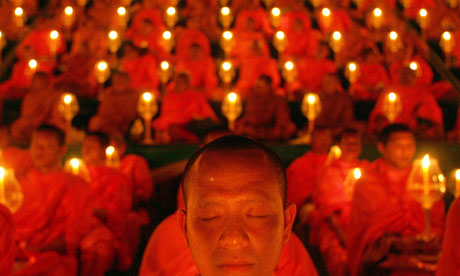 'Respect for those we disagree with is entirely compatible with strength of conviction about what we reject.' Photograph: Bazuki Muhammad/Reuters
Julian Baggini
guardian.co.uk, Thursday 22 March 2012 13.00 ED
Six months ago, when I started this series, I intended it as a search for ways out of the quagmire that I felt the atheism versus religion debate had sunk into. I was particularly keen to reposition atheism, to move away from the focus on hostile attacks on religious metaphysics and more towards a positive, constructive alternative that was capable of seeing the virtues as well as the vices of faith.
This Saturday, at the Guardian Open Weekend, I'm going to be summing up my conclusions in a "Heathen Manifesto" (which will be posted online on Monday). The manifesto is not a document in search of signatories but an agenda for my fellow atheists to reject, accept or otherwise respond to, as well as a message that the caricature of the new atheist does not represent all the godless.
Before presenting the manifesto, however, I thought I'd gather some thoughts on how the experience of writing this series and dealing with the feedback on it has shaped my conclusions.
First of all, it is dispiriting to see how tribal so many people seem to be. For all the interesting, thoughtful comments that have been posted on the pieces I've written, and supportive emails I've been sent, there have been many more that have used whatever the subject of the week is as a simple pretext to get in the familiar old digs against whoever the other tribe happens to be. There's also been a tendency to take any critical comments I make as indications that I'm on a certain "side", as though it is not possible to criticise your fellow travellers, or that we only agree with friends and those we disagree with are enemies. The tendency towards tribalism is probably so deep-rooted in human nature that this will always be the case. At best we can reduce it, but we cannot eliminate it.
http://www.guardian.co.uk/commentisfree/belief/2012/mar/22/reflections-end-heathens-progress?newsfeed=true
2 replies, 787 views
Replies to this discussion thread
| | | | |
| --- | --- | --- | --- |
| 2 replies | Author | Time | Post |
| Reflections on the end of Heathen's progress (Original post) | rug | Mar 2012 | OP |
| | DonCoquixote | Mar 2012 | #1 |
| | Jim__ | Mar 2012 | #2 |
---
Response to rug (Original post)
Thu Mar 22, 2012, 04:11 PM
DonCoquixote (12,408 posts)
1. Lovely idea
Which is why the people who make Dawkins and Hitchens their new prophets will attack this.
---
Response to rug (Original post)
Thu Mar 22, 2012, 06:06 PM
Jim__ (11,004 posts)
2. One way to get past tribalism may be to occasionally challenge your own beliefs.
I'm sympathetic to what Baggini is trying to do. His point about finding agreement in shared values is valid. Another way to approach understanding is to occasionally challenge your own beliefs, try to see it from the other person's viewpoint as suggested by Siobahn McKeown is his somewhat
devastating review
of de Botton's latest book:
...

There's something about this that makes me feel intensely uncomfortable. Lots of people hanging out, agreeing with each other, thinking everyone else is a silly... it all has an inescapable aura of smugness. What's wrong with doing something that challenges your beliefs, rather than just confirming them? Whose idea of fun involves Richard Dawkins, centre stage, papers clutched, pointing out how silly crystal healing is? He says, "It's so sad to think about all that they're missing. The real world, properly understood in the scientific way, is deeply beautiful and unfailingly interesting." Nail on head - the only proper way to understand the world is through science, and anyone doesn't see it that way should be pitied.

...