Sun Dec 9, 2012, 10:03 PM
many a good man (5,859 posts)
Putting Lionel Messi's goal-scoring record in context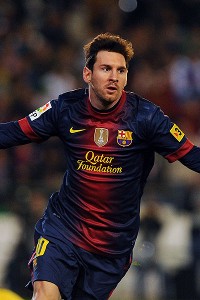 Some might not care for calendar-based records -- the trophy tally at the end of a season being the ultimate definition of success -- but there's little dispute over the magnitude of Lionel Messi's accomplishments on Sunday, passing a four-decades-old year mark for the most goals in a single year.
Lionel Messi scored his 85th and 86th goals of this calendar year to break Gerd Muller's record.
The record of 85 goals, previously held by iconic German goal poacher Gerd Muller, was shattered in typical Messi fashion, a pair of left-footed drives inside the box to enliven a humdrum league game against Real Betis. It's an individual accolade that won't crown him as the greatest player ever to live, though it is extra gilding for a resume that might one day see him defined as exactly that.
So what if you don't believe in such records, which have a magical, though artificial feel? (I for one find the accolade a touch forced, but it is these numerical touchstones upon which trivia is founded.) Some players never manage 86 goals in a career, let alone in 11 months and 9 days, and in a team sport through which carefully calibrated formations and reductive tactics can overcome any solo brilliance, the manner in which Messi has gripped the sport can't be understated.
http://soccernet.espn.go.com/blog/_/name/espnfcunited/id/2167?cc=5901
3 replies, 1595 views
Replies to this discussion thread
| | | | |
| --- | --- | --- | --- |
| 3 replies | Author | Time | Post |
| Putting Lionel Messi's goal-scoring record in context (Original post) | many a good man | Dec 2012 | OP |
| | Ron Obvious | Dec 2012 | #1 |
| | Aquavit | Dec 2012 | #2 |
| | Theyletmeeatcake2 | Jan 2013 | #3 |
---
Response to many a good man (Original post)
Mon Dec 10, 2012, 09:59 AM
Ron Obvious (4,353 posts)
1. Hard to compare players from different eras...
I think it's nearly impossible to compare players from different eras, but for the record, Gerd Müller only needed 60 games to reach that record, versus Messi's 67 (I think).

Would 'Der Bomber' have been capable of scoring that many goals today? Of course not - he's bloody 70 years old for fuck's sake! But even had he been in his prime today, it's hard to imagine someone as profoundly unathletic as him making it now.

When you watch games from the sixties and seventies - even those you remember as classics - the one thing you notice more than anything else is how slow and pedestrian the game was back then. Players would often smoke during the interval and drink 8 or more pints on the night before big games.

Congratulations to Leo Messi! After seeing him carted off like a used gladiator last Wednesday night, I feared the worst.

Of course, Messi's not that athletic looking either, is he?

---
Response to Ron Obvious (Reply #1)
Tue Dec 11, 2012, 12:03 AM
Aquavit (488 posts)
2. Messi
If Messi had to play with fewer world class teammates -- say he played for Liverpool, for example -- there's no way he even gets close to Der Bomber's record. Good on him for breaking the record, but he's just flatly not as good as everyone makes him out to be.
I'd rather have Mario Gomez on my team, personally. Luckily, I
do
have Gomez on my team!
---
Response to Aquavit (Reply #2)
Sun Jan 27, 2013, 09:28 AM
Theyletmeeatcake2 (348 posts)
3. Bayern Munich and West Germany were like Liverpool ?????
Multiple German championships when the Bundesliga was the best in Europe ,multiple European Cups and a World Cup win .Der bomber played with some great players.....He was a champ and so is Messi......different types of players but so good at scoring....one a great poacher and the other an artist......we've been blessed by their play.....enjoy it while it lasts