Sun Jan 13, 2013, 02:35 PM
Mosby (7,863 posts)
$17,000 Linux-powered rifle brings "auto-aim" to the real world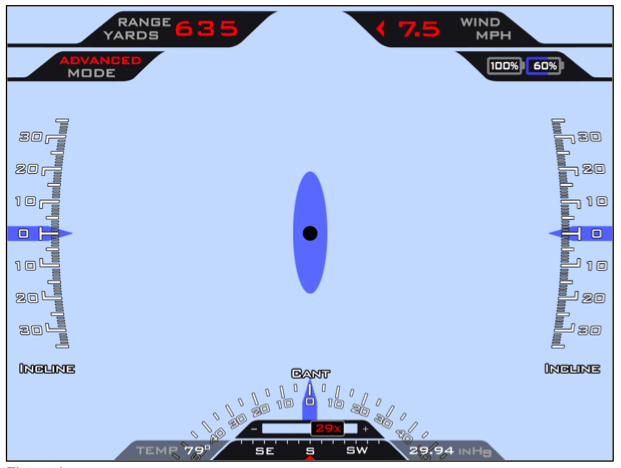 The view through the TrackingPoint's computerized optics.
CES is about technology of all kinds; while we're busy covering cameras, TVs, and CPUs, there's a huge number of products that fall outside our normal coverage. Austin-based startup TrackingPoint isn't typical Ars fare, but its use of technology to enable getting just the perfect shot was intriguing enough to get me to stop by and take a look at the company's products.
TrackingPoint makes "Precision Guided Firearms, or "PGFs," which are a series of three heavily customized hunting rifles, ranging from a .300 Winchester Magnum with a 22-inch barrel up to a .338 Lapua Magnum with 27-inch barrel, all fitted with advanced computerized scopes that look like something directly out of The Terminator. Indeed, the comparison to that movie is somewhat apt, because looking through the scope of a Precision Guided Firearm presents you with a collection of data points and numbers, all designed to get a bullet directly from point A to point B.
The PGF isn't just a fancy scope on top of a rifle. All together, the PGF is made up of a firearm, a modified trigger mechanism with variable weighting, the computerized digital tracking scope, and hand-loaded match grade rounds (which you need to purchase from TrackingPoint). This is a little like selling both the razor and the razor blades, but the rounds must be manufactured to tight tolerances since precise guidance of a round to a target by the rifle's computer requires that the round perform within known boundaries.
-snip-
The company is also keenly aware of the potential negative public perception right now around firearms and firearm manufactures, in the wake of recent mass-shooting events like the ones in Sandy Hook and Aurora. The three models of PGF are bolt-action hunting rifles, unwieldy for any kind of close-quarters work; the tracking system itself requires patience and care to line up and fire, and it doesn't appear at all to be the kind of thing a mass-shooter would employ. At this time, TrackingPoint indicated that it has no intention of producing a PGF system for anything other than bolt-action rifles.
http://arstechnica.com/gadgets/2013/01/17000-linux-powered-rifle-brings-auto-aim-to-the-real-world/
I'm not a hunter but wouldn't this take all the challenge out of the "sport"?
3 replies, 1338 views
Replies to this discussion thread
| | | | |
| --- | --- | --- | --- |
| 3 replies | Author | Time | Post |
| $17,000 Linux-powered rifle brings "auto-aim" to the real world (Original post) | Mosby | Jan 2013 | OP |
| | rrneck | Jan 2013 | #1 |
| | bluedigger | Jan 2013 | #2 |
| | JustABozoOnThisBus | Jan 2013 | #3 |
---
Response to Mosby (Original post)
Sun Jan 13, 2013, 02:46 PM
rrneck (17,671 posts)
1. It's a toy for people who have more money than sense.
Nobody with any sense is going to pay seventeen grand for a hunting rifle. I wonder how fragile it is? They may deny it, but I bet they're looking for a military application.
---
Response to Mosby (Original post)
Sun Jan 13, 2013, 02:49 PM
bluedigger (15,086 posts)
2. Not really.
There is still spotting and tracking your prey, which requires skill. But don't kid yourself, this is a sniper rifle.
---
Response to Mosby (Original post)
Sun Jan 13, 2013, 05:38 PM
JustABozoOnThisBus (15,009 posts)
3. It's a bolt-action rifle with a small-capacity magazine
So the scope and trigger are a bit tricked-out, it's still no assault weapon, so no problem.

$17k for the latest and greatest toy? Pfft, I'm sure there are folks who'd spend that for a sound system on their yacht. Ferrari still sells cars, for more money than makes sense, and with more speed/power than any "reasonable" person would need.

Does this take the challenge out of the sport? Yes, of course, but not all hunters are looking for challenge. Some (not the $17k rifle guys) are looking for food. Others (like the $17k rifle guys) are just looking for trophies and bragging rights.

Wake me up when that scope can find a deer by heat signature in the fog, and determine the gender of the deer.