Fri Aug 31, 2012, 09:36 PM
DainBramaged (39,191 posts)
Review: Guild Wars 2 is an MMORPG that actually respects your time (worth the read)
Guild Wars 2's land of Tyria is an often stunningly beautiful place. It's the kind of world that inspires intellectual gamers to wax poetic about the potential of the MMORPG. After all, this world that ArenaNet has created may not be real, but it does exist. It's a place where people go to break free—some for longer periods of time than others—of the frustrations and disappointments of terrestrial life. Here, gamers live a more heroic existence exploring distant lands and accomplishing great deeds.
It's a wonder, then, that the MMO genre is predicated on the irritating and frustrating. The bulk of the gameplay is not-so-lovingly referred to as "the grind" by its own fans. Despite living in realms of mysticism and magic, their characters are forced to travel through the world manually on foot or on mounts (at best there's limited fast travel through portals).
Once upon a time in a land called "2004," things were even worse. Until, that is, Blizzard's World of Warcraft arrived. Reading an original review of WoW is positively surreal—reviewers breathlessly praise innovations which we wouldn't even consider mentioning today. (Some reviewers were pleased as punch to find there were enough monsters available for players to kill).
WoW has dominated the MMORPG landscape so thoroughly and for so long that its design has become the modern standard, even if we often don't really remember why. It was due to a player-friendly design that borrowed heavily from the games that came before it, but it made the experience of an MMO much easier to enjoy for the uninitiated player. In this way, Guild Wars 2 seems poised to repeat history.
Here, at last, is an MMO that respects your time.
http://arstechnica.com/gaming/2012/08/review-guild-wars-2-is-an-mmorpg-that-actually-respects-your-time/
4 replies, 3651 views
Replies to this discussion thread
| | | | |
| --- | --- | --- | --- |
| 4 replies | Author | Time | Post |
| Review: Guild Wars 2 is an MMORPG that actually respects your time (worth the read) (Original post) | DainBramaged | Aug 2012 | OP |
| | Aerows | Sep 2012 | #1 |
| | DainBramaged | Sep 2012 | #2 |
| | Aerows | Sep 2012 | #3 |
| | BklnDem75 | Sep 2012 | #4 |
---
Response to DainBramaged (Original post)
Wed Sep 12, 2012, 05:35 PM
Aerows (39,961 posts)
1. I'm loving GW2
My best is a Syl Warrior. I'm just loving the game. I sat up the other night until 5 in the morning and didn't even realize it.
---
Response to Aerows (Reply #1)
Wed Sep 12, 2012, 09:50 PM
DainBramaged (39,191 posts)
2. I have a beautiful Guardian meet Kensi Opsoto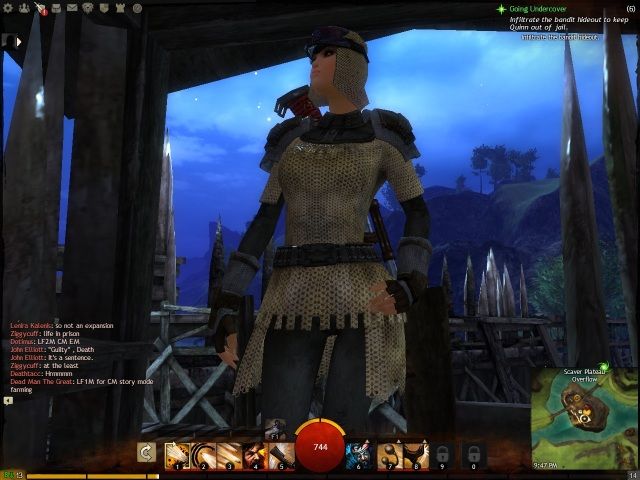 She kicks drake ass
---
Response to DainBramaged (Reply #2)
Wed Sep 12, 2012, 10:03 PM
Aerows (39,961 posts)
3. I'm loving my Sylvanistri Warrior
She's awesome
Kalivrari Crane
I have a lvl 12 Norn Guardian, too.
---
Response to DainBramaged (Reply #2)
Thu Sep 13, 2012, 03:58 PM
BklnDem75 (2,918 posts)
4. My highest level is my guardian
Was worried he'd be more tank than warrior, but he tears through enemies with his greatsword.