Sun Mar 13, 2016, 05:33 PM
TexasProgresive (11,086 posts)
Shakedown ride on rebuilt bike.
Don't ask me why someone would take a less then year old bike down to the frame and fork and change out the bottom bracket, crank, derailleurs, brakes and wheels. But that what I have been doing for the past couple of weeks. I tell myself it is anti-Alzheimer therapy. A good part of that was learning how to do the work, the actual build did not take very long even when you take into consideration that if there is a choice between an easy way and a hard way I take the hard way.

The bike came equipped with Shimano Claris 8 which has a large chain ring of 50. For some strange reason I wanted 52. That's what I always had in the past. I bought a Shimano Ultegra 6800 groupset and wheels. This is a 10 speed conversion. The wheel upgrade is necessary to accommodate the wider cassette.

I was having trouble getting the rear derailleur to shift correctly yesterday- I started over this afternoon and got it shifting really well. I will have to add back some chain as it can't make it up to the large cog when on the large chain ring. I know that's cross chaining and not a good practice but it should be able to work.

Anyway I took the bike out for a short spin. It was amazing. It's true that it is a bit lighter but I couldn't believe how responsive it was. I was able to push the 52T x 11T on the flat. It felt really good. The brakes are phenomenal, smooth and will pull you down in a hurry if needed.
8 replies, 2611 views
Replies to this discussion thread
| | | | |
| --- | --- | --- | --- |
| 8 replies | Author | Time | Post |
| Shakedown ride on rebuilt bike. (Original post) | TexasProgresive | Mar 2016 | OP |
| | hermetic | Mar 2016 | #1 |
| | happyslug | Mar 2016 | #2 |
| | hermetic | Mar 2016 | #5 |
| | TexasProgresive | Mar 2016 | #3 |
| | hermetic | Mar 2016 | #4 |
| | TexasProgresive | Mar 2016 | #6 |
| | hermetic | Mar 2016 | #7 |
| | TexasProgresive | Mar 2016 | #8 |
---
Response to TexasProgresive (Original post)
Mon Mar 14, 2016, 12:01 PM
hermetic (5,169 posts)
1. I just got a bike!
Haven't ridden for a long while but a friend of mine had one sitting in her garage for a couple of years and she only rode it twice. So she gave it to me! It's a Schwinn, no speed. Basically a little girl's bike but I'm a little old lady so it should be fine. Just something I can pedal to the library and the store, since I don't have a car. I haven't ridden it yet because the tires need air so I sent off for a nifty little electric tire filler that should arrive tomorrow.

I had forgotten we had a Bicycling Group here so I was really pleased you mentioned it in the Fiction Group. Now I know where to come if ever anything doesn't seem right with it. Yay!
---
Response to hermetic (Reply #1)
Mon Mar 14, 2016, 01:40 PM
happyslug (14,779 posts)
2. Watch "Schwinns" there are NOT the Schwinns of yesteryear.
Last edited Mon Mar 14, 2016, 03:29 PM - Edit history (1)
Sorry about the rant the follows, but Schwinn was the premium bike company of my youth, and now it is crap.
More on Schwinn:
https://en.wikipedia.org/wiki/Schwinn_Bicycle_Company
Basically Schwinn of Chicago was the dominate bicycle company in the US in the 1960s. In a survey done in 1970, only United Airlines had a higher percentage of people who recognize the name world wide. Schwinn had started out in the 1890 as one of many bicycle makers, but did not come into its own till the 1930s when it "Invented" the modern Bicycle store. Schwinn Store is where you went to get good quality bicycles. Most survive to this day, but gave up the Schwinn name in the 1980s or 1990s (and carried more the Schwinn's from the 1950s onward).
Schwinn made many mistakes starting in the 1960s, mostly do to the fact it was a family owned business and the family members were no longer making bikes because they wanted to make and sell bikes but because it made money. The earlier generation of Schwinn had entered the business to make and sell bikes (and to make money, but that was a secondary objective).
Schwinn did hit on the stinger bikes of the 1960s, but failed to capitalize on the ten speed craze of the early 1970s (Schwinn had its Paramount, a Reynolds Chrome Moly based bike, considered by many the best bike of the time period).
side note: Reynolds, when it comes to bicycle tubing, is a BRITISH company that is still into making the tubes used in high end bicycles. Do NOT confuse it with Reynolds Aluminium a completing different company. More on Reynolds tubing:
https://en.wikipedia.org/wiki/Reynolds_Cycle_Technology
Schwinn also made other Chrome Moly frame bikes, but failed to advertise them as being better then other bikes on the market. These Chrome Moly Framed bikes were treated like its low cost high tension still frame bikes. High Tension Steel has been the material most bike frames are made with since about 1900. High Tensions Steel is called the miracle material of 1900, had the Titanic been made of it, the Titanic would NOT have sunk. In the 1930s, Chrome Moly steel came into use. Chrome Moly steel produces a "Stiffer" frame which makes a bike easier to peddle. Chrome Moly is still considered a very good material for high end bikes, through the go to material in the 1980s was aluminum, in the 1990s Titanium and today it is Carbon Fiber, each stiffer then the previous material, also more expensive, but the big jump in improved pedealing was between High Tension Steel and Chrome Moly.
Anyway, Schwinn lost a lot of sales to low cost Chrome Moly Frame for other then the Paramount, Schwinn Chrome Moly Frames did NOT have lugs. Schwinn was the only Bike Company that had the technology to produce Chrome Moly Frames without lugs till TIG technology became common in the 1980s. People were told to look for Lugs for a better bike and when the Schwinn had no lugs they were skipped over. Lugs meant the Bike frame was Chrome Moly and thus a Lug Frame was a better frame, but Schwinn NON lugges Chrome Moly were as good a bikes with lugs, but Schwinn just refused to point that out. Lost a lot of sales.
Schwinn was also one of the first company to go to Japan. In Japan Schwinn helped a fishing rod and reel company, but the name of Shimano enter the bicycle parts business and has since become the dominate bicycle parts supplier. Schwinn even helped Shimano enter the US Bicycle parts business, help killing they own domination of that market in the US.
Schwinn missed the BMX boom on the mid the 1970s, then missed out on the Mountain Bike Trend, even through the first Mountain Bikes were made up from 1930s to 1950 era Schwinn Fat tire bikes. Another market Schwinn entered to late.
Schwinn also refused to update their Chicago plant till it was Unionized, then decided to open a plant some place else to cut out the Union. That plan failed for they failed to get the workers who knew how to make a bicycle frame (The key to a bicycle, the chain and other parts can be added on, the Frame is the key to any bike). By 1992 such mismanagement and excessive draws from stock holders had lead Schwinn into Bankruptcy. In that Bankruptcy the Judge determined the name "Schwinn" had value and sold it off. Today it is own by the same company that makes Giant Bicycle out of Taiwan. Schwinn is just a name that company puts on any bike they want to sell, it is no longer the Schwinn of old and the people to blame are the Schwinn family itself. They failed to understand that you have to keep up with trends in any industry and Schwinn failed to to that.
---
Response to happyslug (Reply #2)
Fri Mar 18, 2016, 01:16 PM
hermetic (5,169 posts)
5. Oh...
Well, the price was right.
Thanks for the info. That's good to know.
---
Response to hermetic (Reply #1)
Mon Mar 14, 2016, 09:11 PM
TexasProgresive (11,086 posts)
3. That's good, I wish I was in your area and could check it out for you
If it has been sitting for a while the tires and tubes may need some help. You could put some baskets on it and pretend to be Jessica Fletcher of Murder She Wrote. Hee hee. I can see it now. A few groceries and the other baskets full of books.
---
Response to TexasProgresive (Reply #3)
Fri Mar 18, 2016, 01:13 PM
hermetic (5,169 posts)
4. I wish you were, too
I got quite a workout Wednesday... putting air in the tires!
First I had to go through contortions finding a place right next to an outlet since the electrical cord in only 10". The bike is heavy! Then I couldn't get the caps off the valve stems. Needle nose pliers finally solved that. An hour later I was all aired up and totally exhausted. I walked to the library.
Yesterday I attached a basket and headed out to the grocery. It was 40 degrees with 20 mph winds, gusting to 30. I got one block and decided this was not in my best interest. So I took the bike back home and walked to the store.
This probably wasn't what you were imagining, but it is totally me: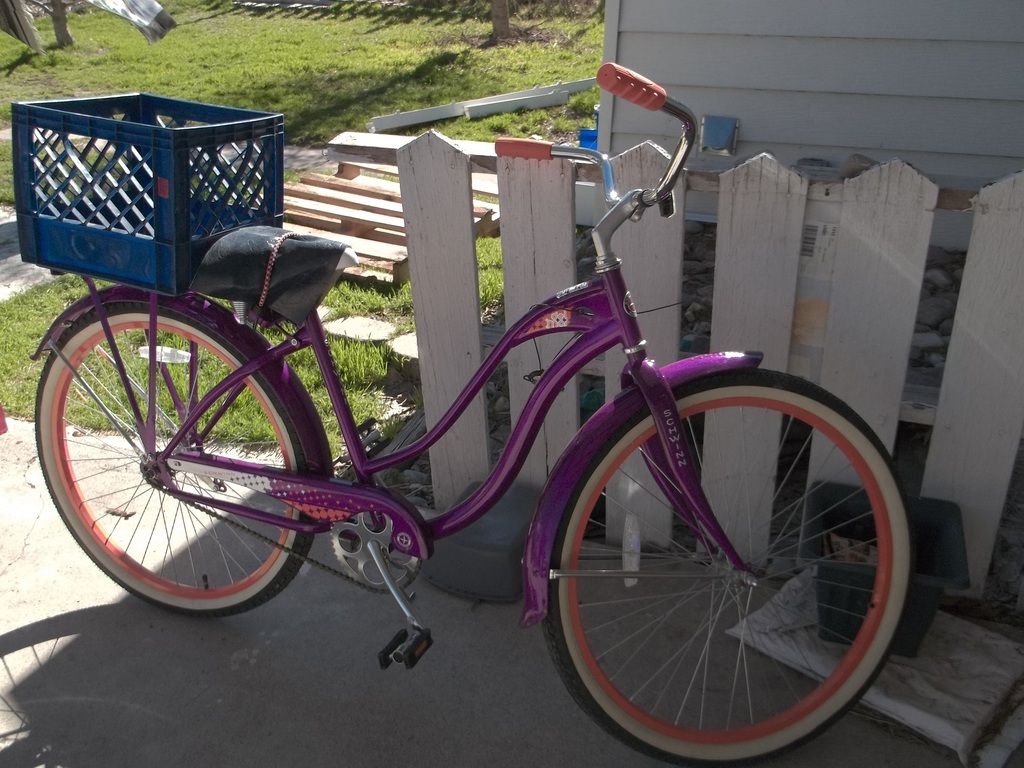 Weekend is supposed to be nice so I will get in some practice rides, then put it away for some major storms next week, even a little snow. Yuck. But, soon...............
---
Response to hermetic (Reply #4)
Fri Mar 18, 2016, 01:25 PM
TexasProgresive (11,086 posts)
6. I think it's marvelous!
It looks to be in good shape. Keep a weather eye on the tires as rubber has a tendency to dry rot over time. If you start seeing fine cracks that's a sign they are ending their safe life. One question why the cover on the saddle (seat)?

One other thing. The wind is seldom your friend on a bicycle, unless you want a real workout.
---
Response to TexasProgresive (Reply #6)
Fri Mar 18, 2016, 01:38 PM
hermetic (5,169 posts)
7. The cover
is sun/dust protection as it sits out on my patio. I was gonna uncover it for the picture but I forgot. It's a nice white seat. When it won't be used for a while, like next week, it will go into the shed. Thanks for the tip on watching the tires.
---
Response to hermetic (Reply #7)
Fri Mar 18, 2016, 02:48 PM
TexasProgresive (11,086 posts)
8. Thanks for letting me know.
Things like that can keep me up at night. Not really but I was wondering.